The Razzle Dazzle of Broadway
That is Broadway in the Cotswolds – not the other one!
So – our second outing in the CamperWags Autocruise ended up being Broadway. We recognise that we're still very green at this business (our last effort to get to Broadway ended in failure due to a flat battery and then getting stuck in the mud of our own field – see blog post Latest Lessons Learnt). So we still want to go to places that are fairly local – in case it all goes wrong. We felt that we owed Broadway a second chance – and it didn't disappoint.
We rang the Broadway Caravan Club Site in the afternoon (while we were out and about collecting menus for a work project) and booked a pitch. We arrived at about 7pm. The gate was shut, but we were met by the warden who took our card and let us in. When we told him that this was our first trip to a CAMC site, he look at me sympathetically and then explained how to find a pitch, hook up the electric etc. We parked up (facing outwards from the pitch as everyone else had) and hooked up. The newly fitted TV retuned itself and worked first time. We checked out the showers and toilets, which were just a few yards away. All immaculately clean. Very nice.
We walked around the site. Always surprised to see how many vans were there considering it was nearly the end of November then we strolled up the road into Broadway itself (it's just a short walk). We needed a menu from The Swan, so we ate there too. (They were okay with us taking the dog in). We like The Swan, having been there several times before. In fact, it is one of my favourites and this visit was just as good as previous ones. When ordering the meal, I spotted the bar person making cocktails. They looked interesting – so after the meal we ordered 2 espresso martinis which were very nice. At that point I could have wandered back to the van happy and content, but Sara wanted to take a walk up Broadway high street. Bowie the dog was happy about this too (having sat under the table for 2 hours watching us eat). We walked up to the Lygon Arms. Again, we've been here before several times, and stayed once (as a birthday present for Sara). So it was quite nice to enjoy having a nightcap in the bar (while staff and guests made friends with the dog) and then stroll back to our van (at £22 per night compared to what would have cost over £300 per night at the Lygon Arms).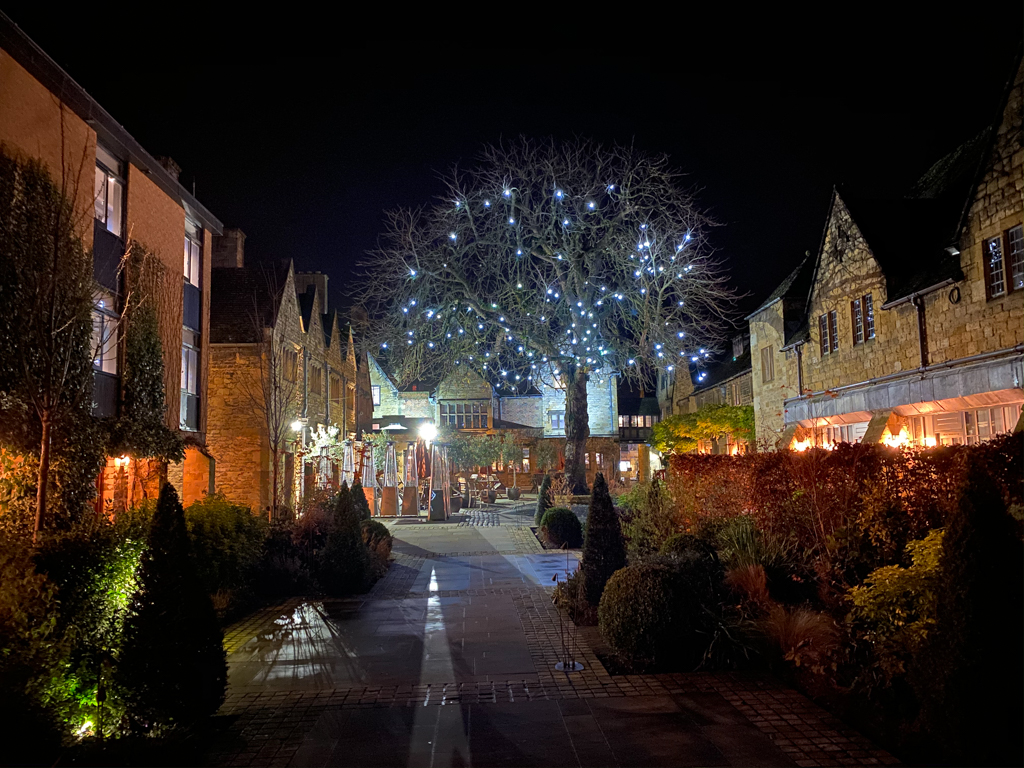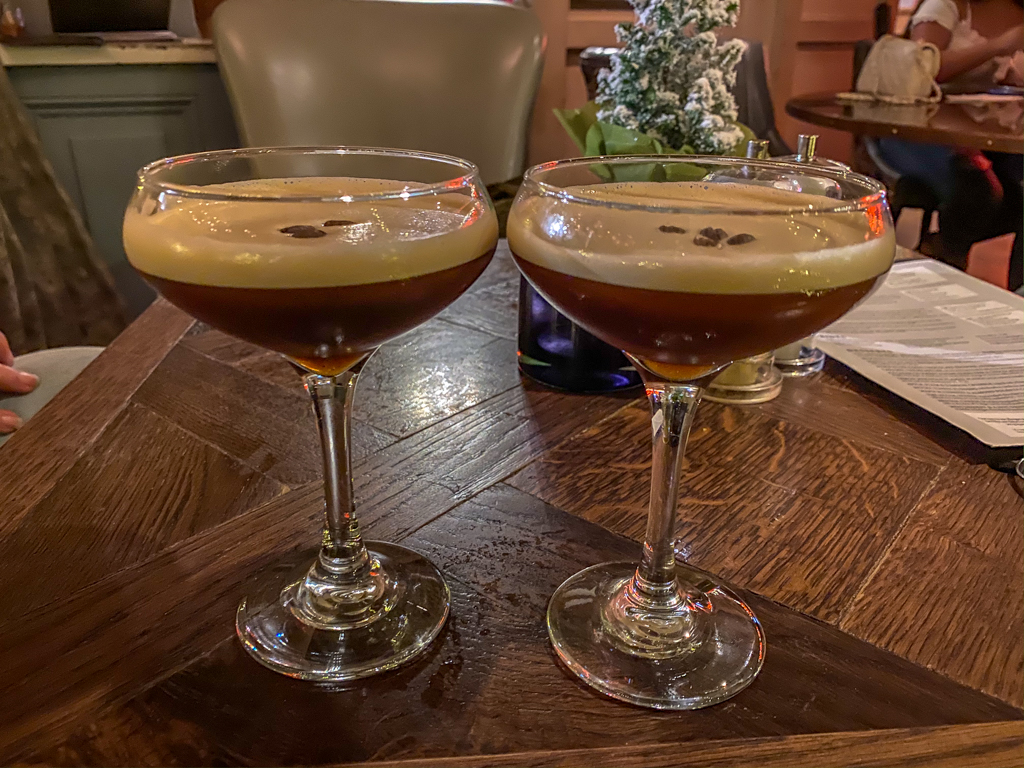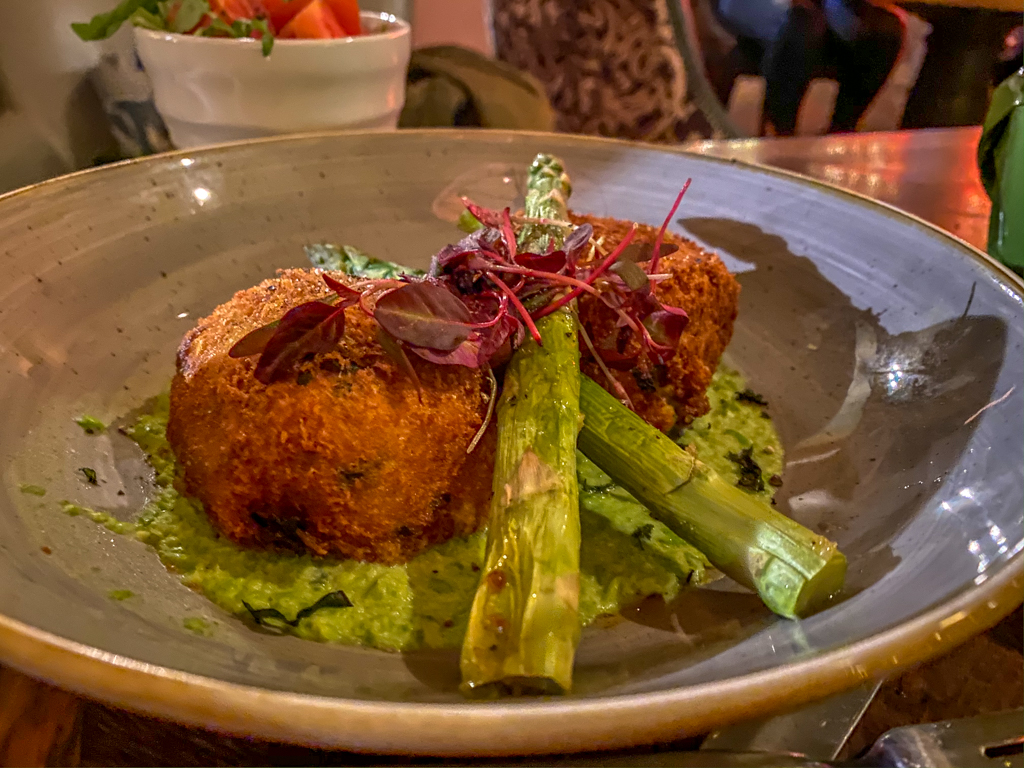 We watched some TV in bed before turning in. I think we'd both had a bit too much to drink as neither of us slept particularly well (partly due to the dog lying across us – as the bed is much smaller than our bed at home – and also as it rained in the night which was quite noisy on the roof). Tea then coffee and bacon sandwiches were required in the morning, before showers. After Sara had done some work on her computer (while I went to reception and paid), we departed.
The Broadway site is really nice. The pitches are level and roomy. The facilities are really clean and well-appointed. Staff and other campers were friendly. All in all (the journey, the site, the pub, the hotel), we had a great time. I'm glad we tried again to get to Broadway. I suspect (as it's so local to us) that we'll go there again soon.