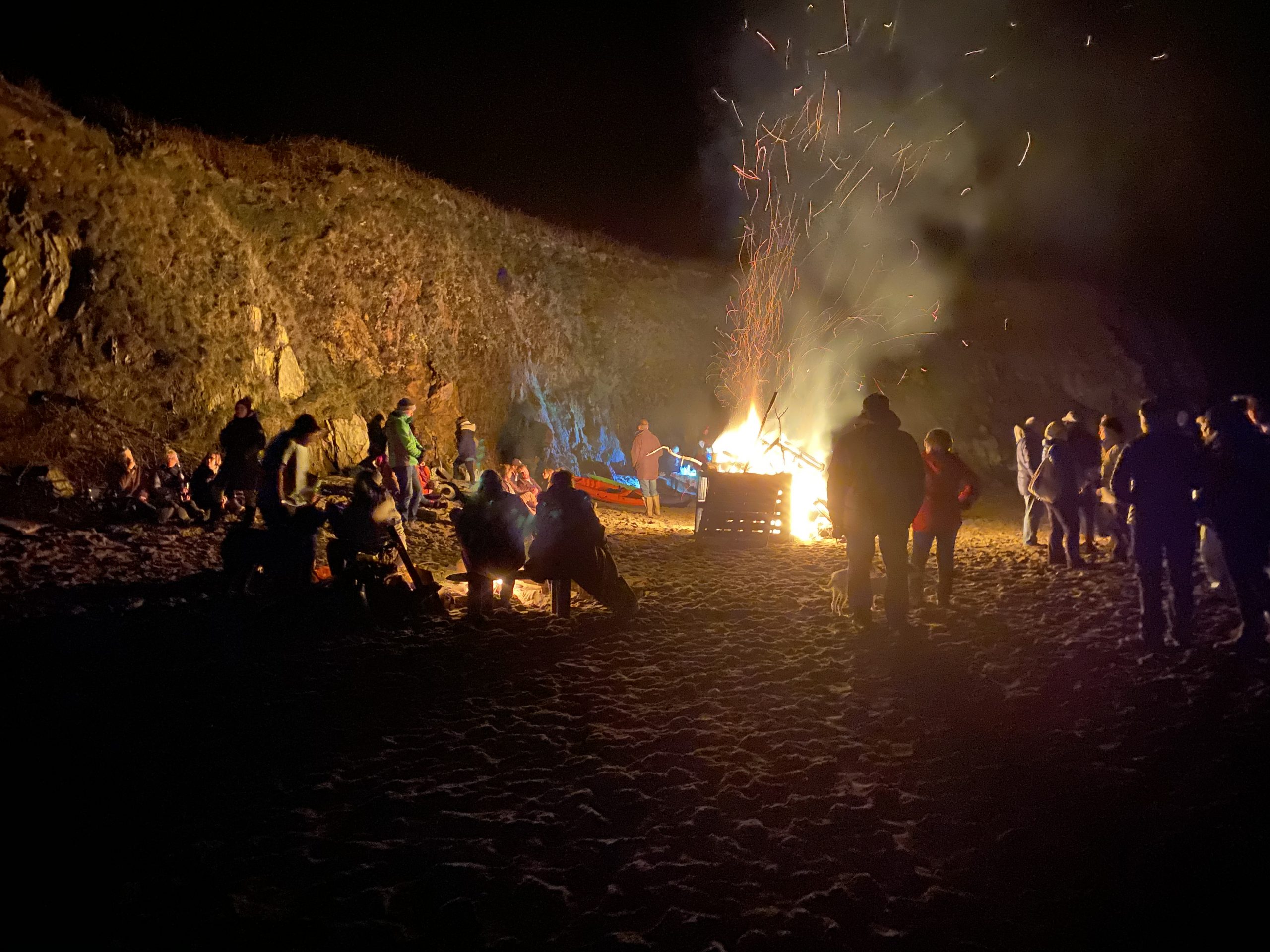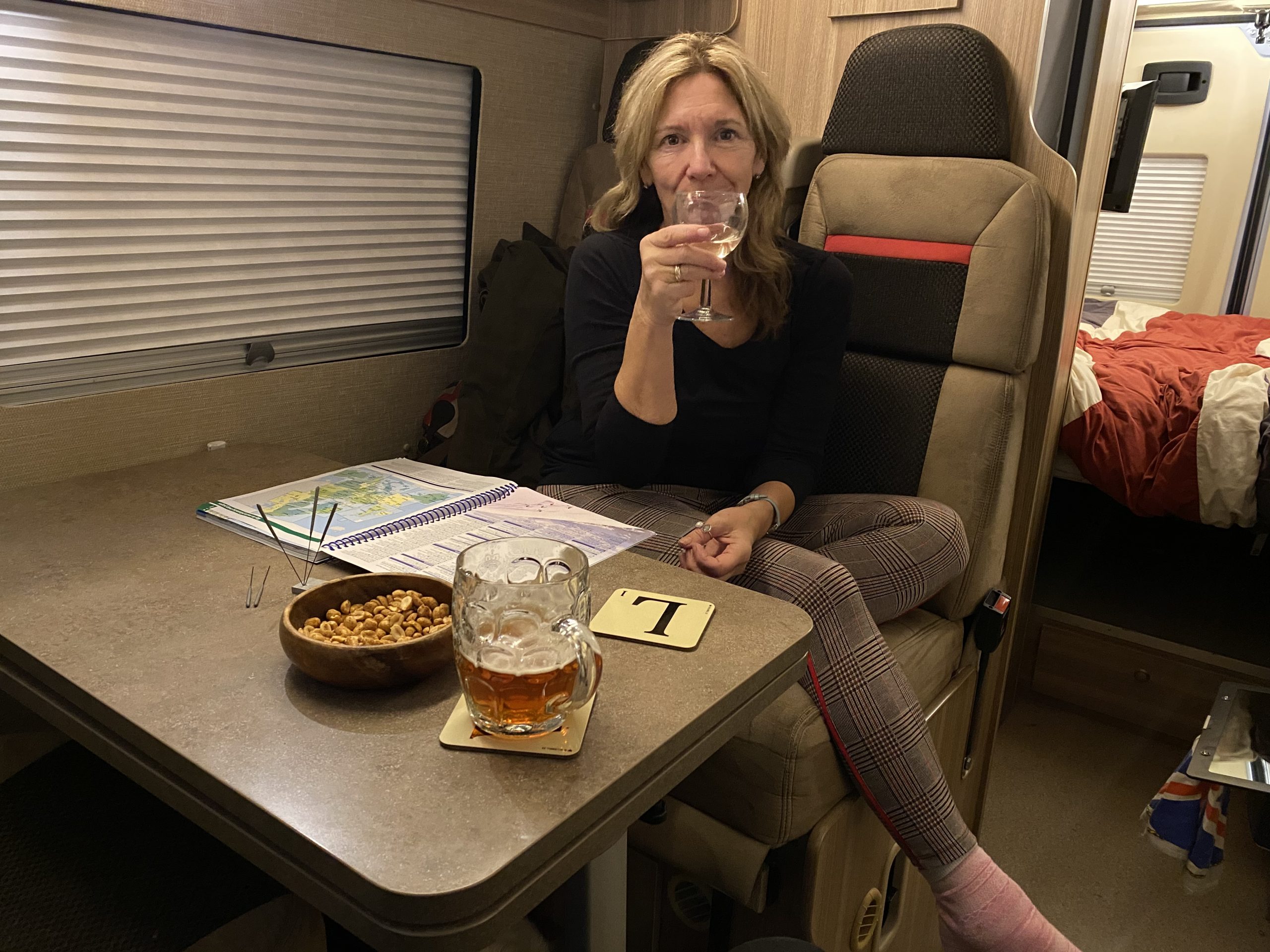 Happy New Year!
I hate New Year. All that false friendship… pretending that a new year is going to make everything different, better. New Year's resolutions (that nobody keeps). And so on. So, the idea of going away somewhere, and ignoring the festivities was quite appealing.
We hunted through all the websites CAMC.com, pitchup.com, park4night etc etc. Most sites are closed at this time of year. Very frustrating – especially when Sara said she fancied parking up overlooking the sea for New Year's Eve…
We found a site and phoned it. No answer. We phoned every day for a week. Still no answer. Despite this, there was something appealing about the descriptions and the tone (and I'm glad we saw this). So we decided to just turn up. We thought that if it was closed, we'd just find a quiet place nearby and park up anyway.
However, it's as far west in Wales that you can go. So, it's about 4 hours away.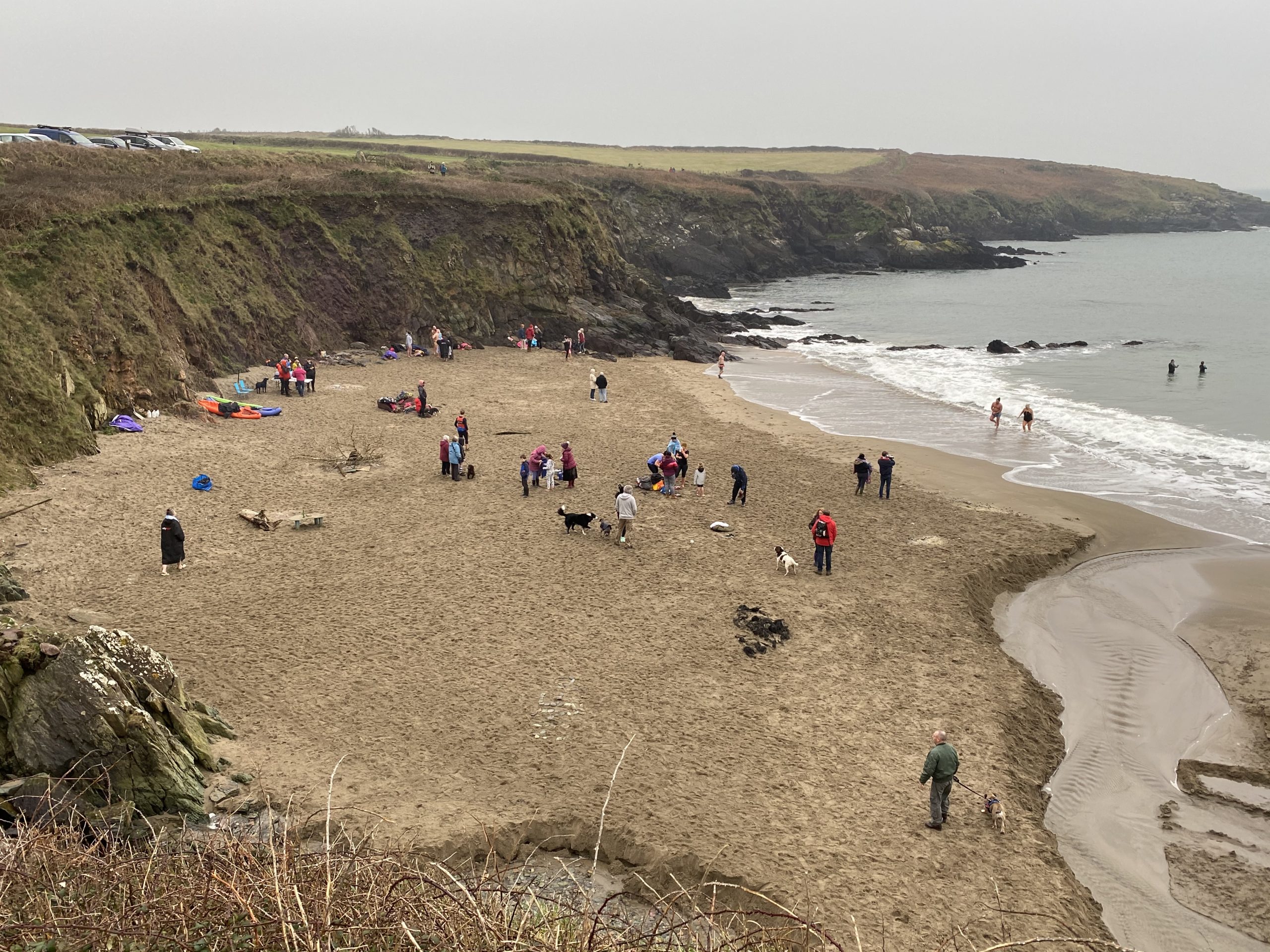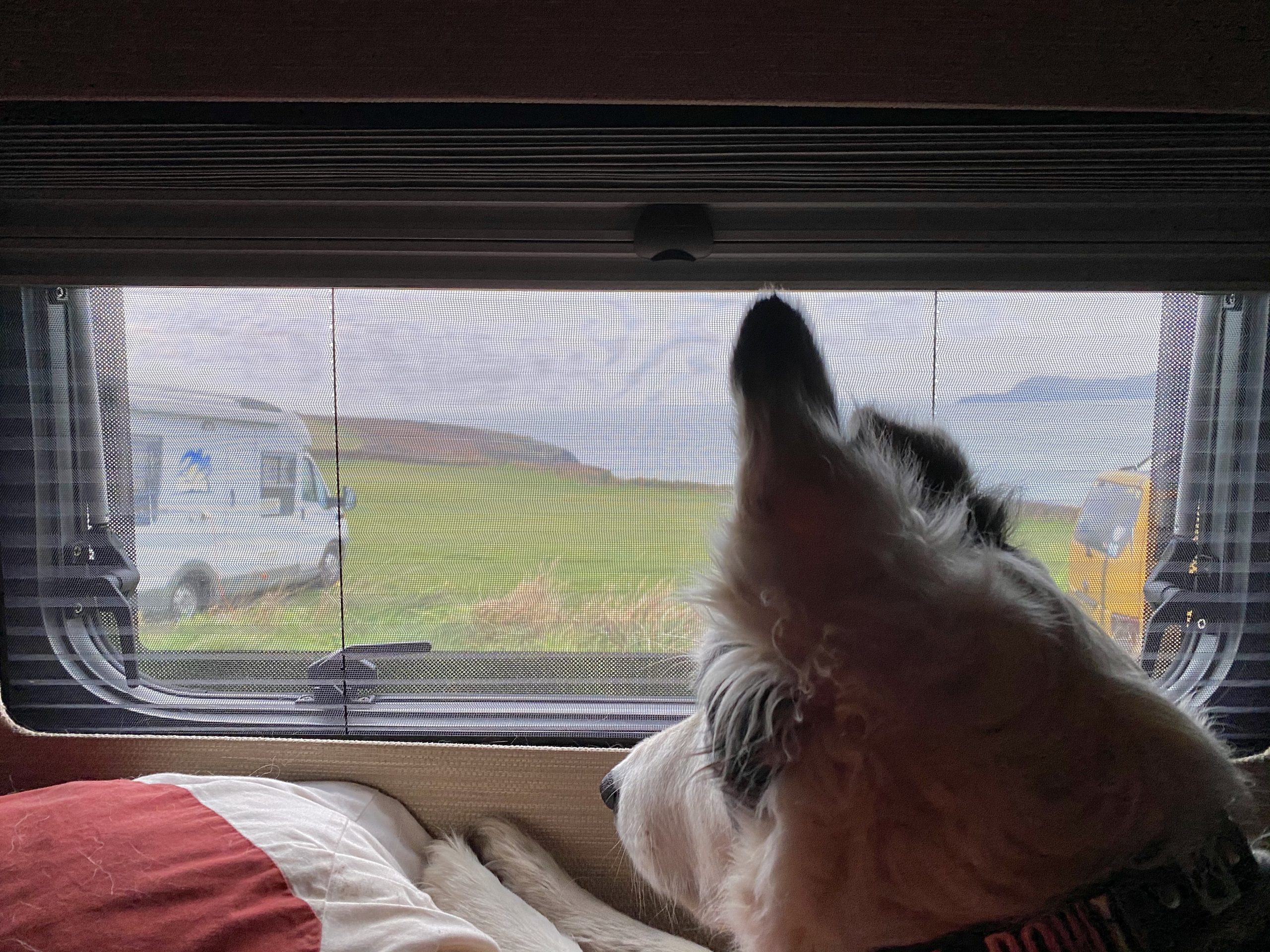 We drove for what seemed like forever to get right across Wales and eventually pulled up at Pencarnan Farm Campsite. No-one was at the Reception, so we called the mobile number and spoke to Ben (who is one of the sons of the owners). He told us where to head so that we could park up. The field was sloping and slippery. Our van is not much good on slippery surfaces so we headed out of that field and into the higher field. We drove along the hedge, looking for a power supply. The vans on the other side of the hedge had used them all except one. So we tried to drive back to that one. But we were stuck. We immediately got our Milenco grip mats out (and unwrapped the packaging for their first use). No use whatsoever. The wheels did not grip the mats. So we called Ben again. He and his brother drove down in a tractor and towed us further along so we could plug in. We put the grip mats down under the front wheels to stop us sinking in any further.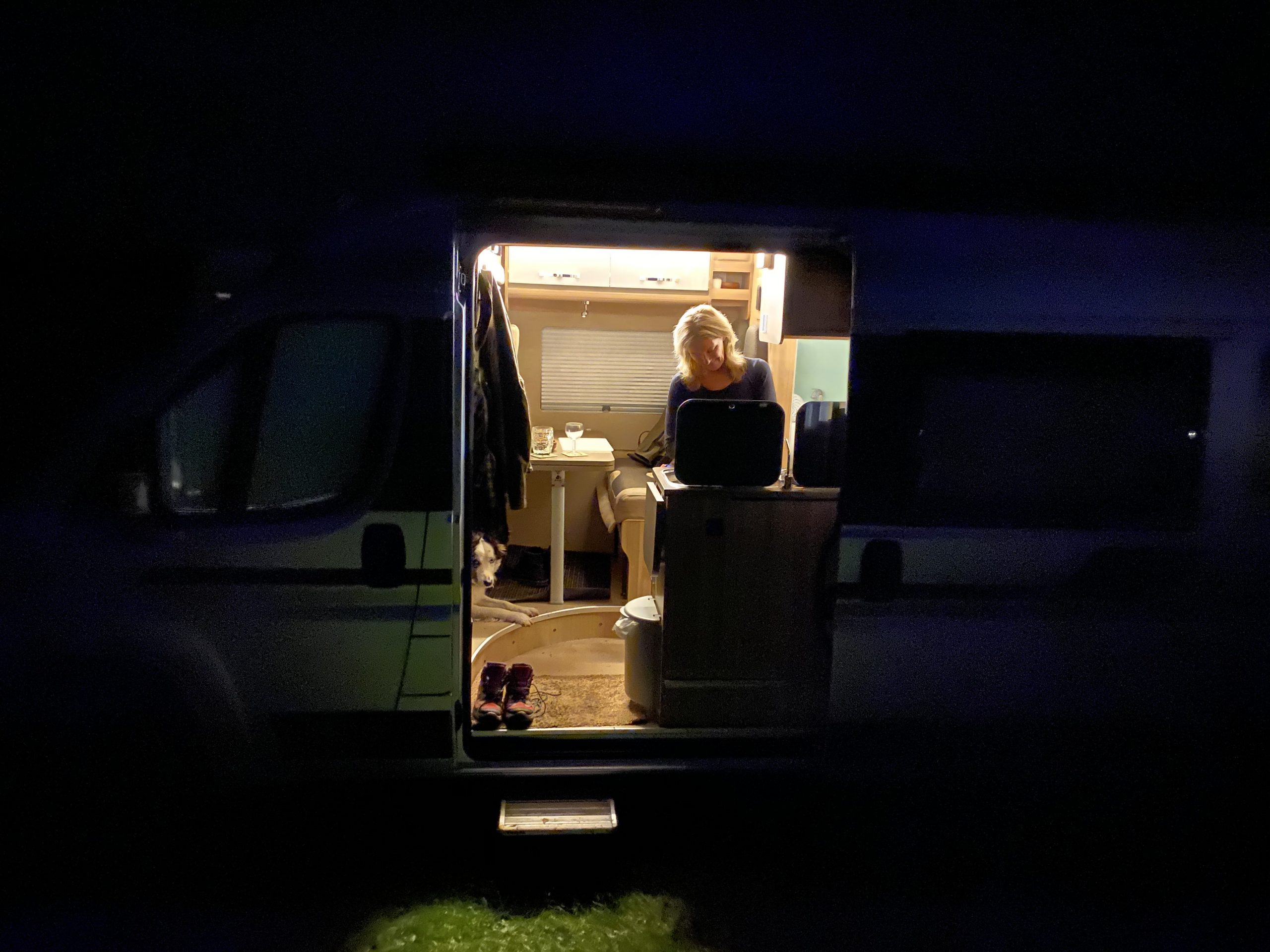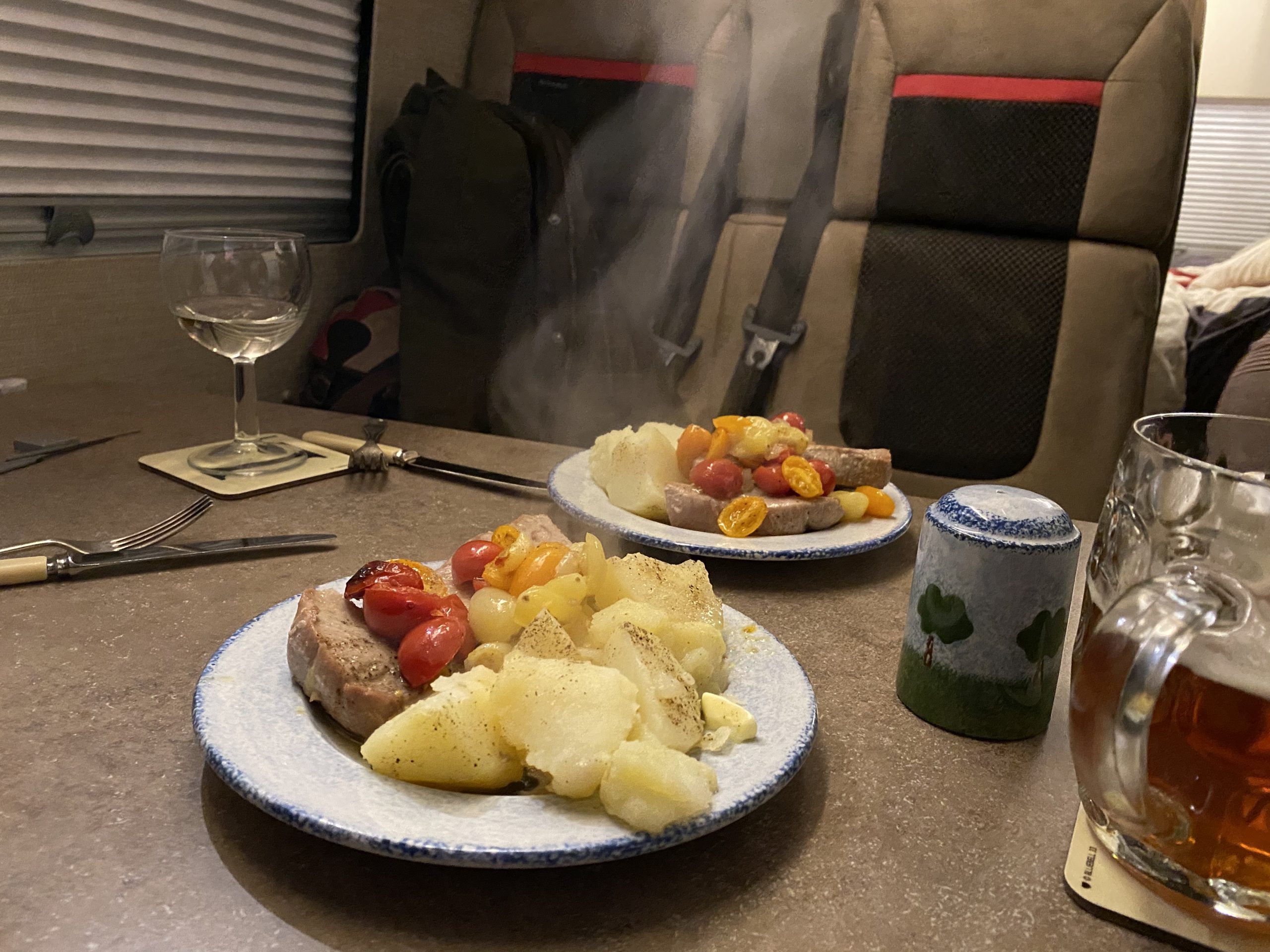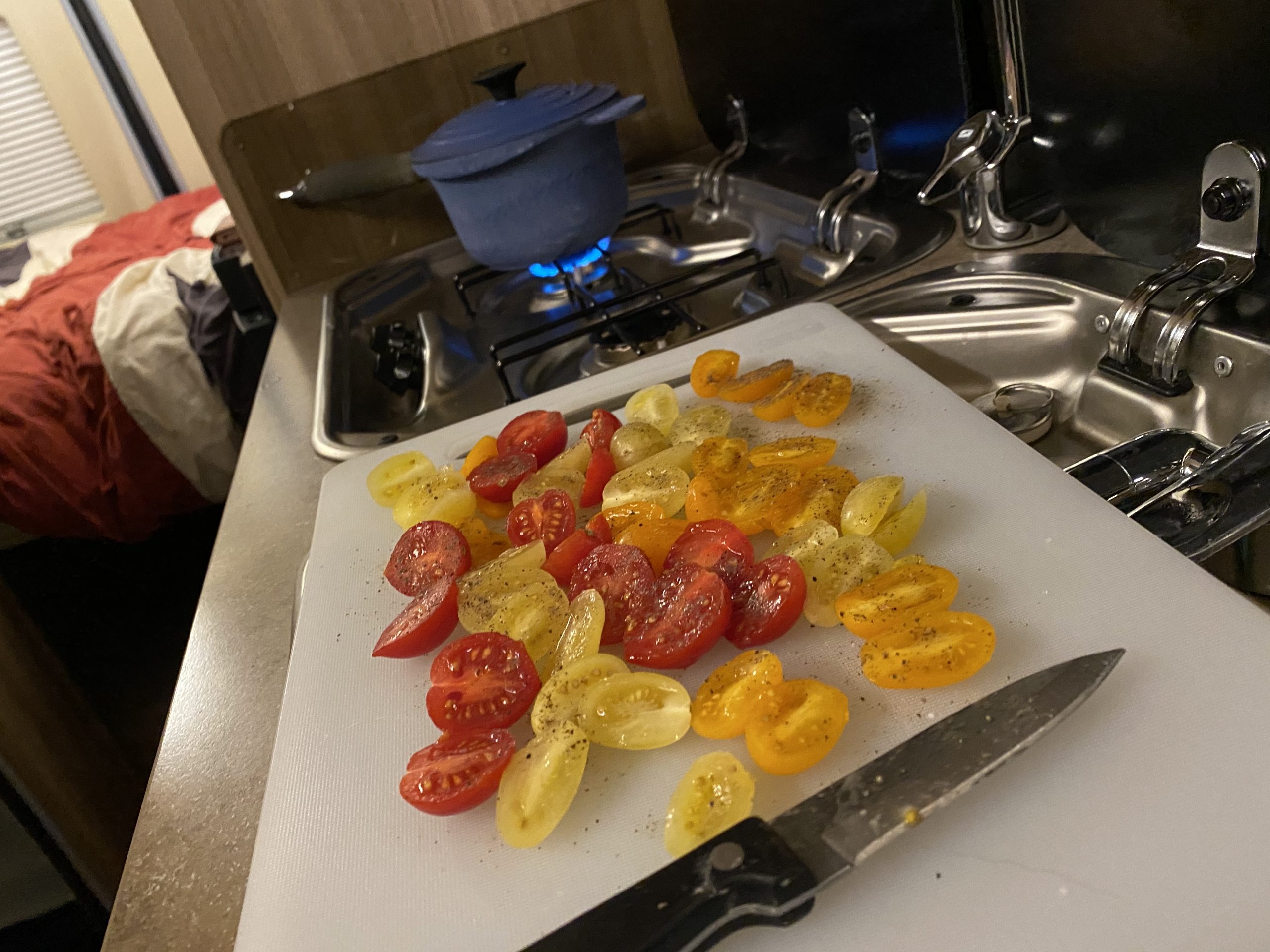 Sara was determined to cook us a proper meal in the van for New Year's Eve. (And it was a good job too – as there were no restaurants for miles). She made tuna with potatoes and tomatoes. Very nice. We then had a few drinks. The electricity hook up was just 3 amp. It worked the lights. Then we tried adding the TV, but it couldn't find a signal. As it was beginning to get chilly, we tried turning the heating on – but this was too much for the electricity supply – which then went off. I looked at the other vans, and they still had lights on, so it must have just been ours that went off. So, once again, we are now off-grid! There was also no phone signal or wifi. (We later found out that the campsite had wifi but it only worked up by Reception). Sara was cold so she got under the duvet. Then I did too. We fell asleep. It was 8.30pm on New Years Eve. At about 10.30pm, I woke up. I could hear people walking past. Looking out of the window I could see people moving towards the beach. I got the torch out and noticed lots of bits of chewed up paper in the tp compartment where we keep the torch. I pulled a few more things out (dog towel, dog food, umbrella, thermal window covers, bunting, lights etc) and it was obvious that there was a creature living up there (droppings, chewed up towel etc). So then I removed everything that had been damaged by the creature – I assume it was a mouse – and throwing it out. The campsite owner, Alan, walked past at that point and advised us that there would be music and fireworks later on. I swept all the mouse droppings out and replaced the undamaged stuff. Sara got up then. We then walked down to the beach. There were 3 bonfires, music playing and lots of (mainly young) people partying. We took some photos and then settled down. At midnight the fireworks were launched. It was excellent. Lots of fireworks, all set off quickly. Then it was 2020. Let's hope it's a good one!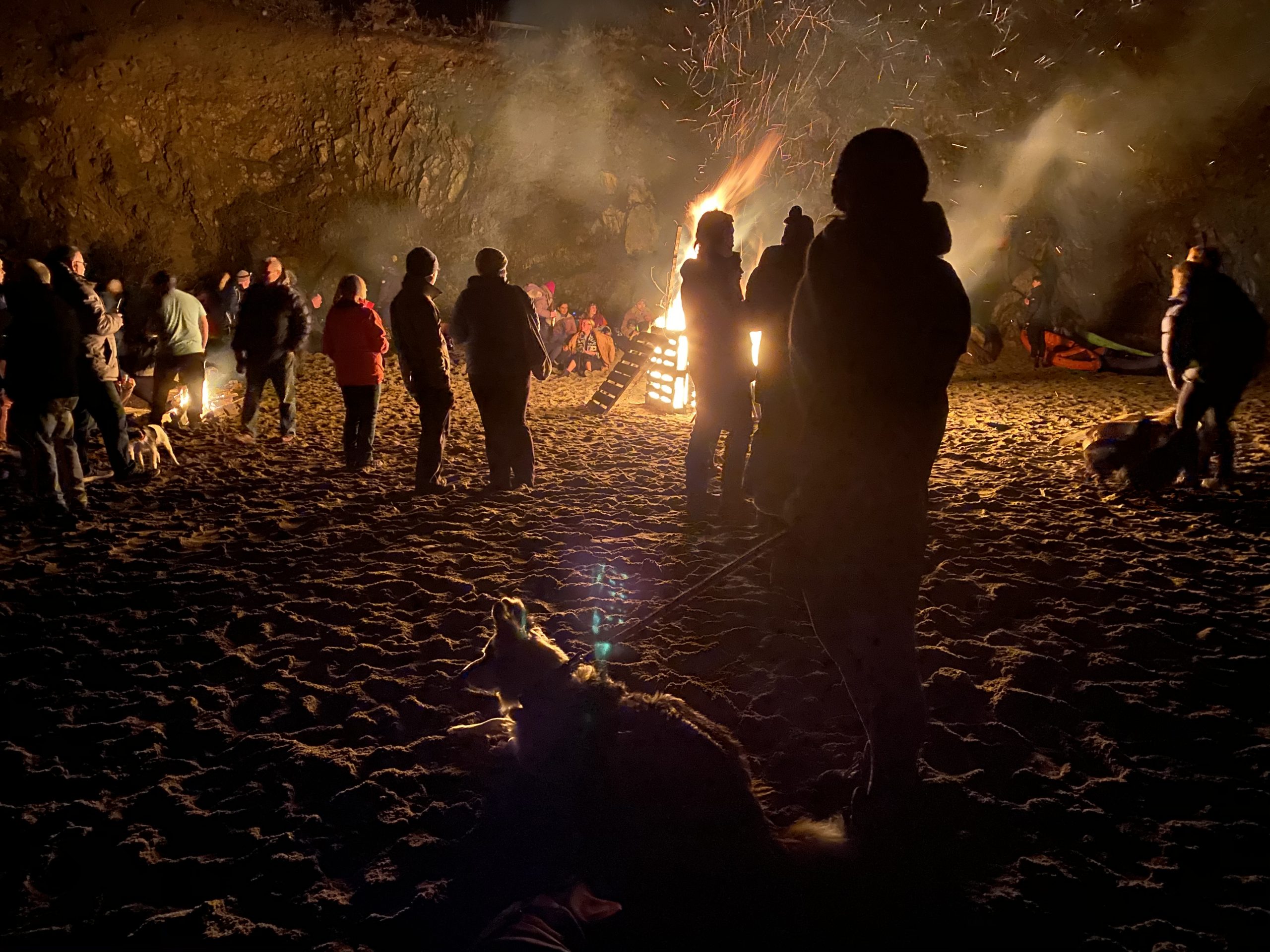 The next day, we decided to walk the dog along the coast path. First, though, we walked up to Reception to see about paying. Again there was no-one there. A woman and child appeared and asked if we were going swimming. We said no. They explained that there was going to be a New Years Swim on the beach at 11am. So, after finding the wifi and quickly sending Happy New Year messages to the family, we walked back to the beach. People began to appear and then stripping down to their swimming gear. At about 11, they went in, screaming and splashing. Some came straight out again. Others stayed in and swam. Plucky, crazy lot. Then we walked along the cliff patch to the next beach where it became obvious that there was going to be another New Year's Day swim. A lot more people and the RNLI plus local surf guards in attendance. At 12 noon they all rushed into the sea. More crazy but brave people. When most of them had waded back out, the lifeguard boat signalled its departure with a toot on their horn and we wandered back to the site for bacon sandwiches. Once we'd packed everything away, we tried driving up the field. We got 4 feet before being stuck again. Once again, we rang Ben. This time, it was his dad, Alan (fresh from his chilly swim) who drove down in the tractor and pulled us up onto the track. We thanked him and asked how we could pay for our stay. He said to pay through the website. Then we left (at about 1pm).
We arrived home at about 6.30pm (it's a long way!) I immediately went onto the campsite website to pay but couldn't find a link. I've now asked how to pay by email. All in all, it was great. The site was really nice, the scenery was just lovely. The beach was beautiful and clean. The entertainment was the cherry on the cake. Hopefully we'll go back one day.