About 3 years ago we booked our favourite French farmhouse for a 2-week holiday for all the family (including partners and grandchildren) in the Dordogne for July 2020. Obviously Covid ruined that. So we re-booked for July 2021. Covid ruined that too. But we had set aside the time and we needed to cross off a few of the items on Sara's '60 before 60′ list (this is a list of 60 things that Sara needs to do or visit before she is 60 on the 6th of October). So, leaving our daughters in charge of the house, we (and Bowie the camper dog) jumped in the camper van and set off towards the east coast.(This is quite a long post… so buckle up!)
Day 1 – Friday 9th July
First stop – Lincoln. We hadn't seen Lucy (my late Father's wife) for about 18 months, so she was our first destination. We picked her up and went for lunch at a local pub, then took her back home for cold drinks while we admired all the work she has been putting into her garden. From there we drove across the Humber Bridge to Bridlington. We had pre-booked the Bridlington CAMC site. It's a very clean and tidy site, but doesn't really have any views of the area, so in the evening we walked down the road and found ourselves by Sewerby Hall and Gardens. The gate was open so we wandered in and too a look round. We weren't sure if we were even supposed to be in there – but a friendly security guard confirmed that it was open to the public all the time so it was fine. (He was just there to make sure that no trouble was being caused!)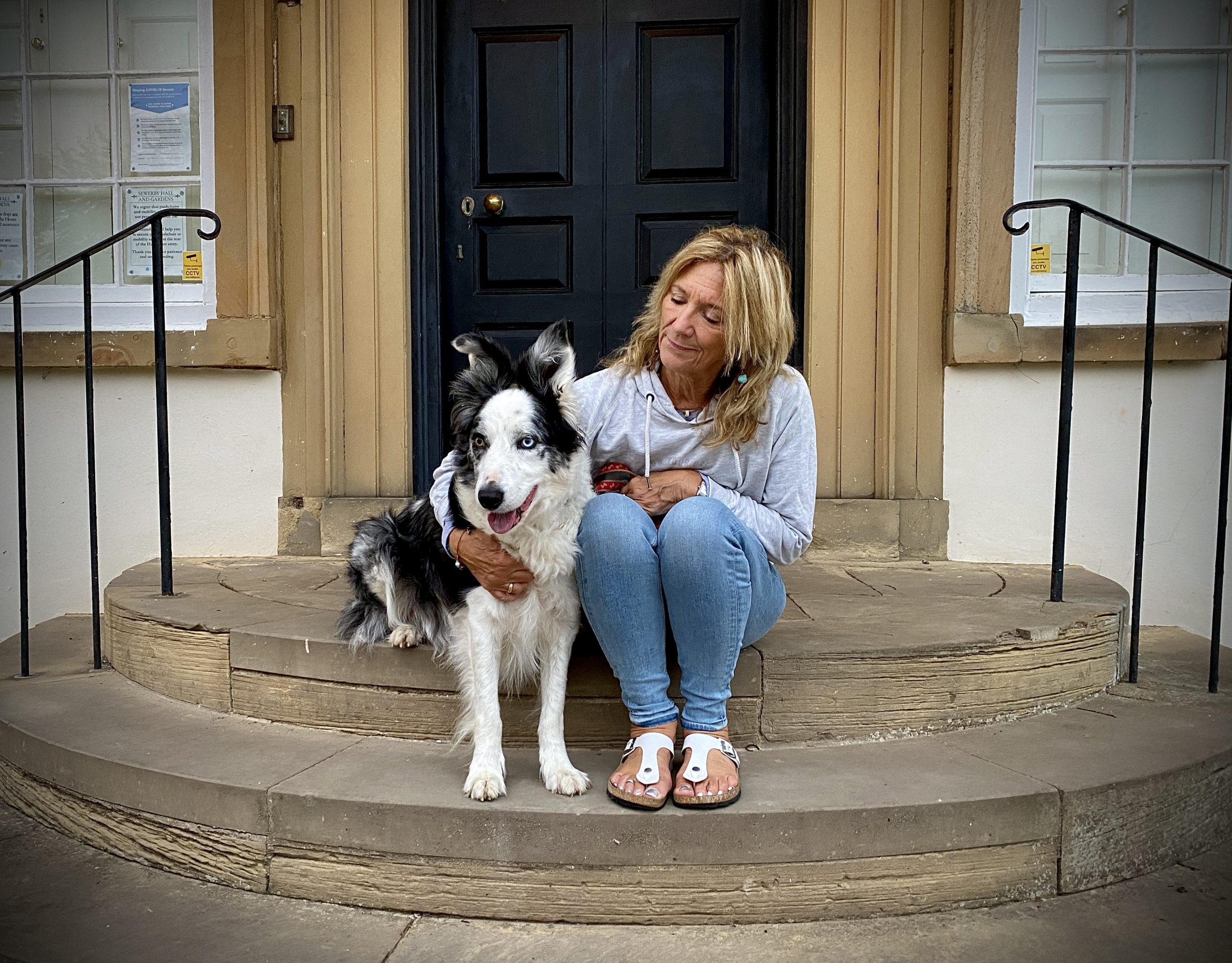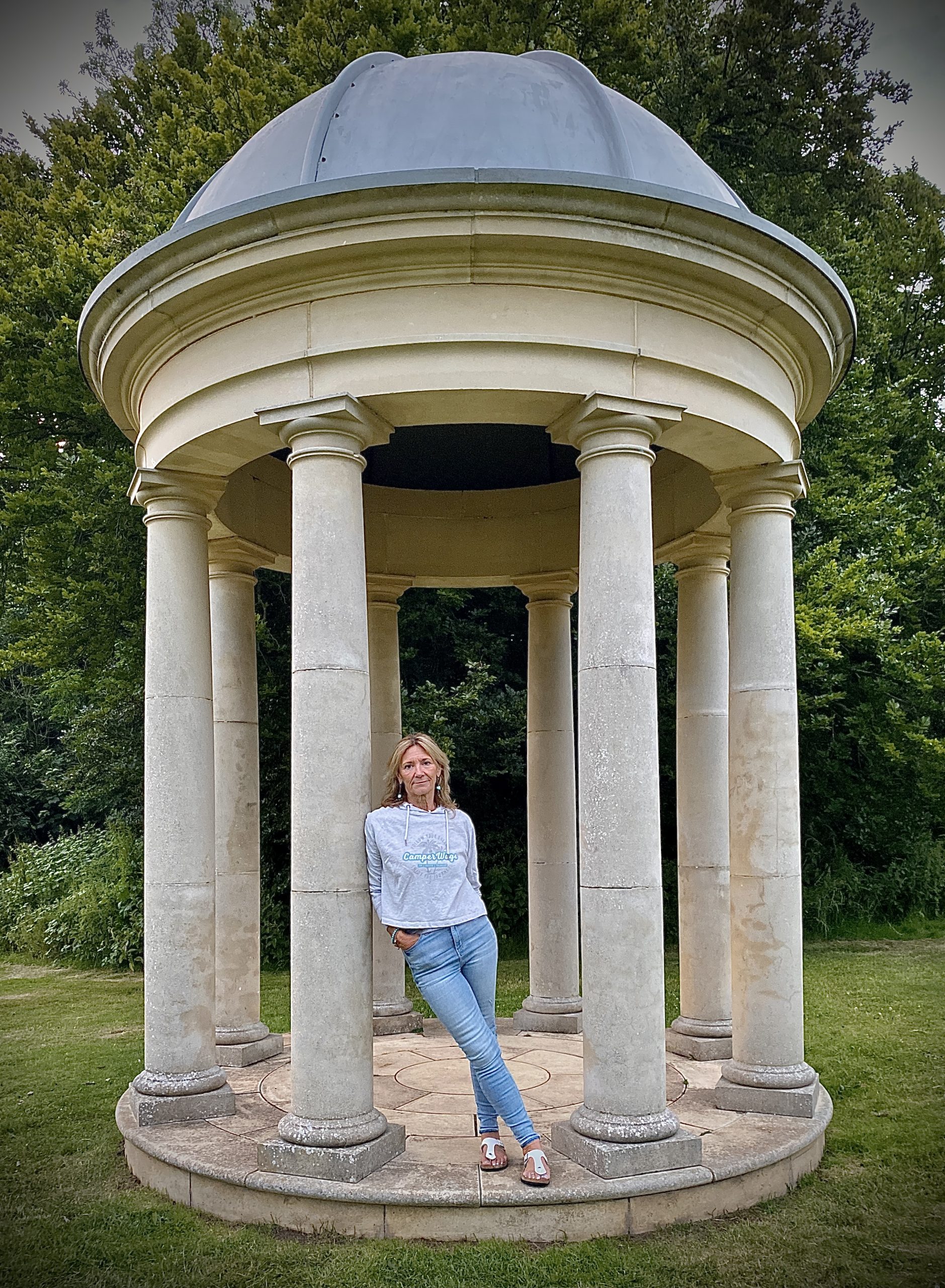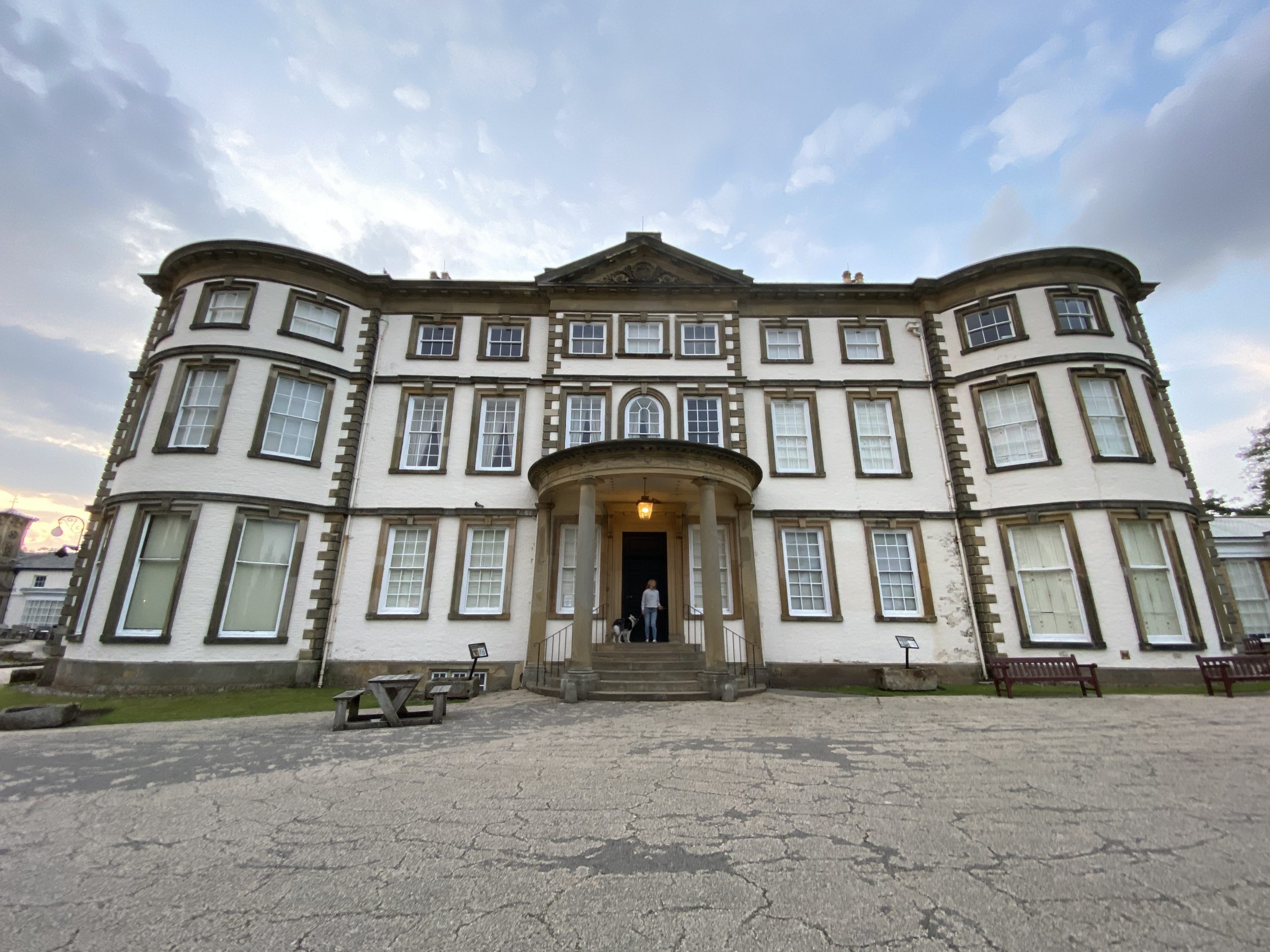 We also took a walk down to the beach.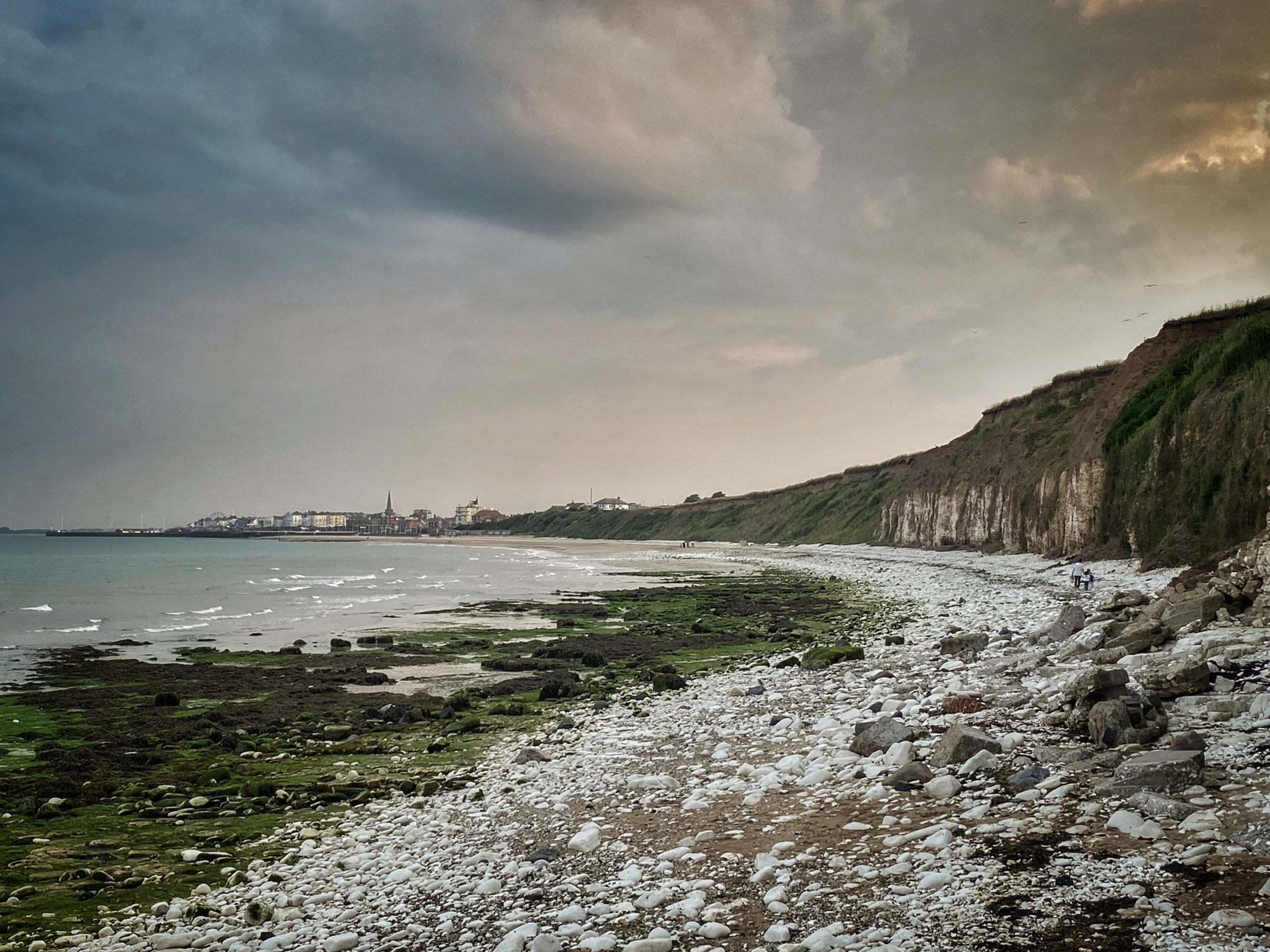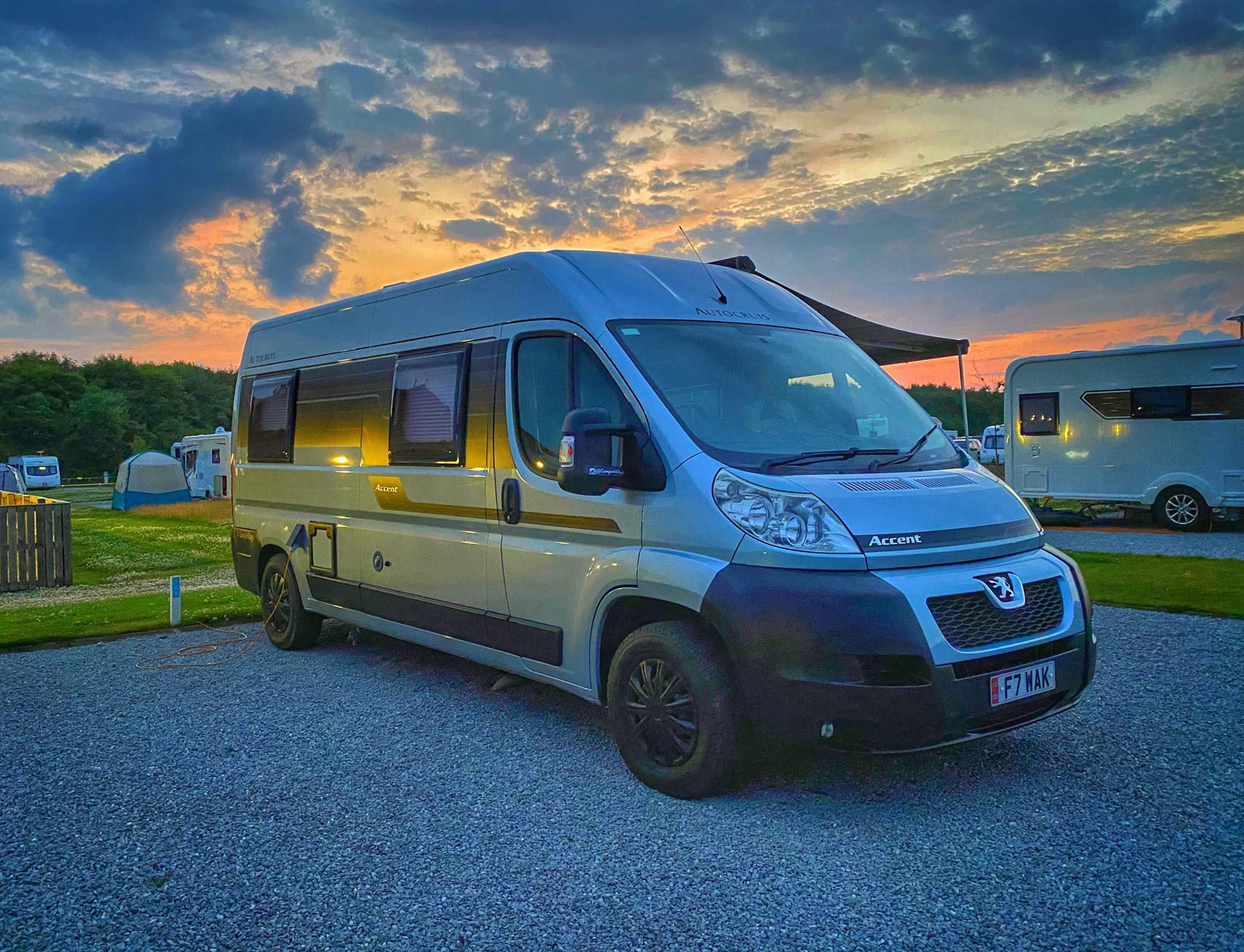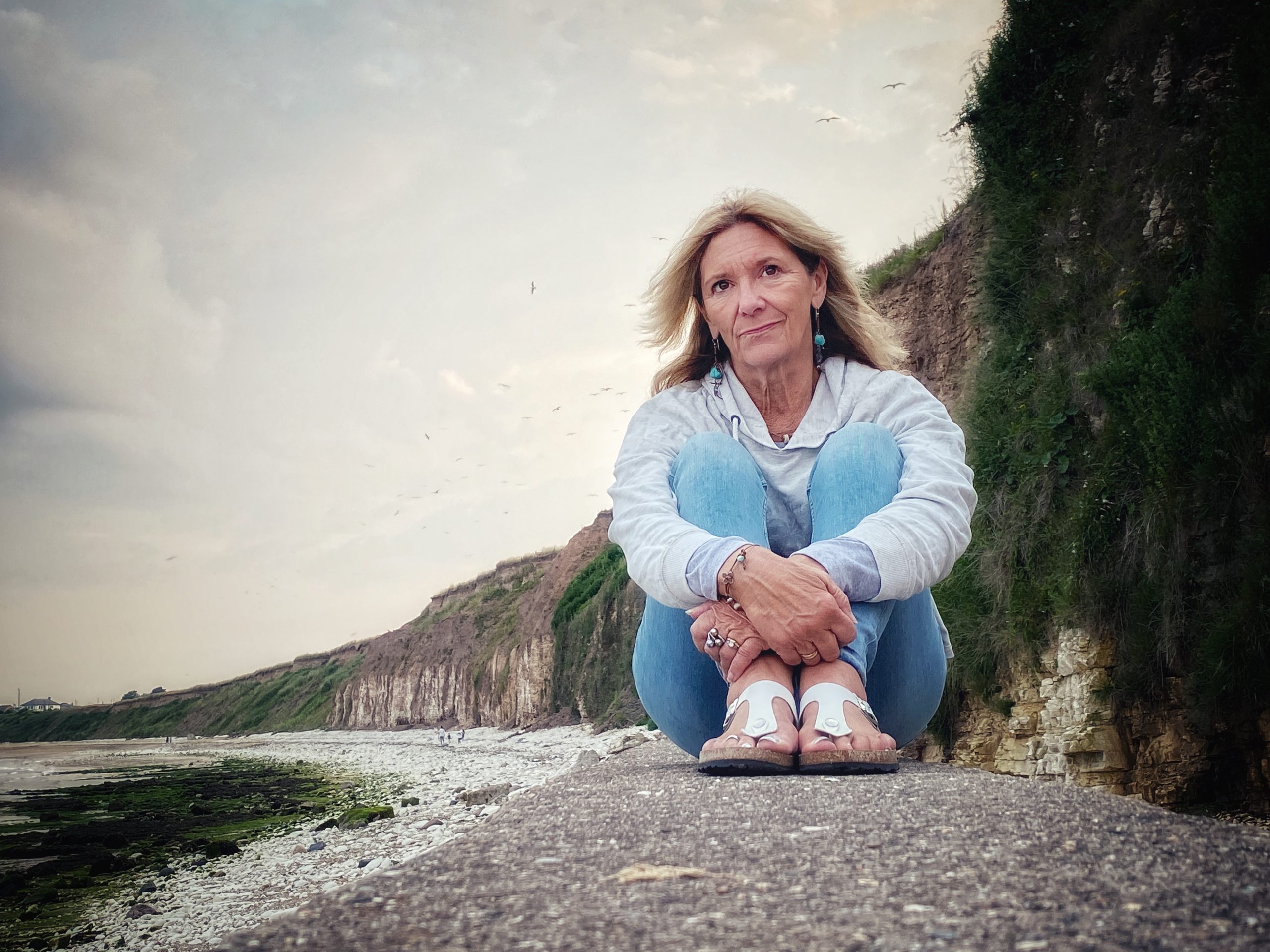 Day 2 – Saturday 10th July
We left Bridlington fairly early and headed towards Scarborough. We stopped briefly at Hunmanby Bay and walked along the beach (as it was a favourite place for Sara to visit many years ago.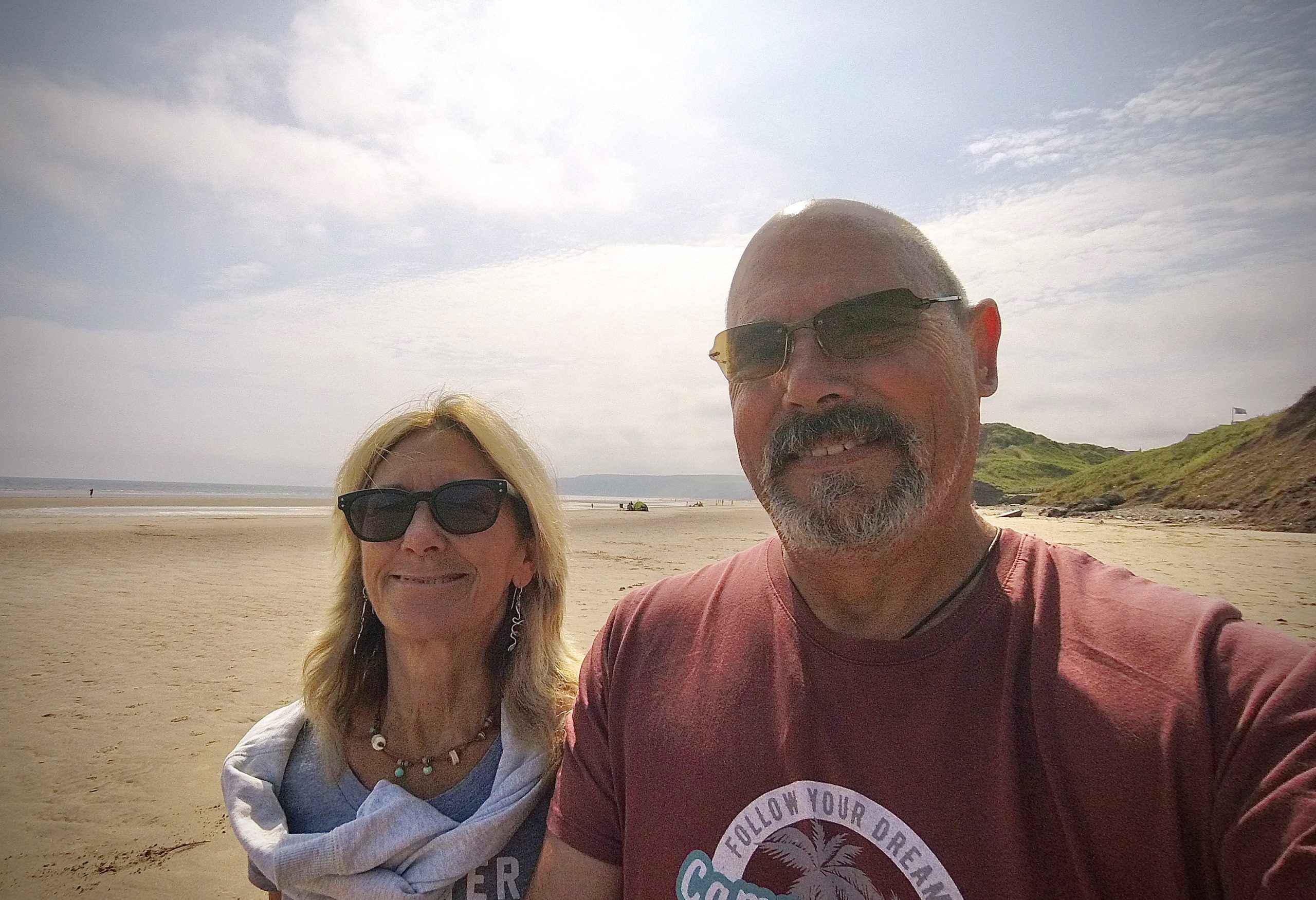 We continued on to Scarborough. We parked up in a little car park and walked to the seafront. The first sight we came across was the amazing Spa bandstand (as featured in the film Dancing Queen with Rik Mayall and Helena Bonham-Carter).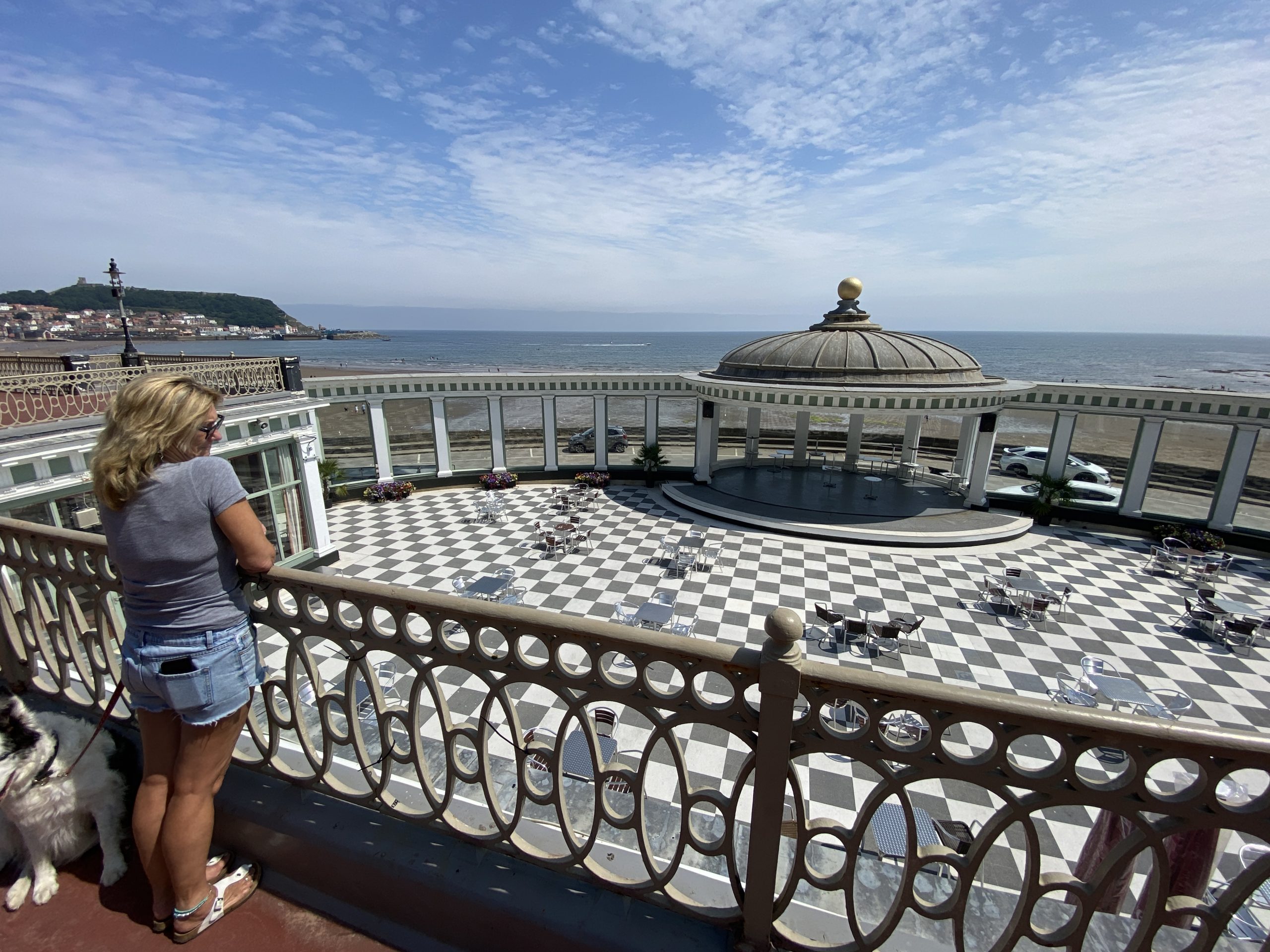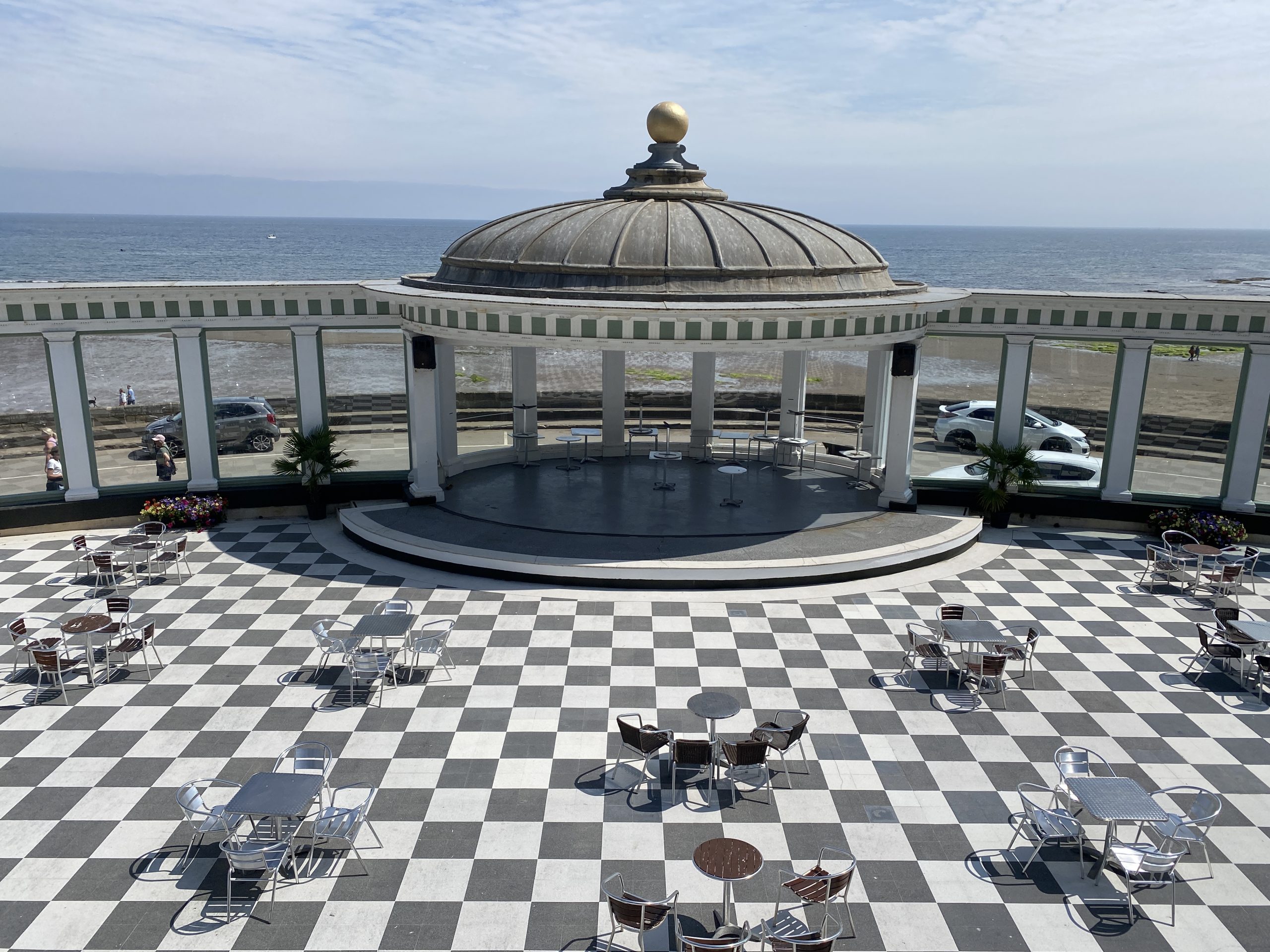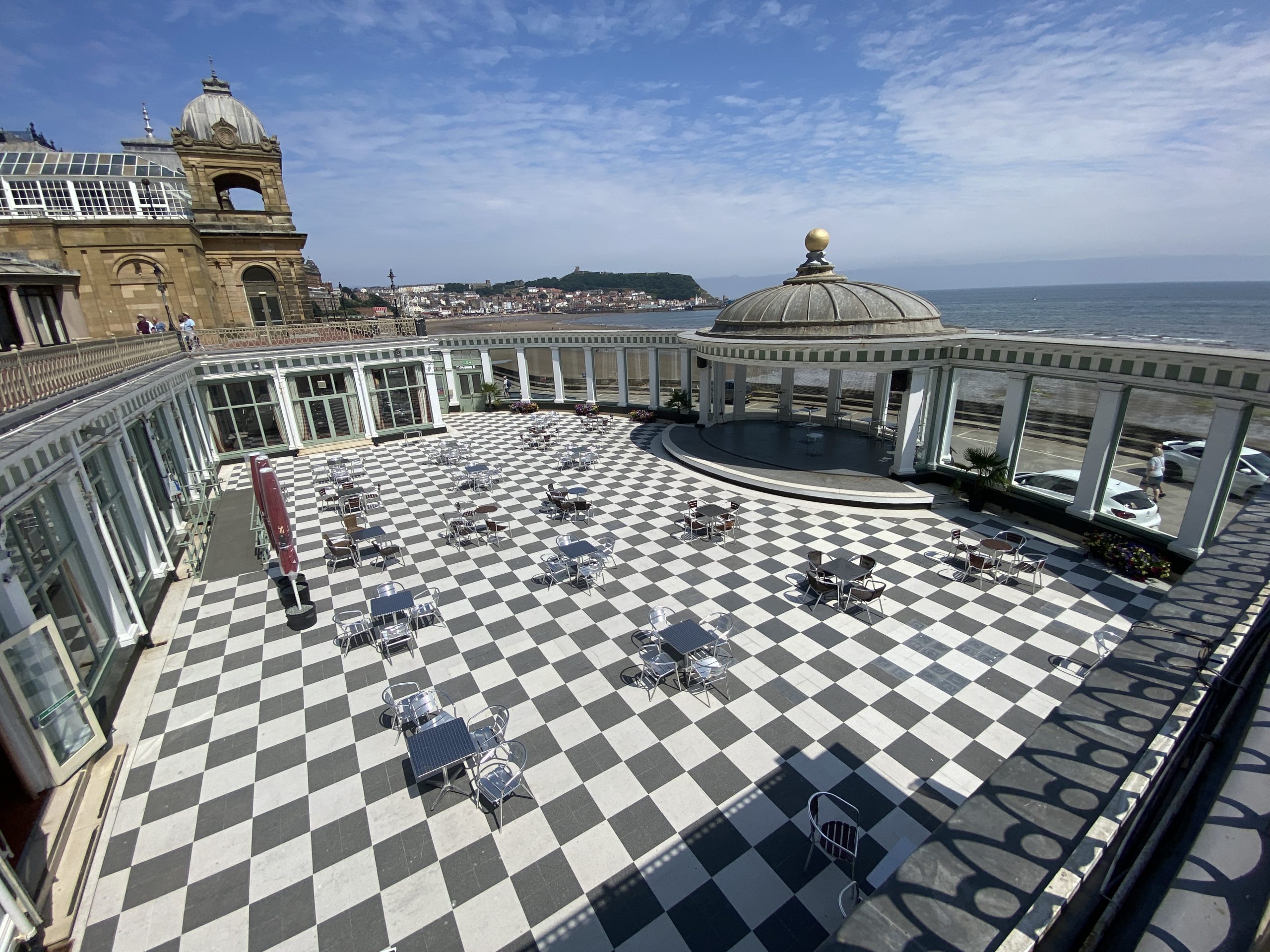 Then we wandered along the beach and seafront in Scarborough. We watched a girl swim across the entrance to the harbour – much to the annoyance of the harbourmaster, 'Are you ****ing stupid?' was his question…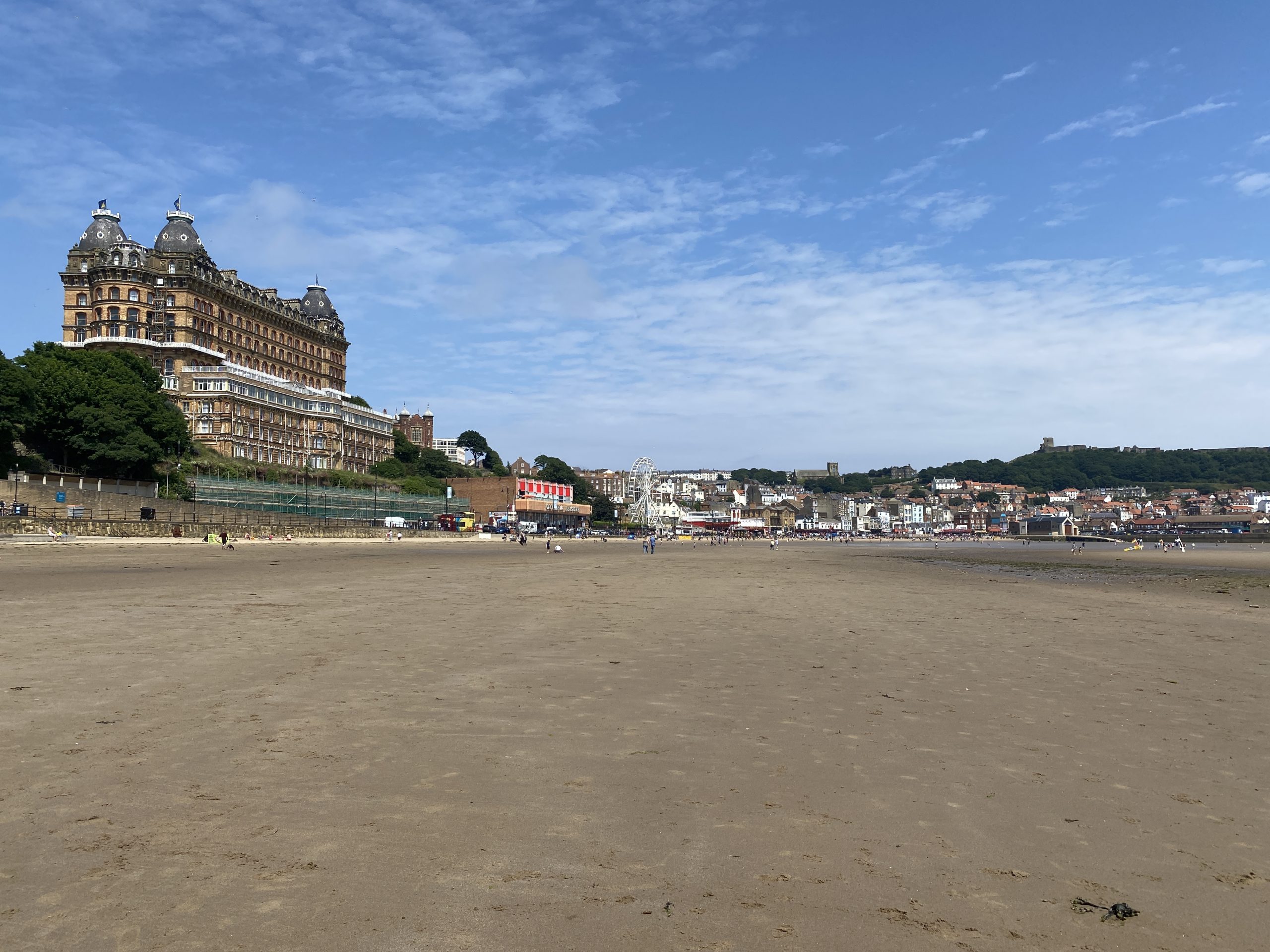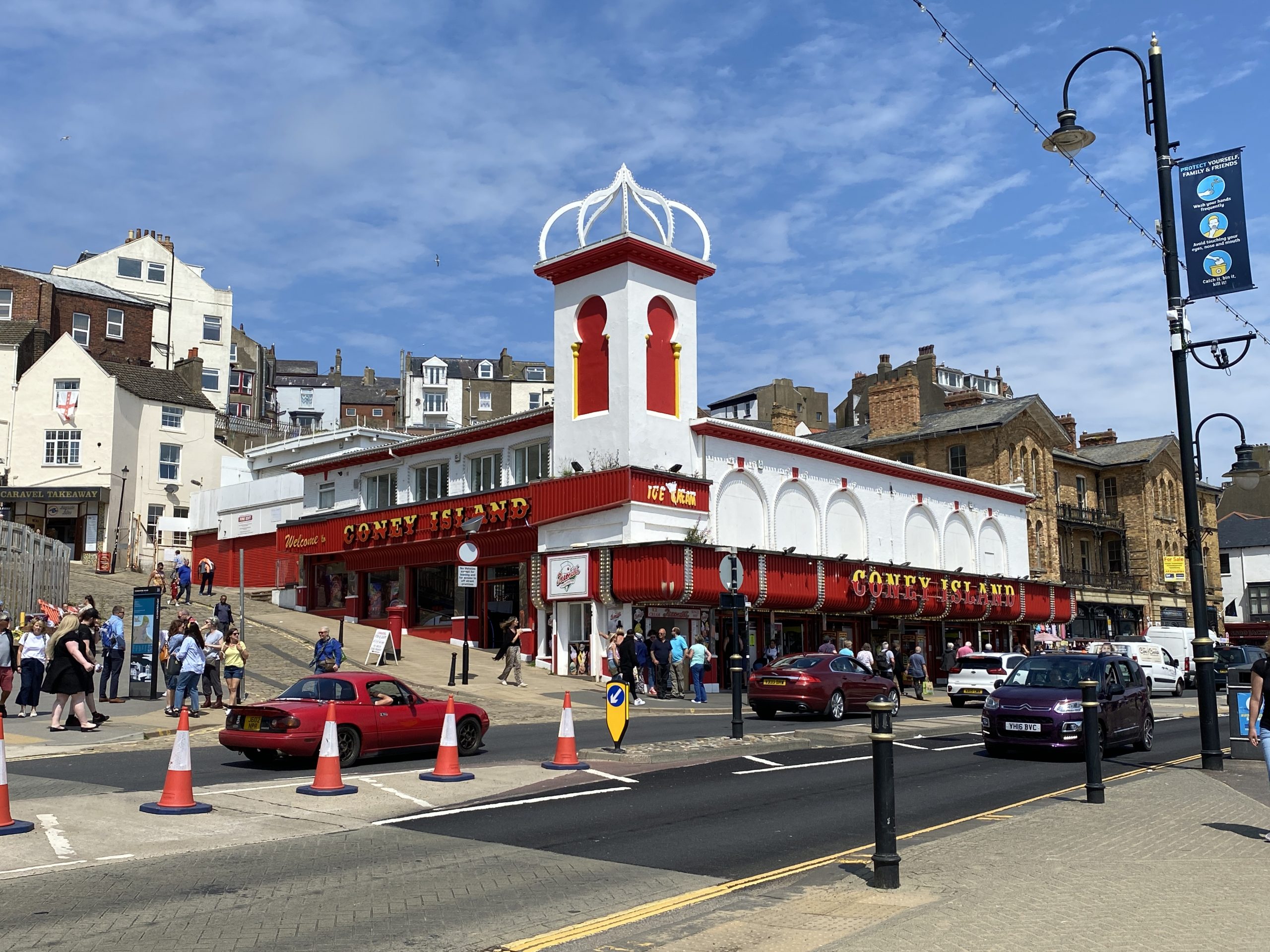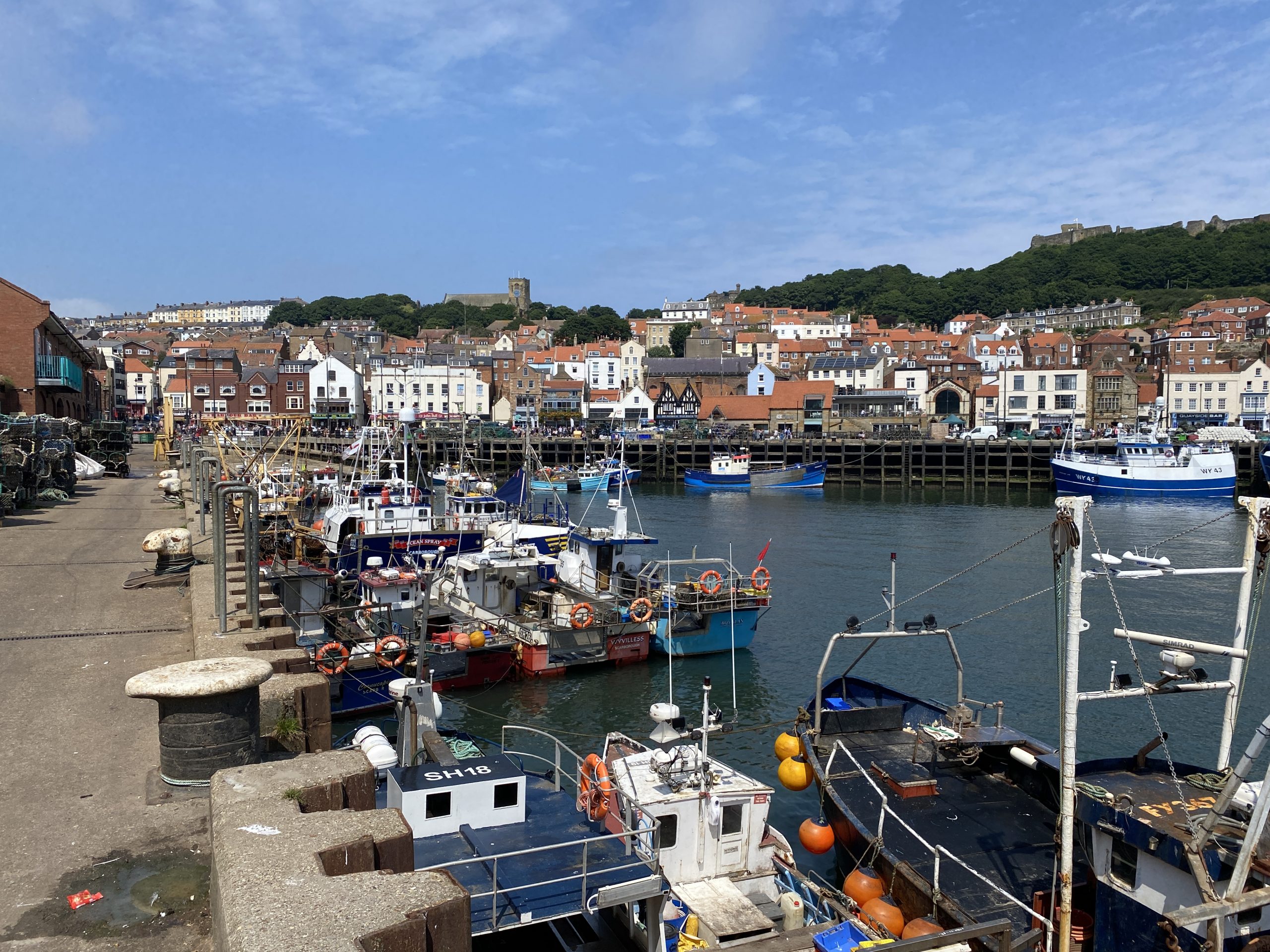 We wandered back along the front and went back up to where the van was parked using the cliff lift. 
Next stop on our journey was Whitby. I've seen images taken in Whitby and it has always intrigued me so I made sure it was on our itinerary. As we approached Whitby the first thing we saw was the ruined abbey. I found myself recalling something about Bram Stoker and Dracula so I looked it up and yes, apparently it was the inspiration for the story – and, as a result, gets plenty of Goth tourists. We parked up in a road nearby and attempted to buy entrance tickets. Sadly the website was way too complicated and time-consuming, so we took photos from over the wall, and started walking towards Whitby centre. As it happened, it was easy to just walk into another part of the abbey grounds so we did. In daylight, it all just looks like a ruined abbey, but I can imagine that at night, or when the skies are dark and threatening, it does conjure up images of vampires and scary things!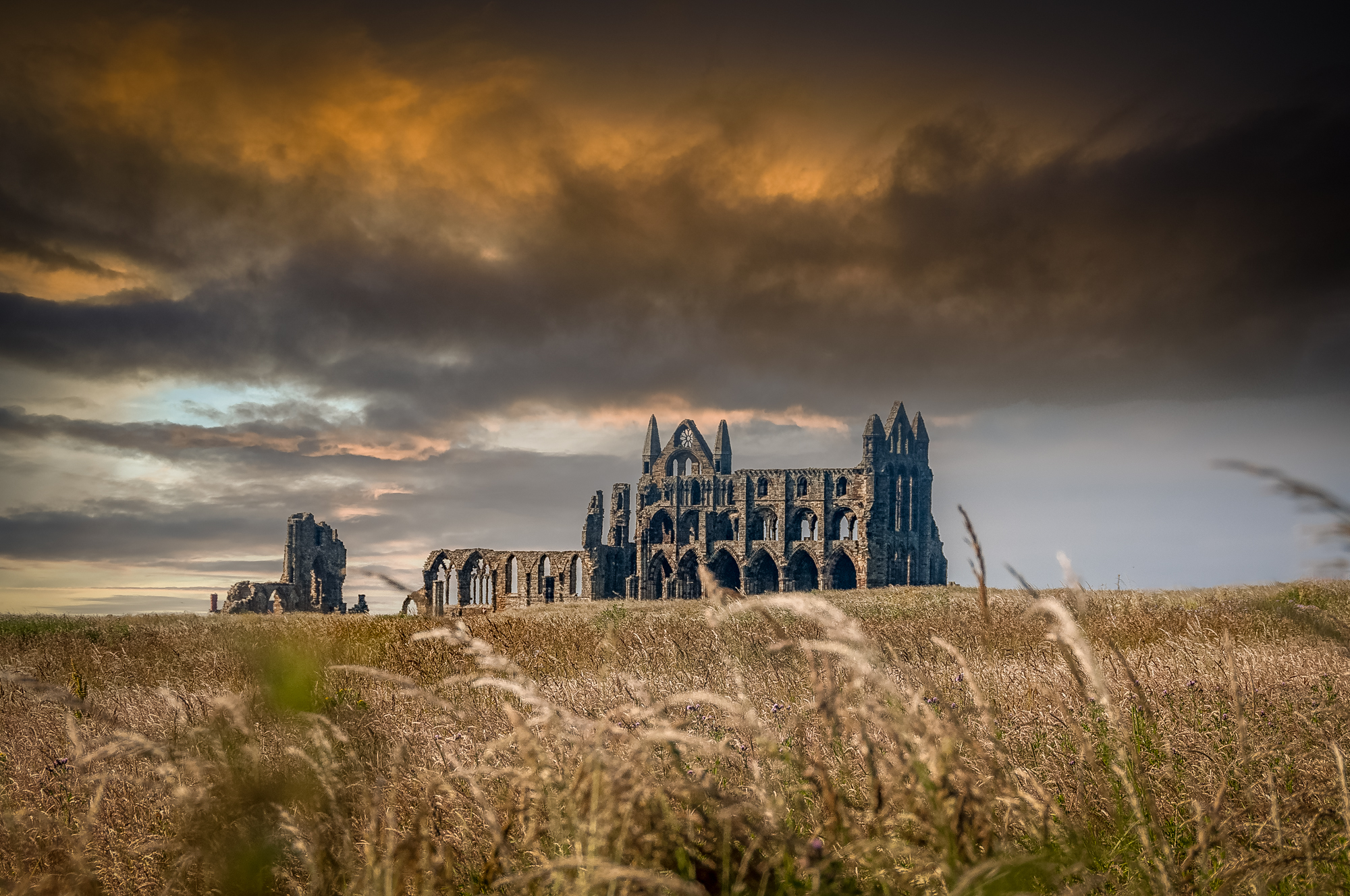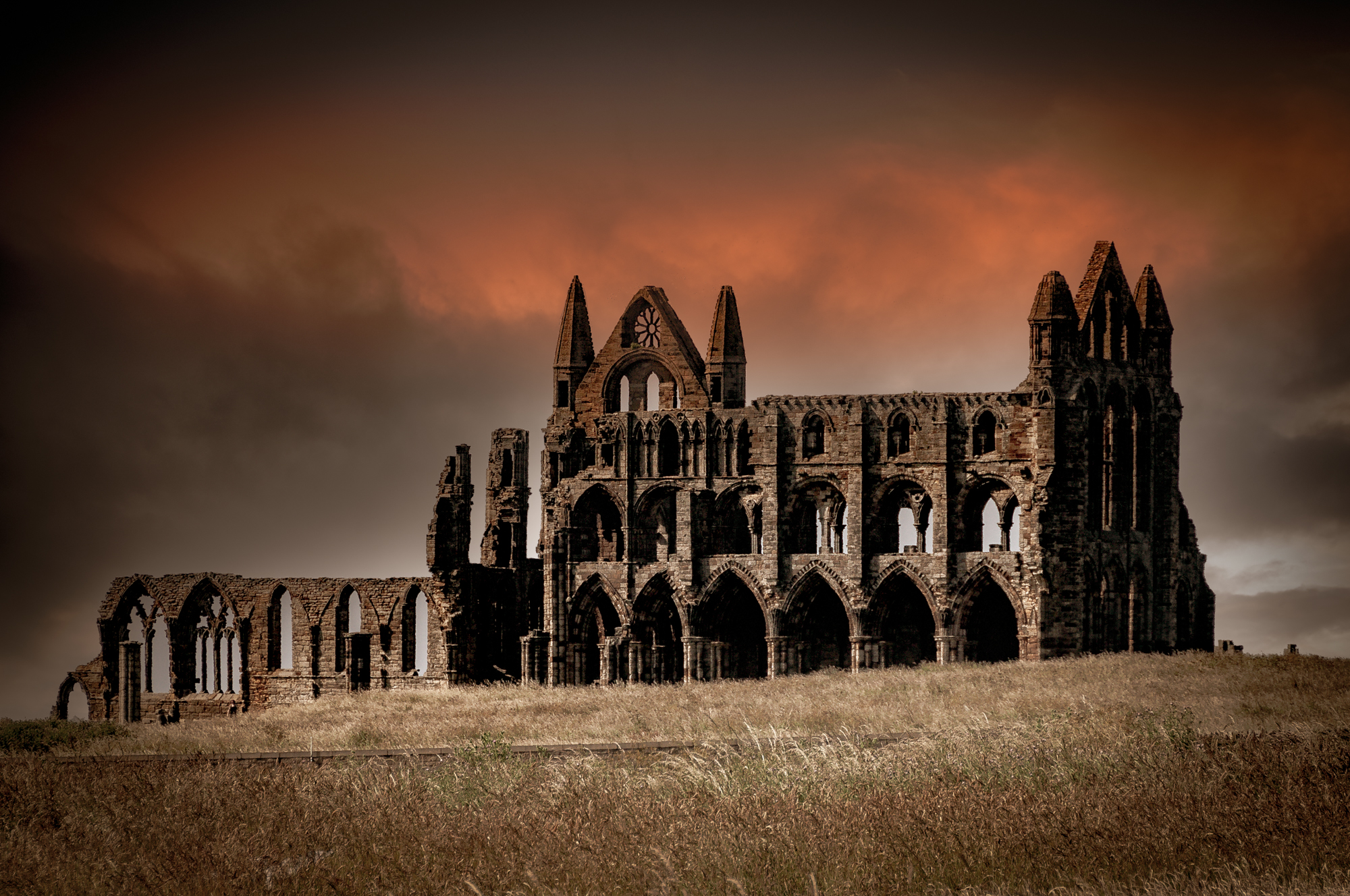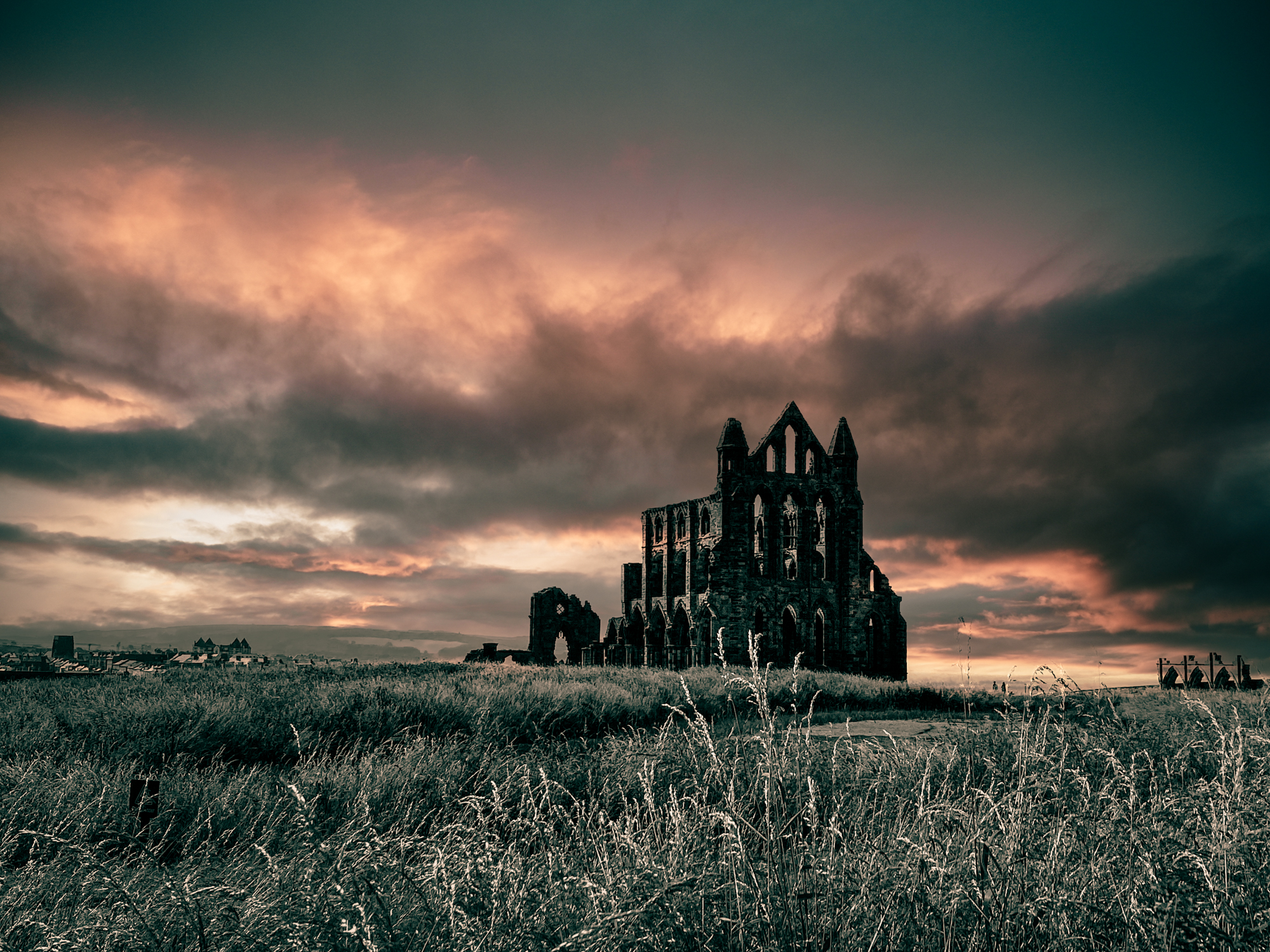 We walked down the famous 199 steps to the centre of Whitby. The narrow streets were crowded (which after the Covid restrictions made us feel slightly uneasy). While waiting for the swing bridge to close so we could cross to the other side of town, we met a group of pirates (from one of the boat tours) and then walked out to the lighthouse before climbing the steps again and returning to the van.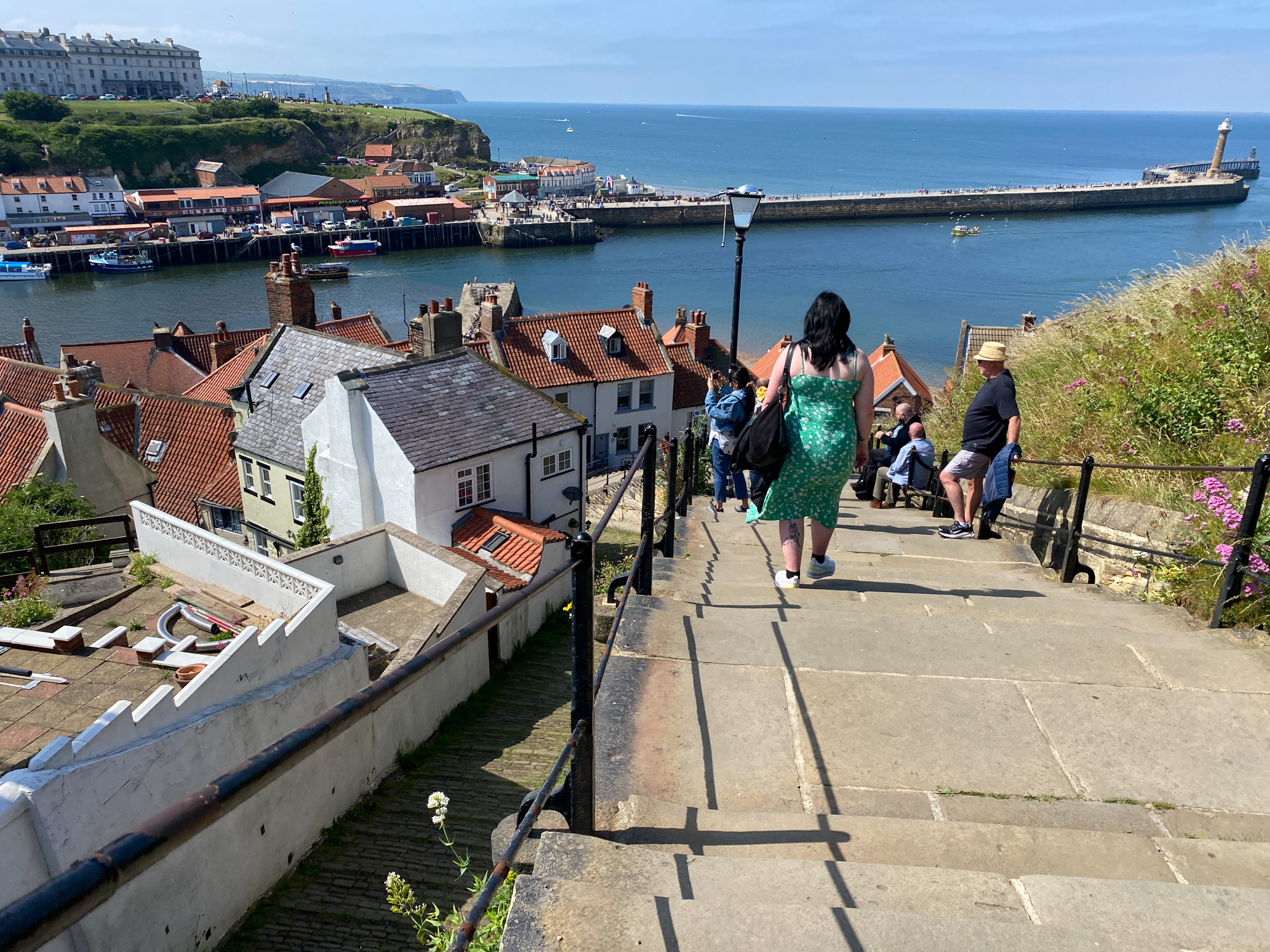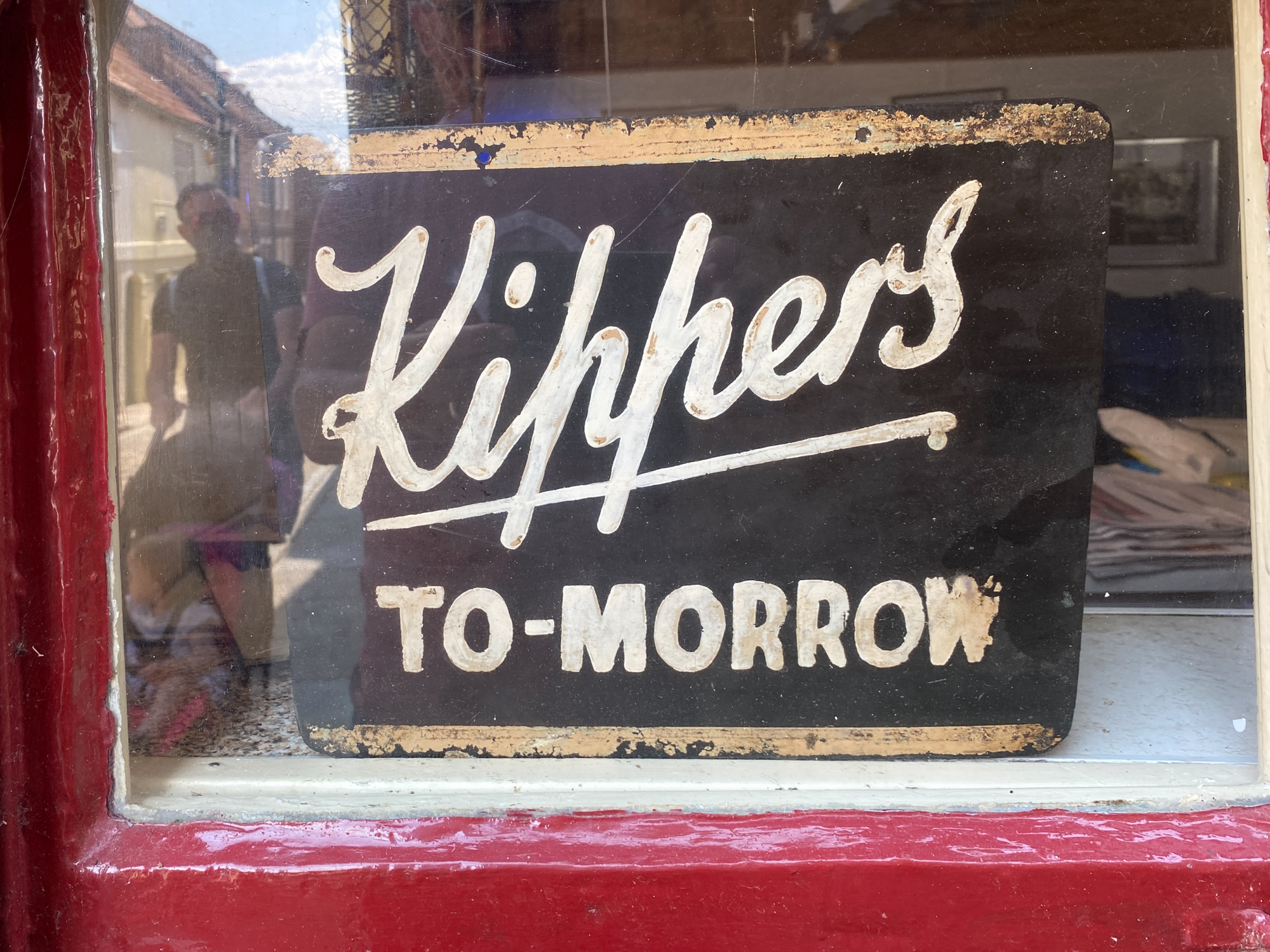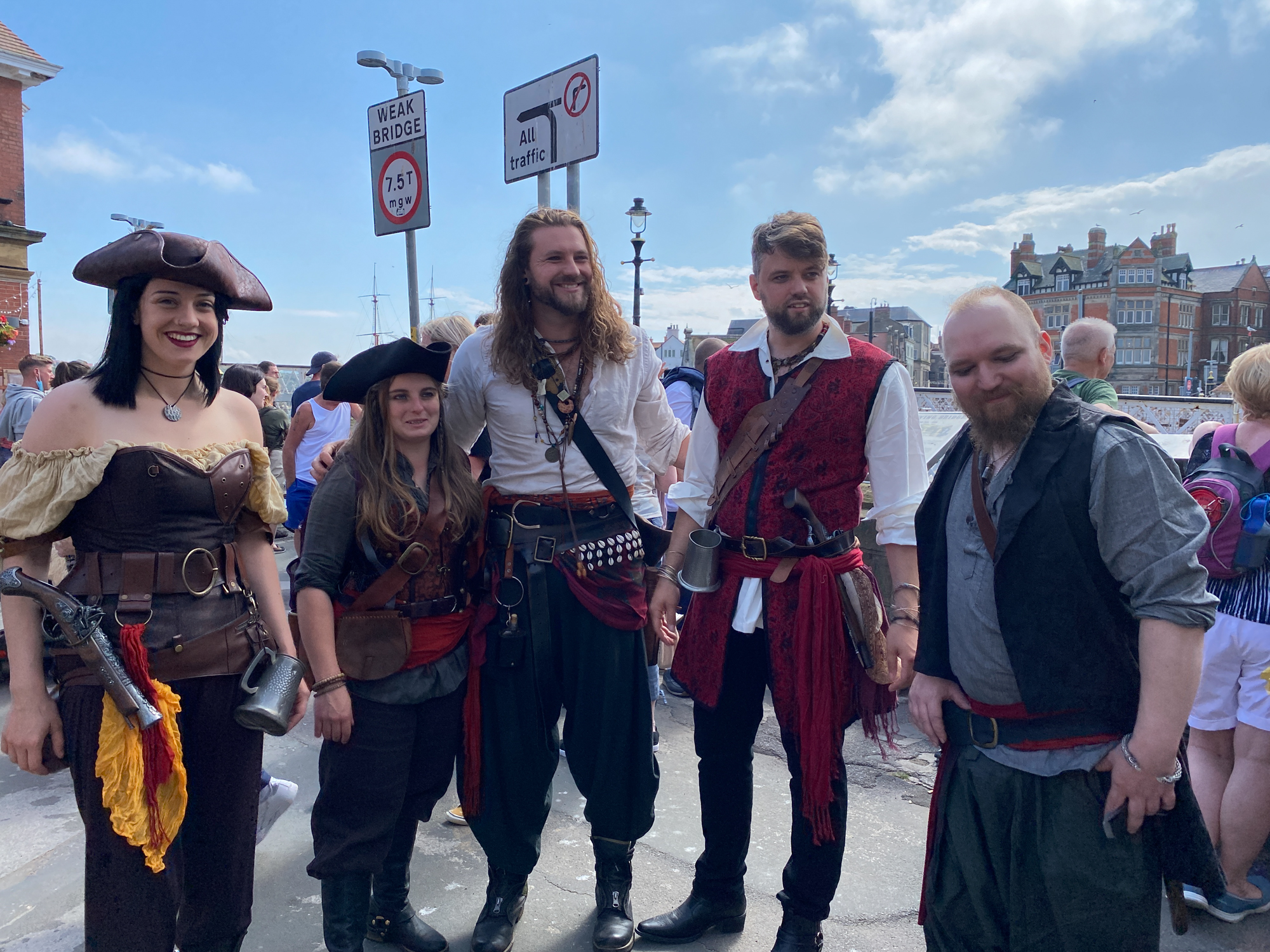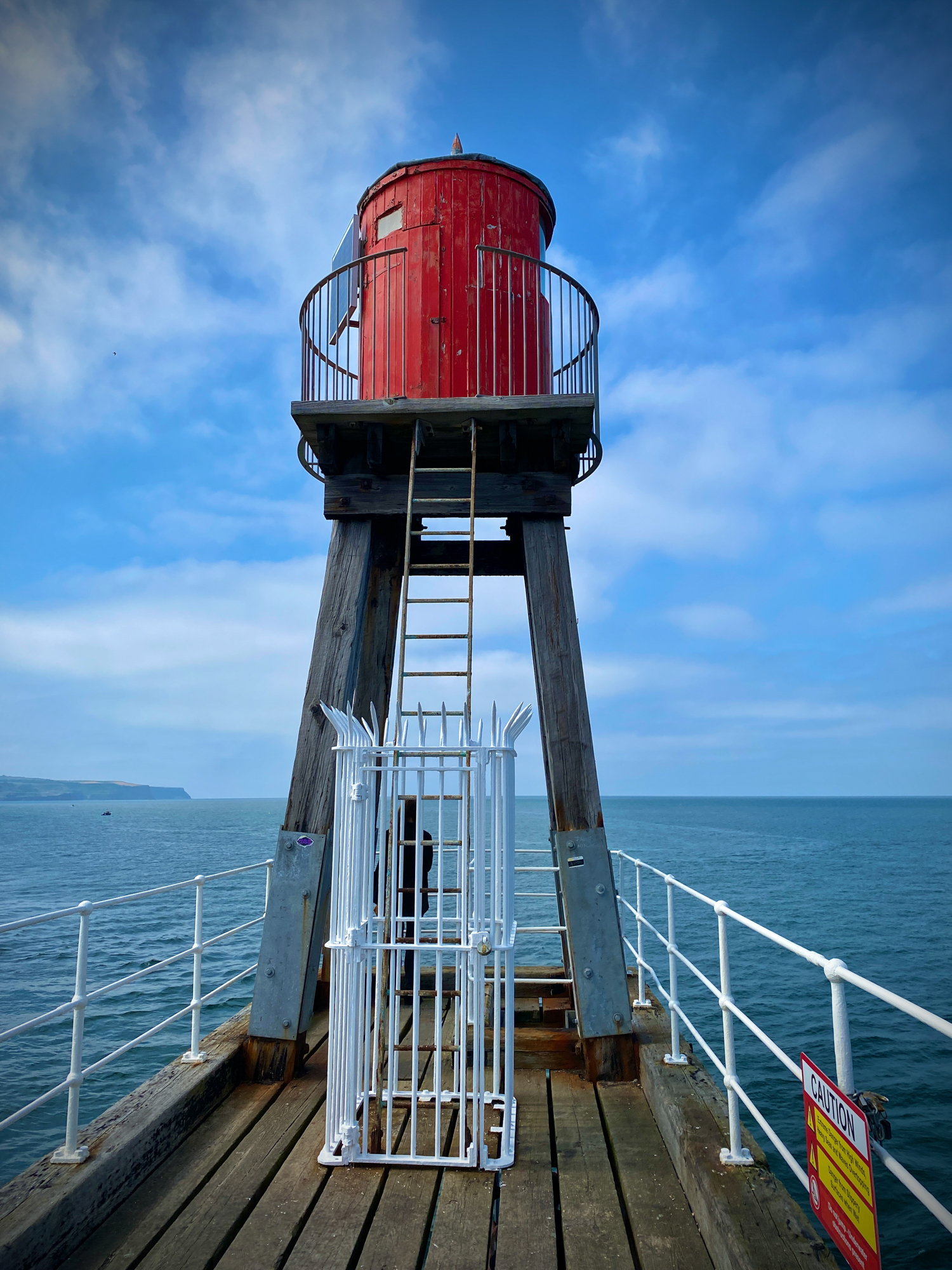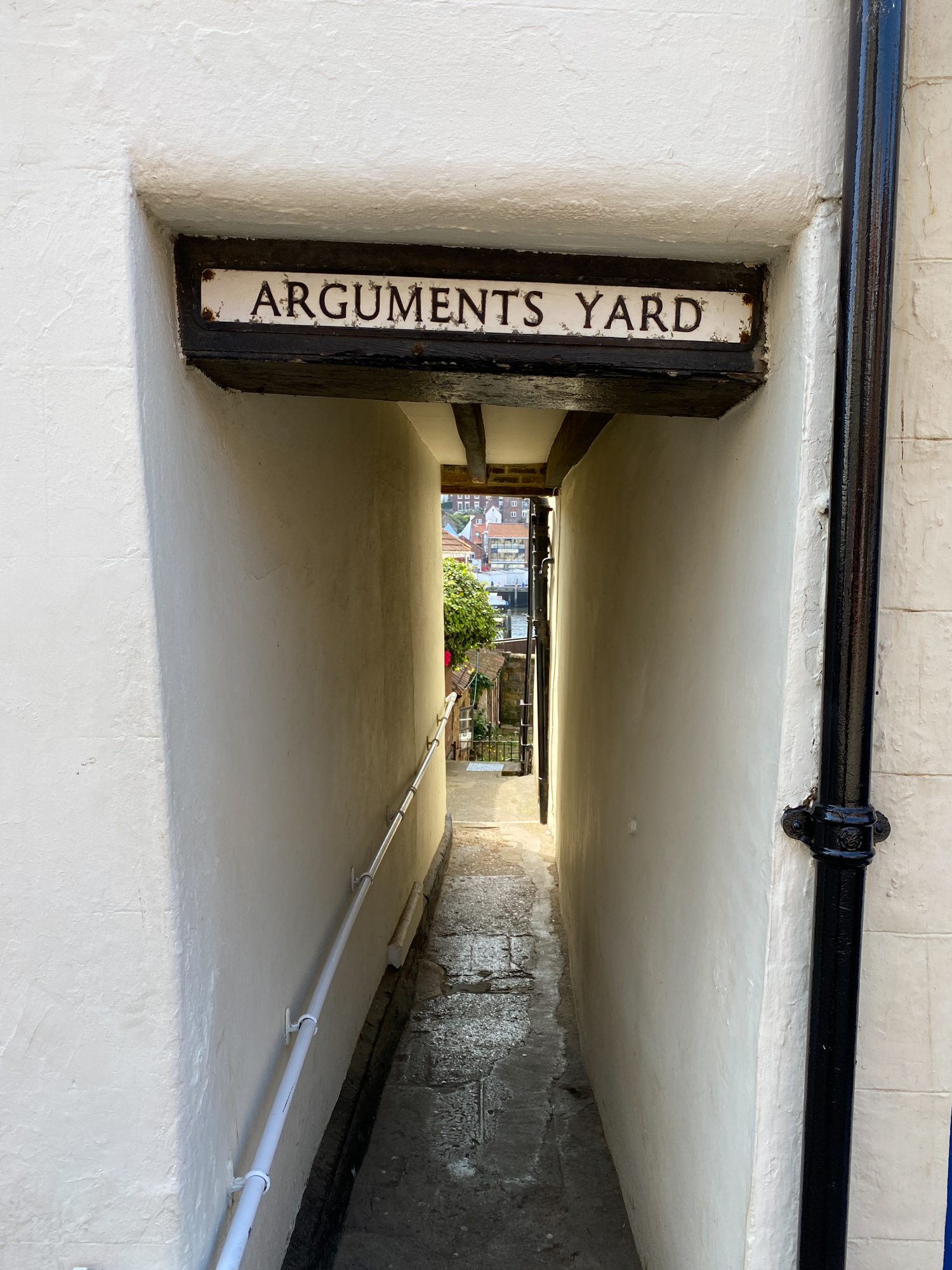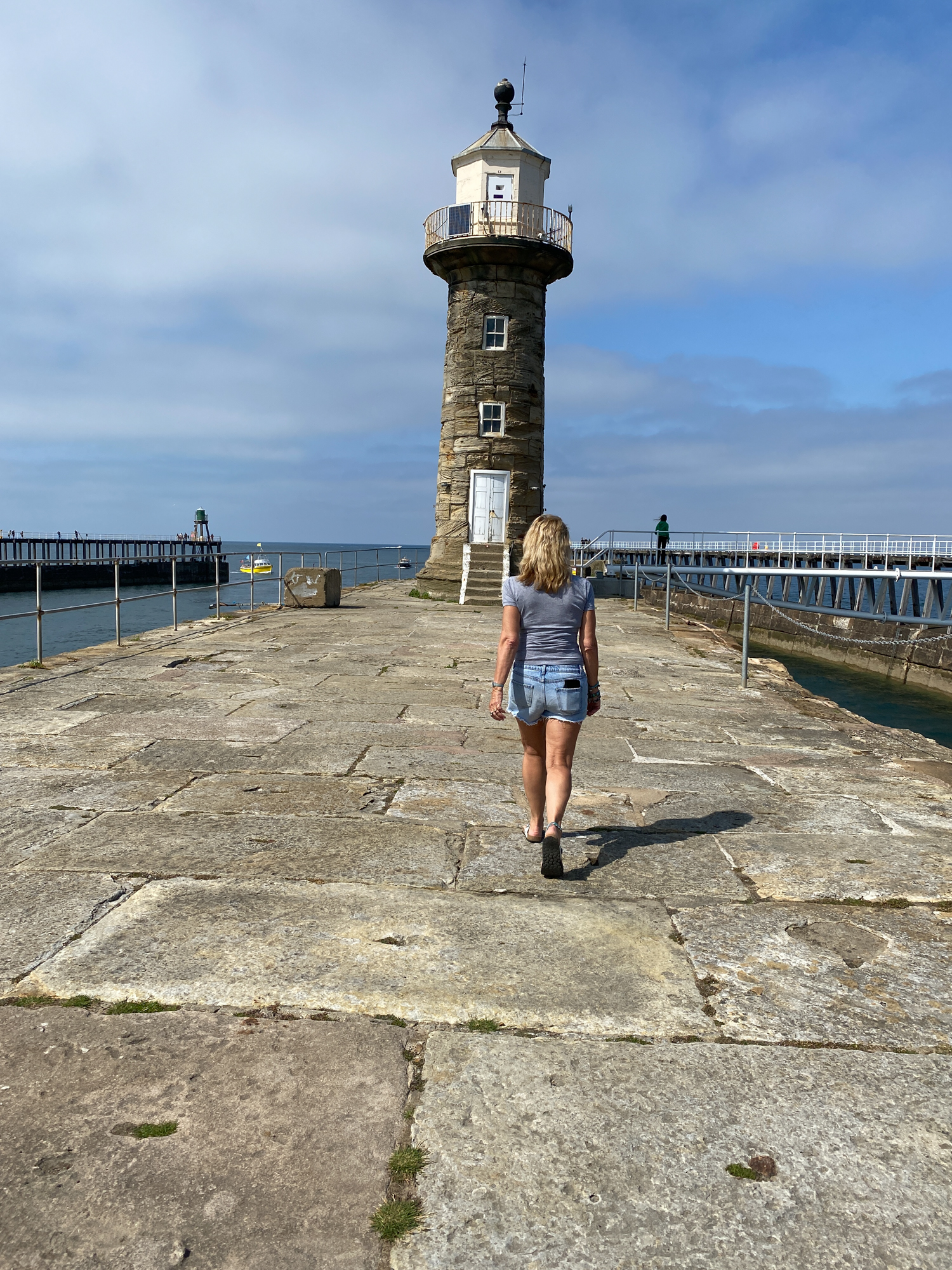 From Whitby, we continued heading North towards Holy Island (Lindisfarne). This was another place to visit on Sara's '60 before 60′ list. The approach is over a causeway which floods twice a day so it's important to time your visit right. We parked up in the car park just before the main village on the island. First thing we saw was another ruined abbey. Then we wandered around and walked to the castle on the hill. On the other side was a beach which had hundreds (maybe thousands) of rock piles. So we made our own. (The next day we read an article saying how it's now considered bad for the environment to build these things – as it makes it hard for rock-dwelling critters). Then we stopped for a coffee & cake in a small cafe with an outdoor seating area, before heading off before the tide came back in!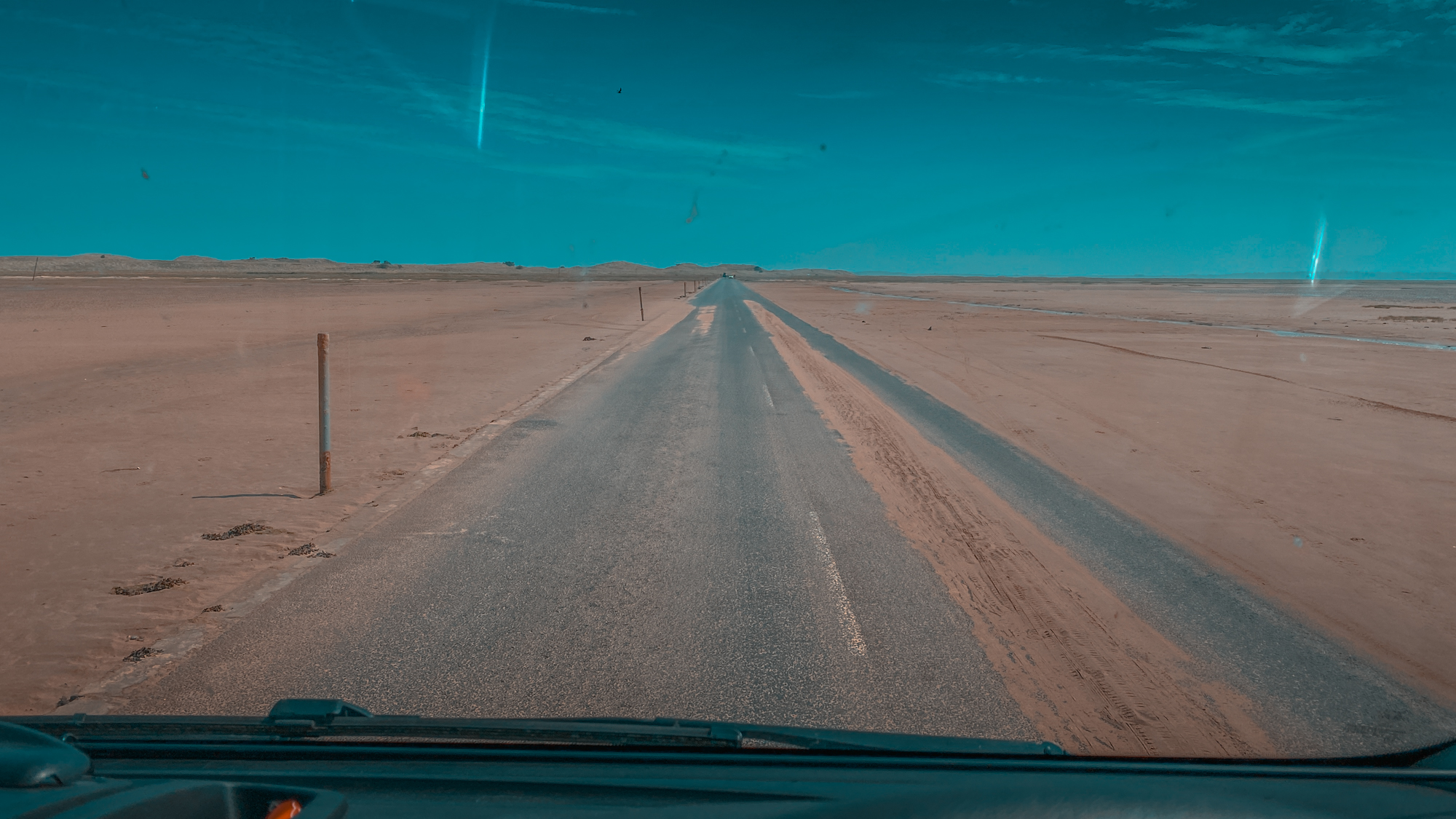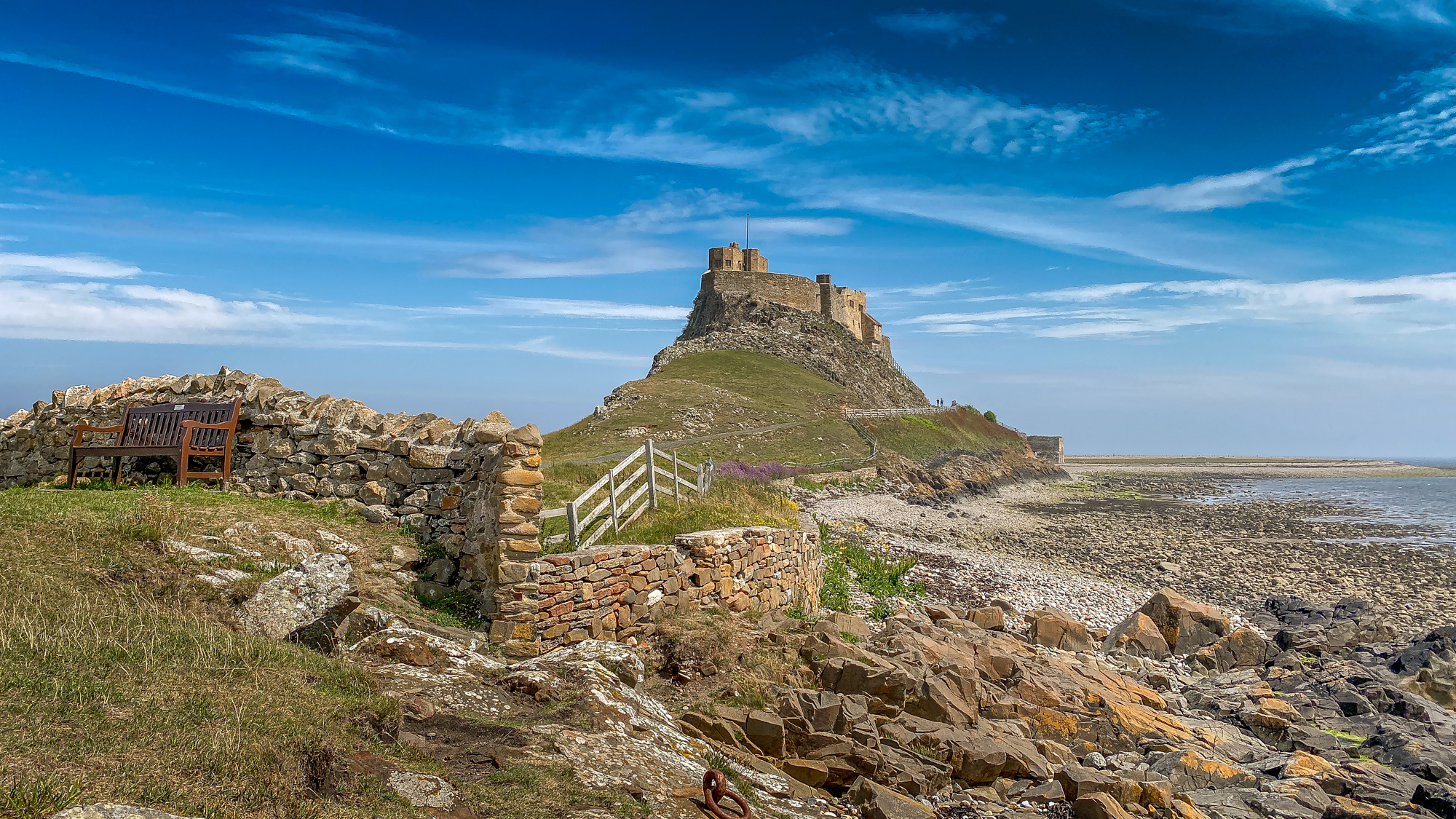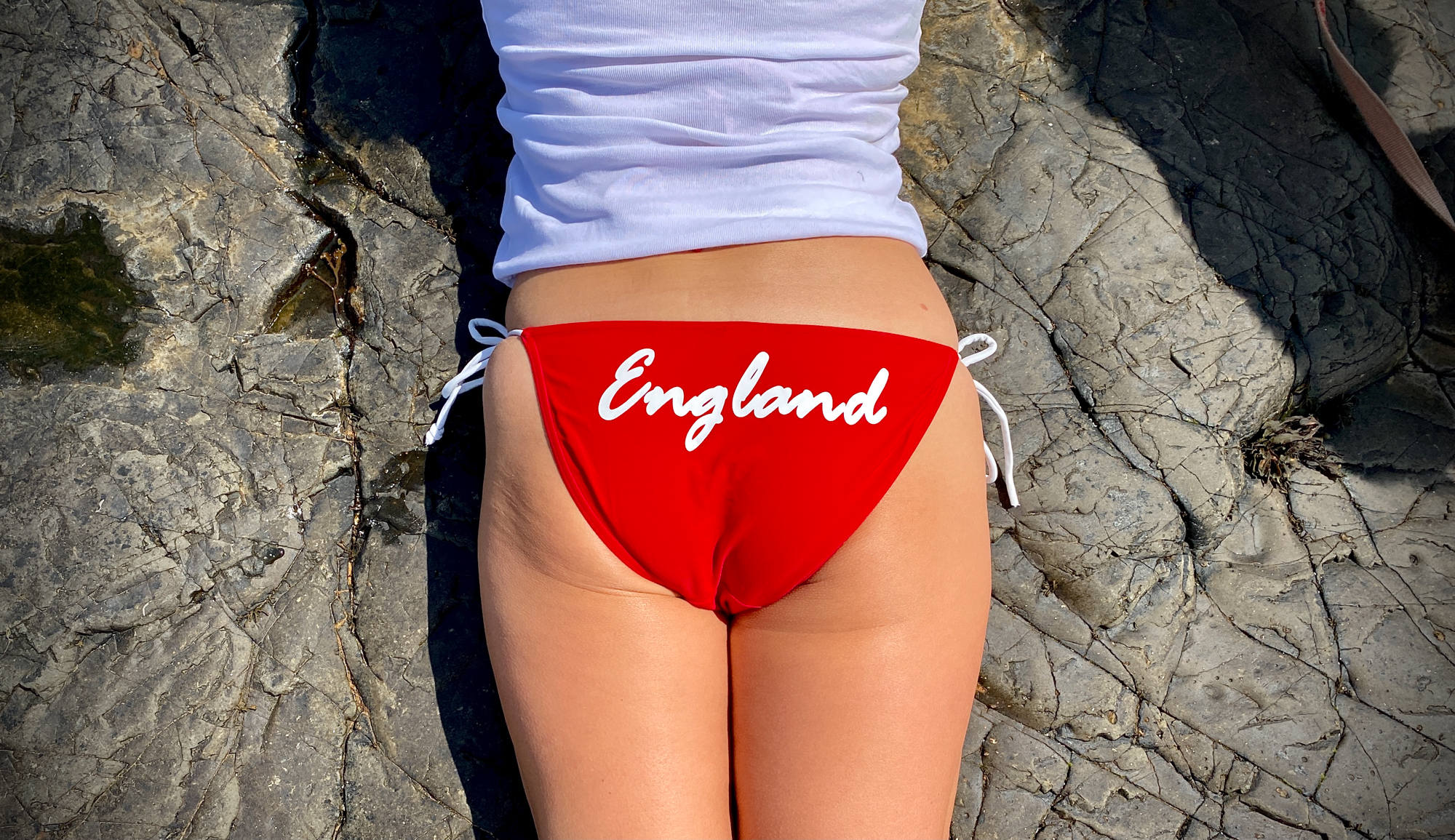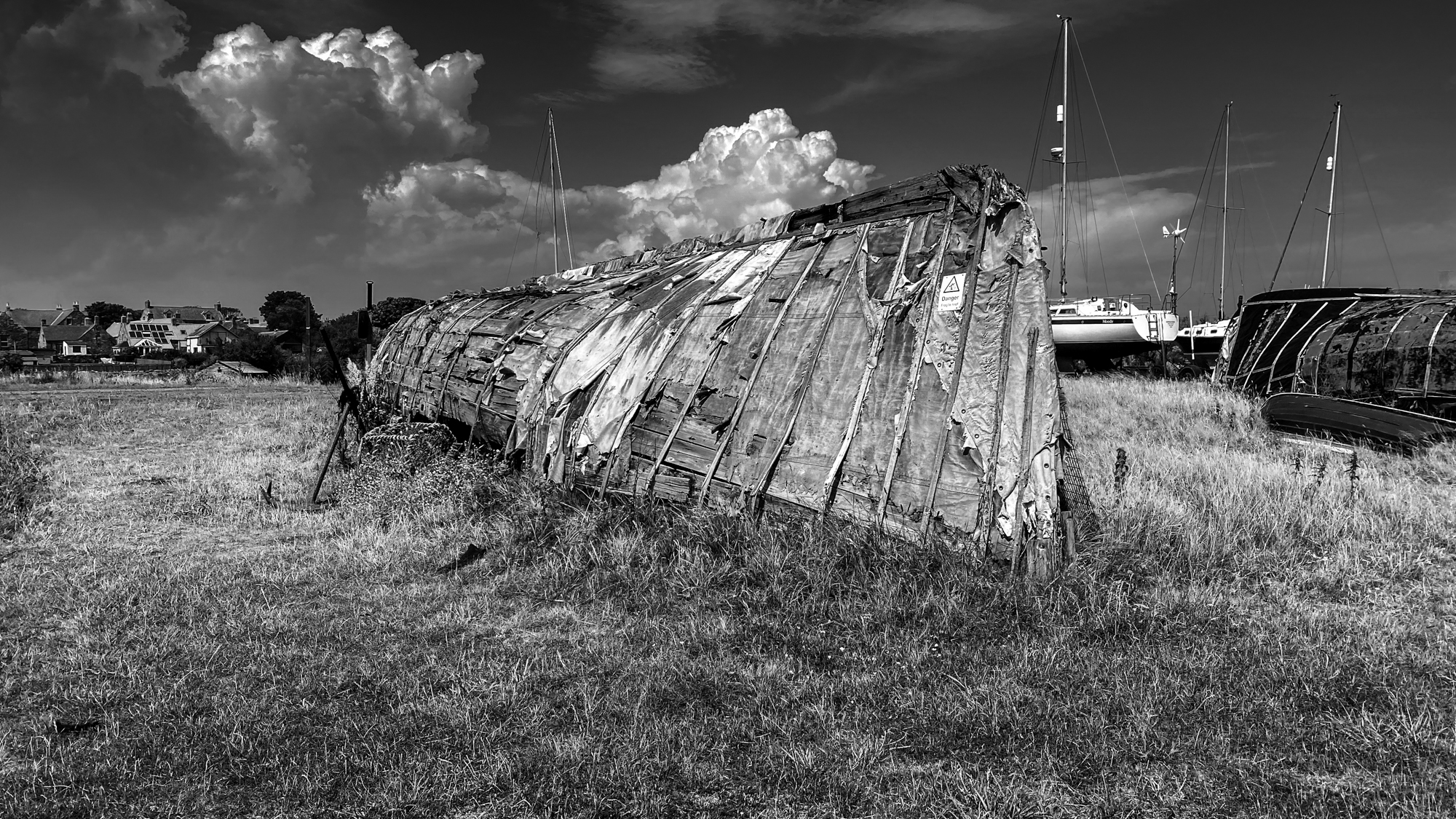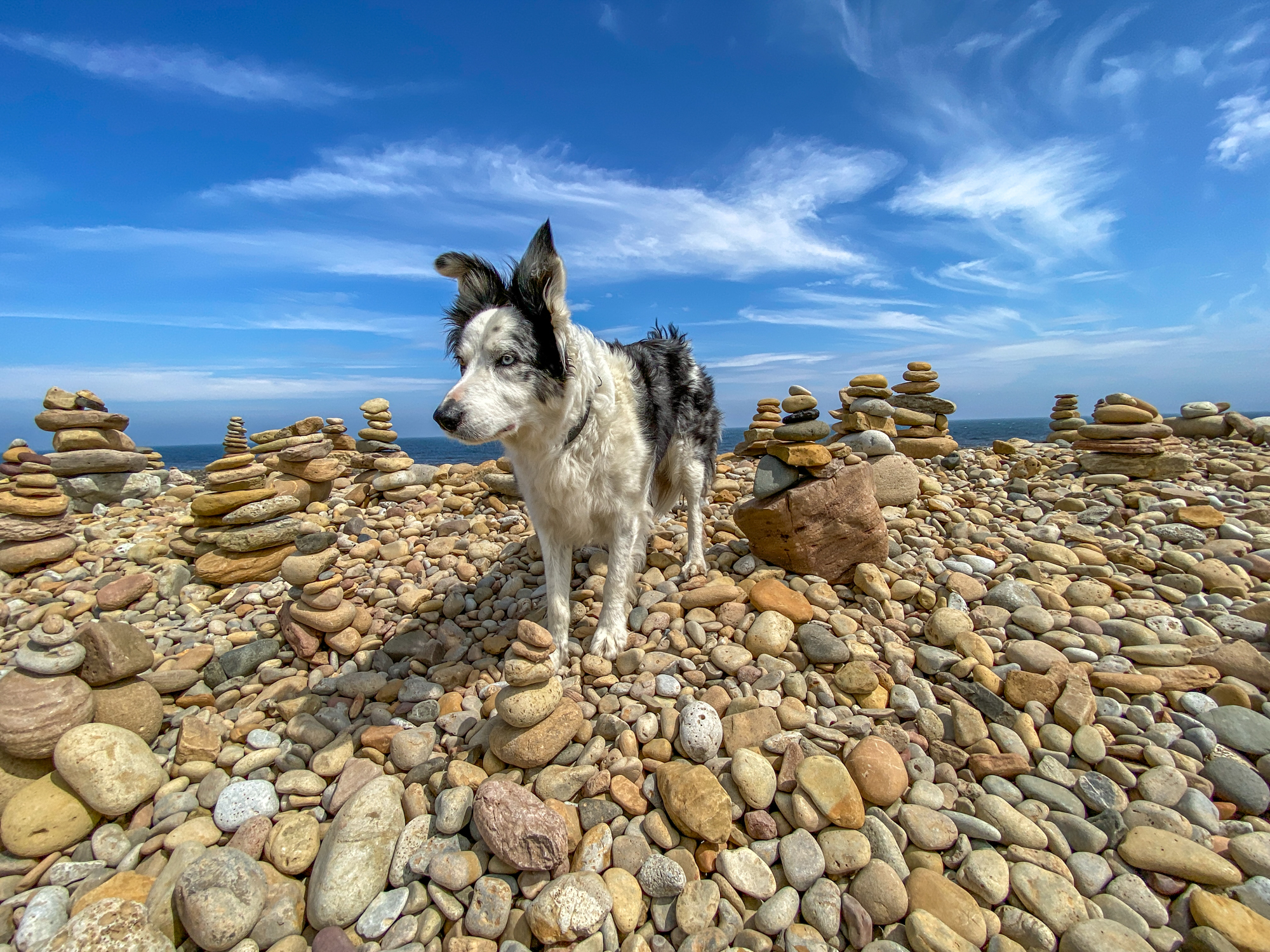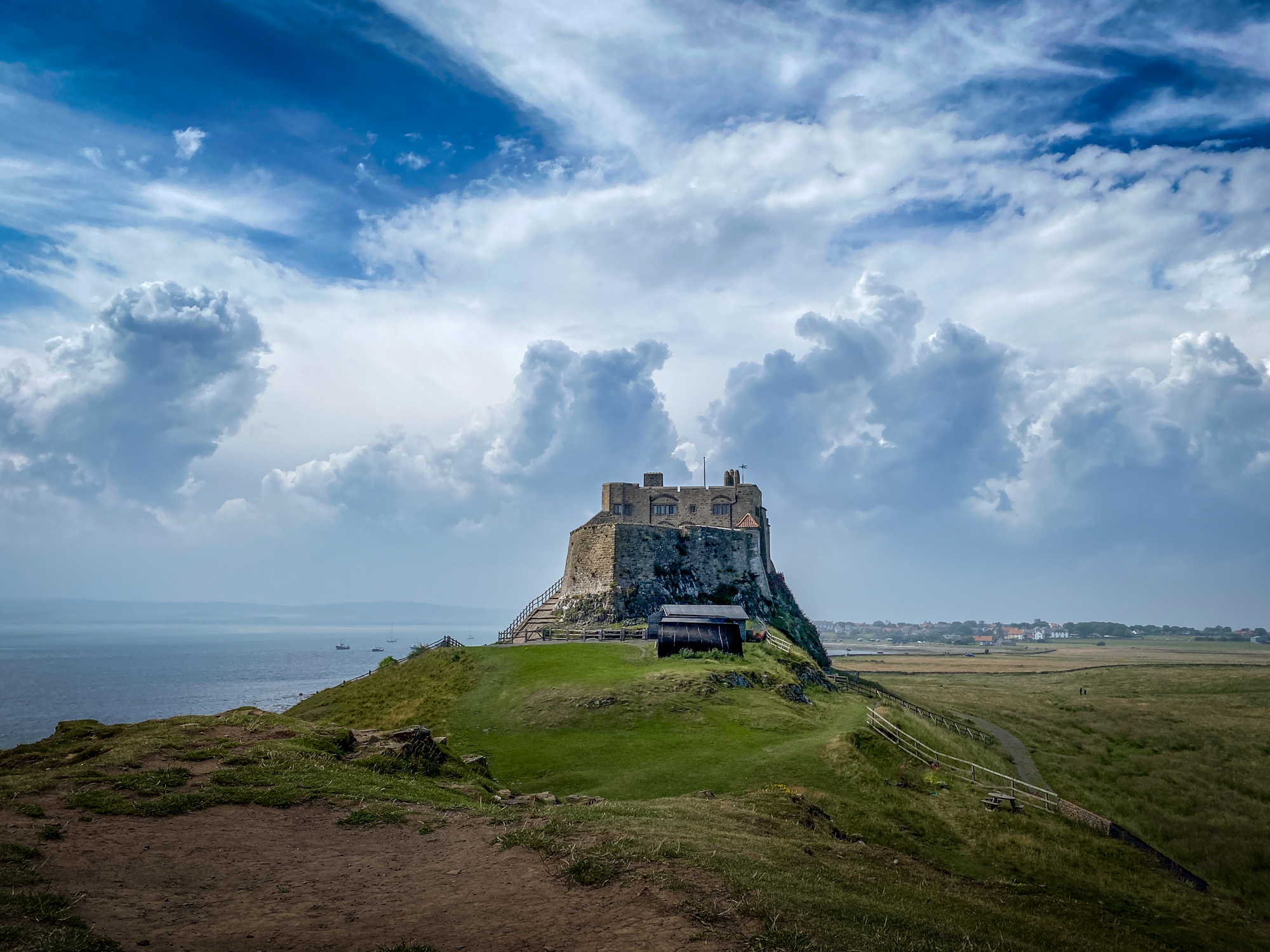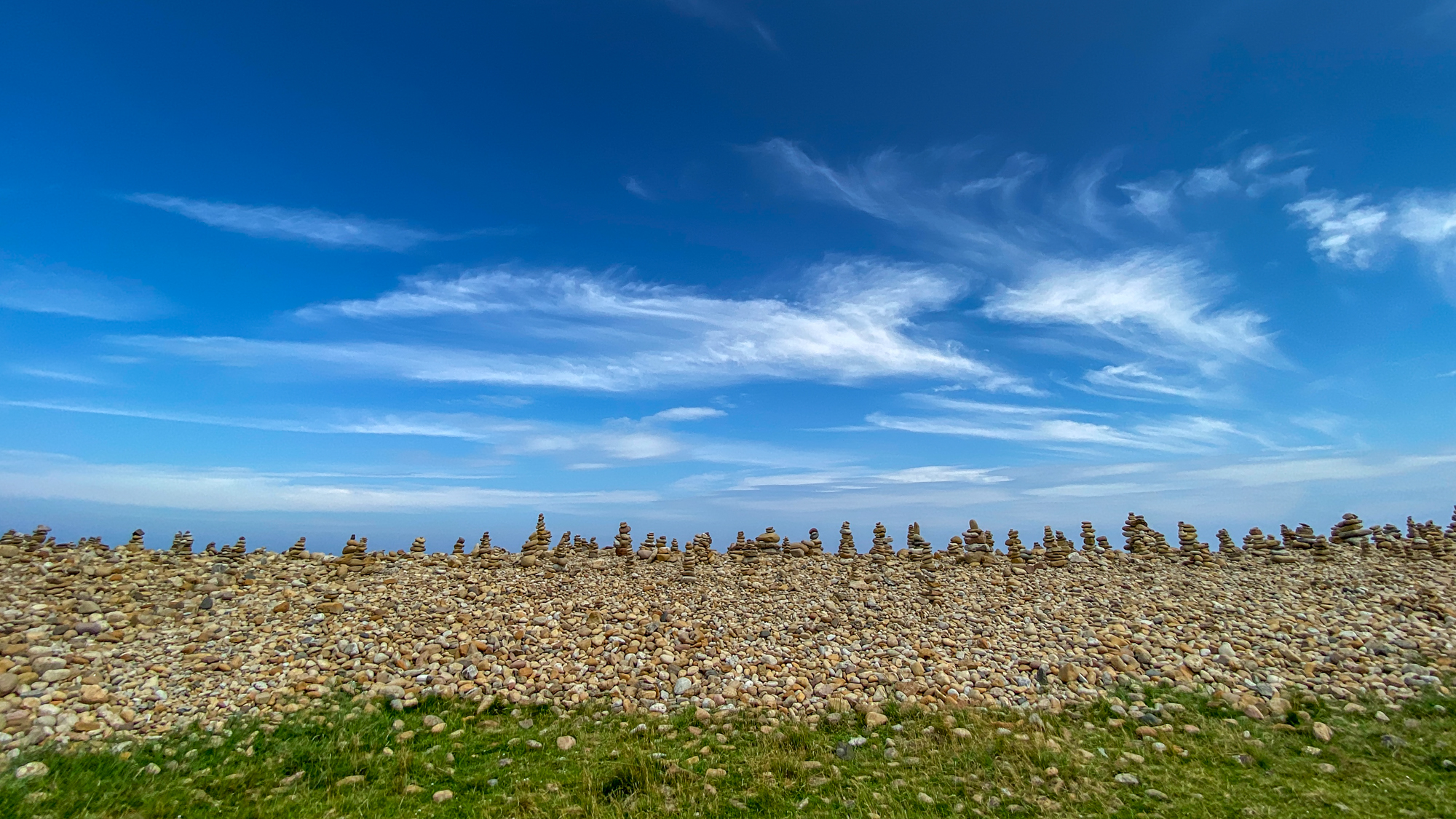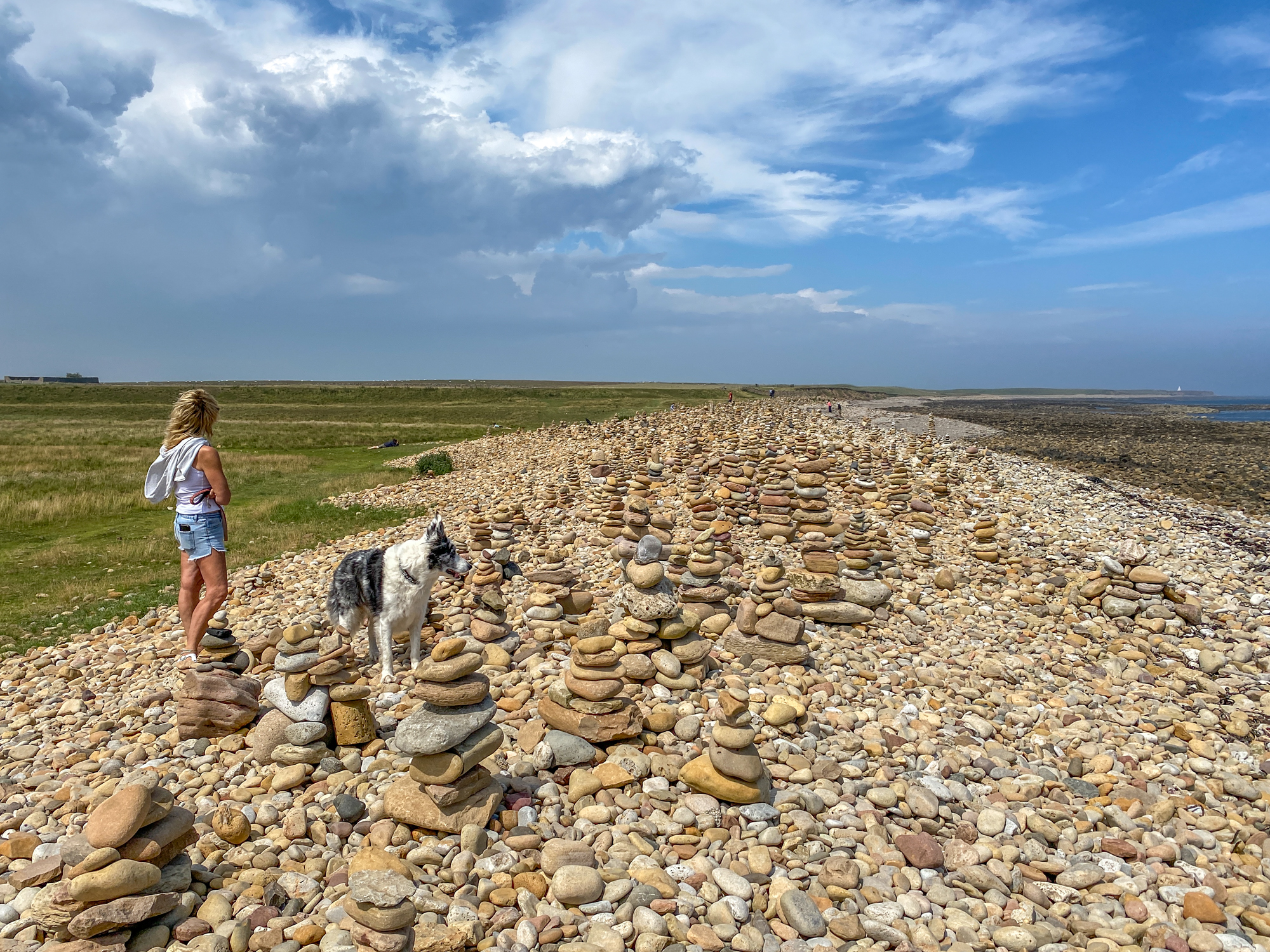 We then carried on northwards towards Berwick on Tweed. Our last stop in England before crossing into Scotland. We stopped at the Berwick CAMC site there. Very friendly people. We chose the spot nearest to the entrance gate – and we could just about see the sea from there. The weather wasn't brilliant, but we barbecued and it was also the Euro 21 final between England and Italy. So we had to be near water so Sara could continue throwing herself in every time England scored (which turned out to only be once in normal time – and then we lost in the penalty shoot-out as usual). Unfortunately, we didn't get chance to see much of Berwick but we drove across the bridge and saw a bit of the harbour. One day I imagine that we'll return and have a better look around.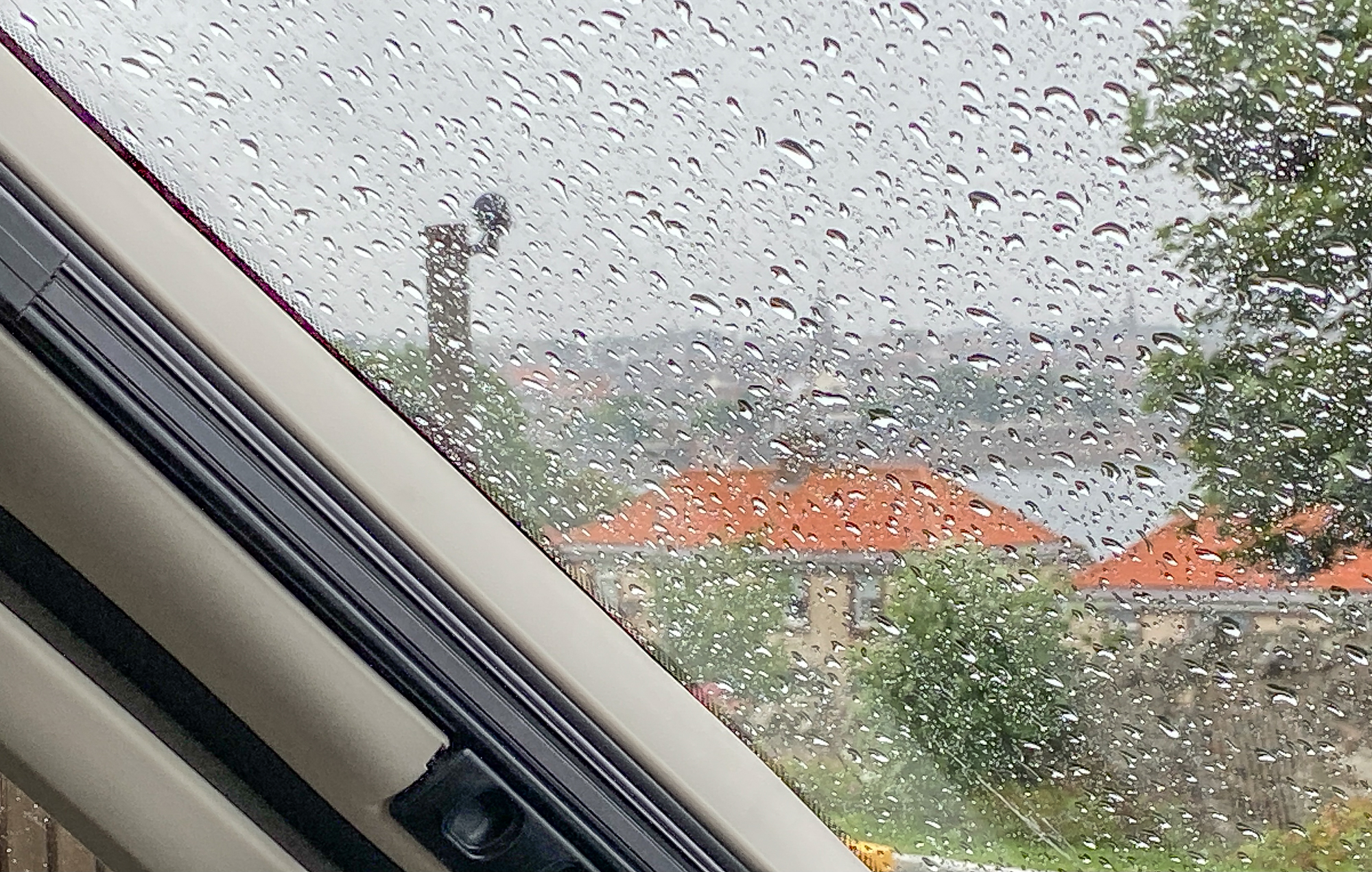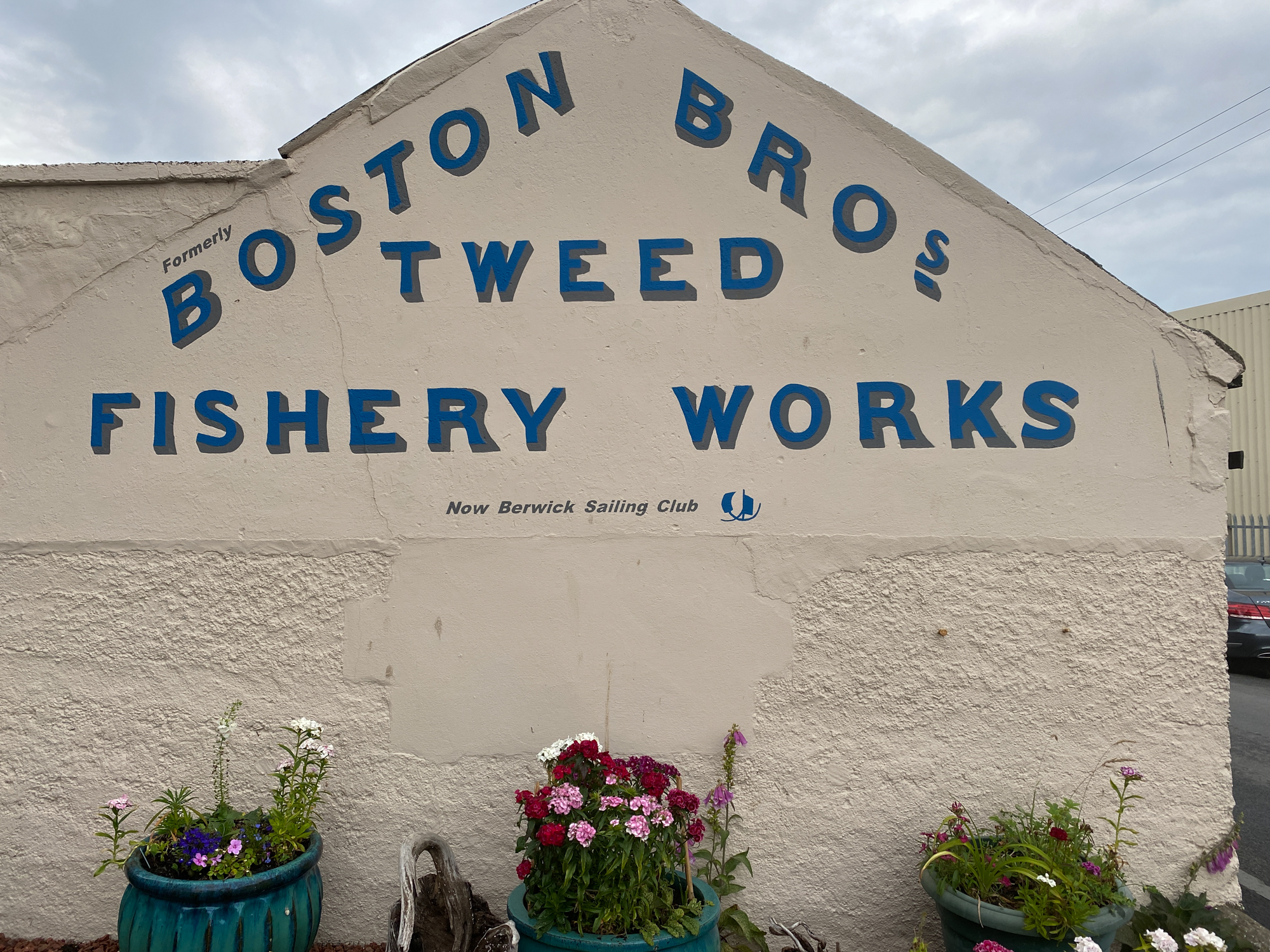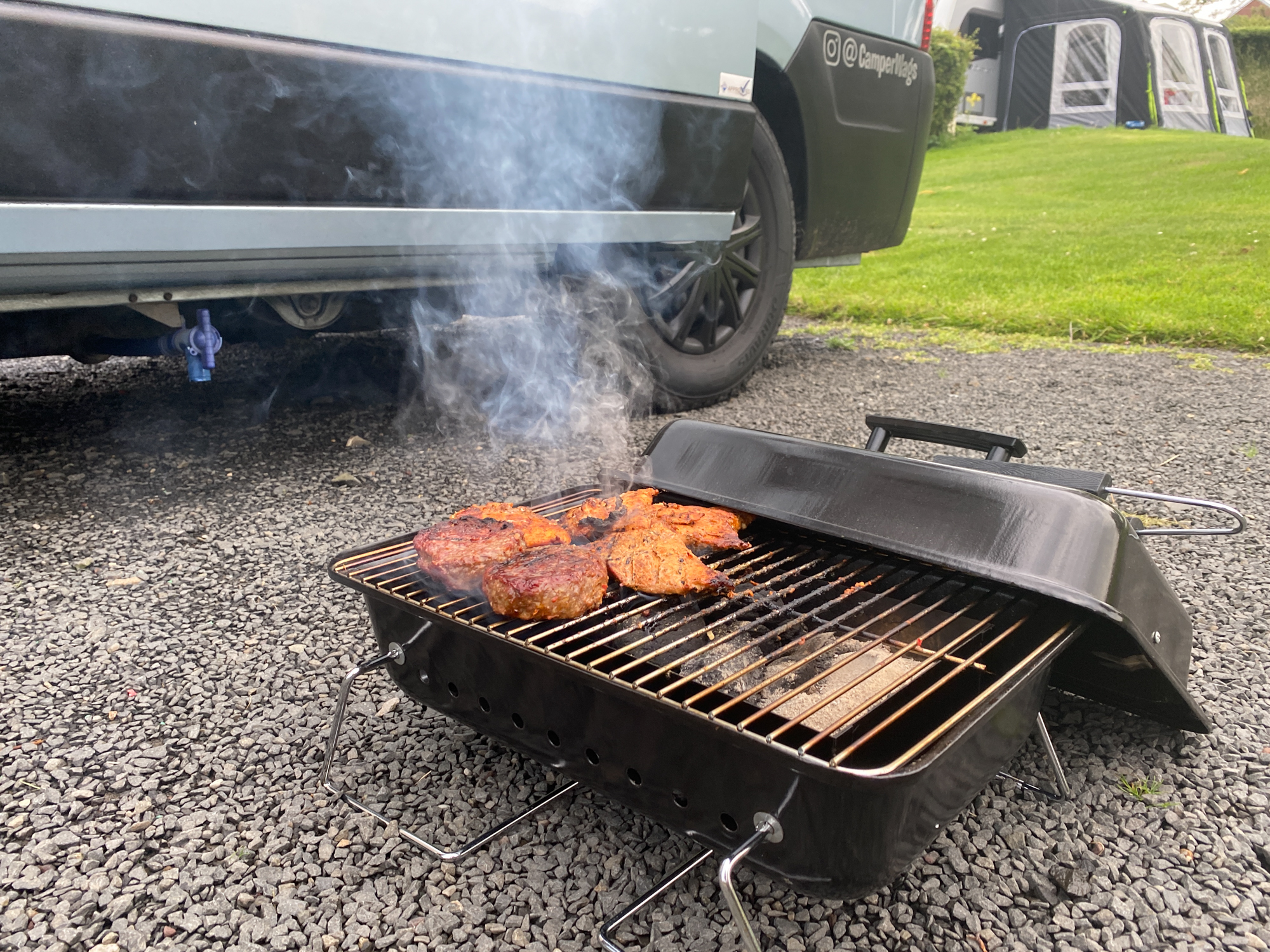 Day 4 – Scotland
From Berwick we travelled towards Scotland. We saw a sign that just said 'Cove'. So we thought we'd take a look. I'm so glad we did. Approaching through a dark tunnel you emerge into a tiny, magical little bay seemingly untouched by time (apart from a fisherman's pickup parked on the quay). The pictures can do the talking…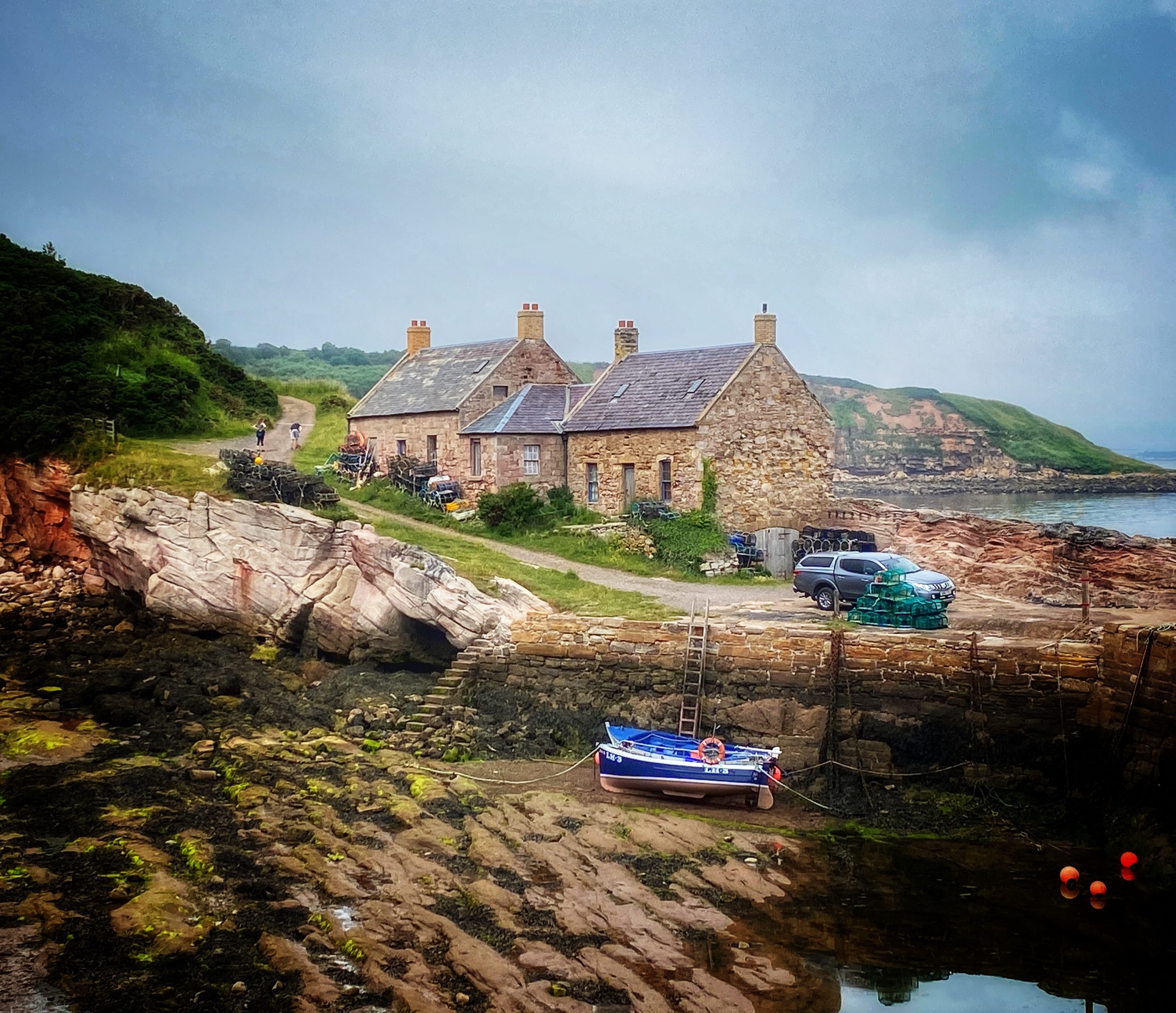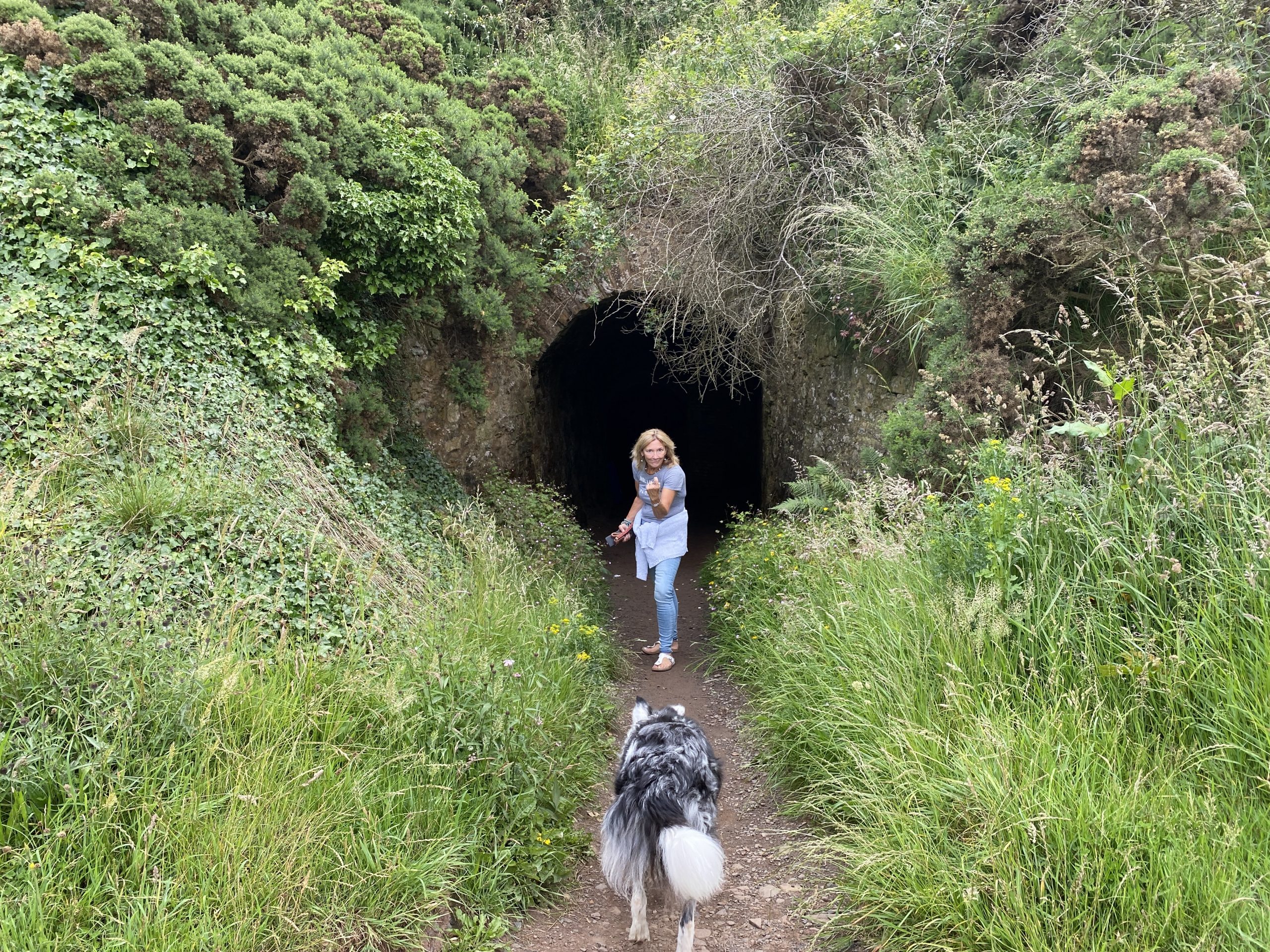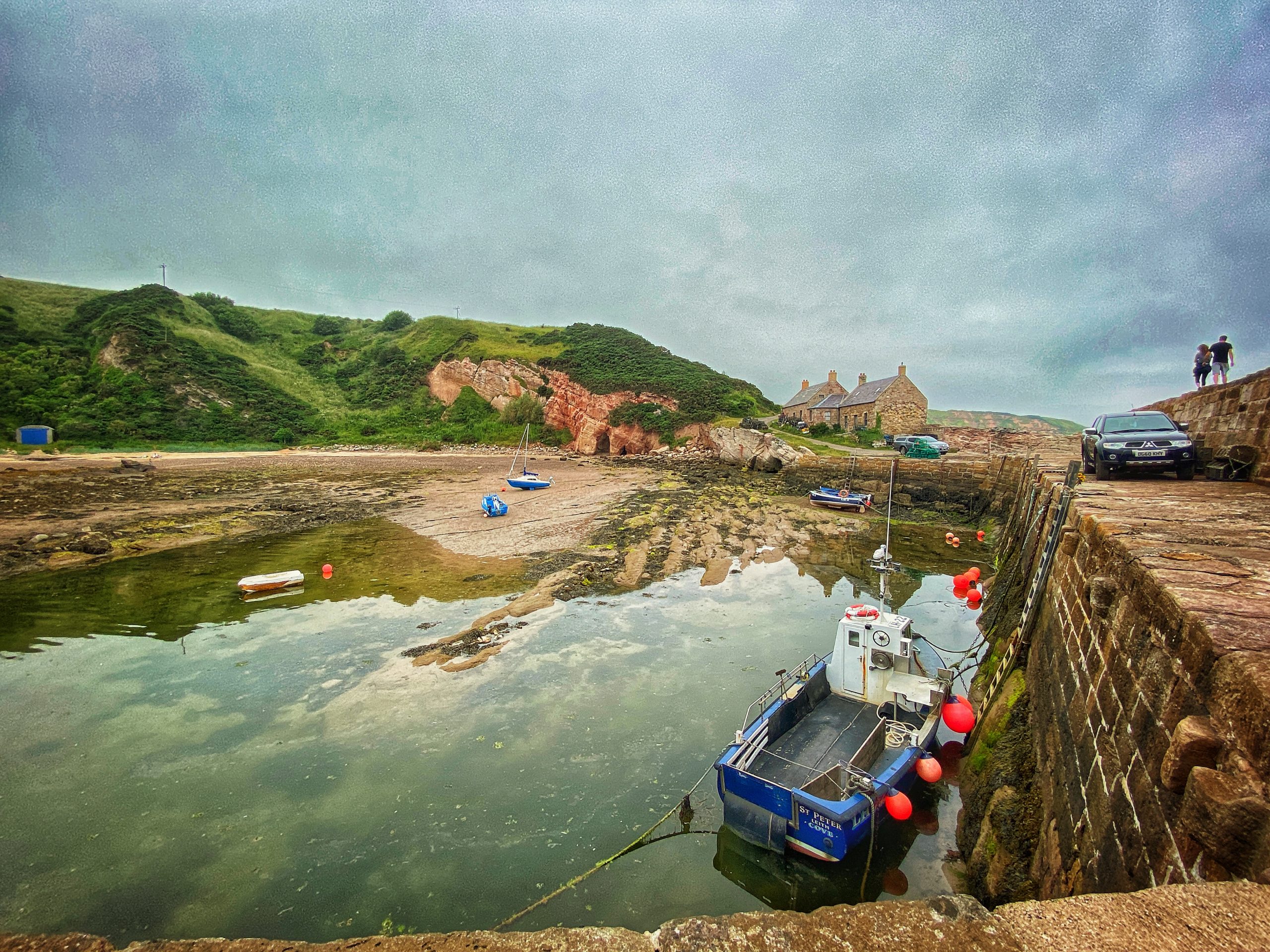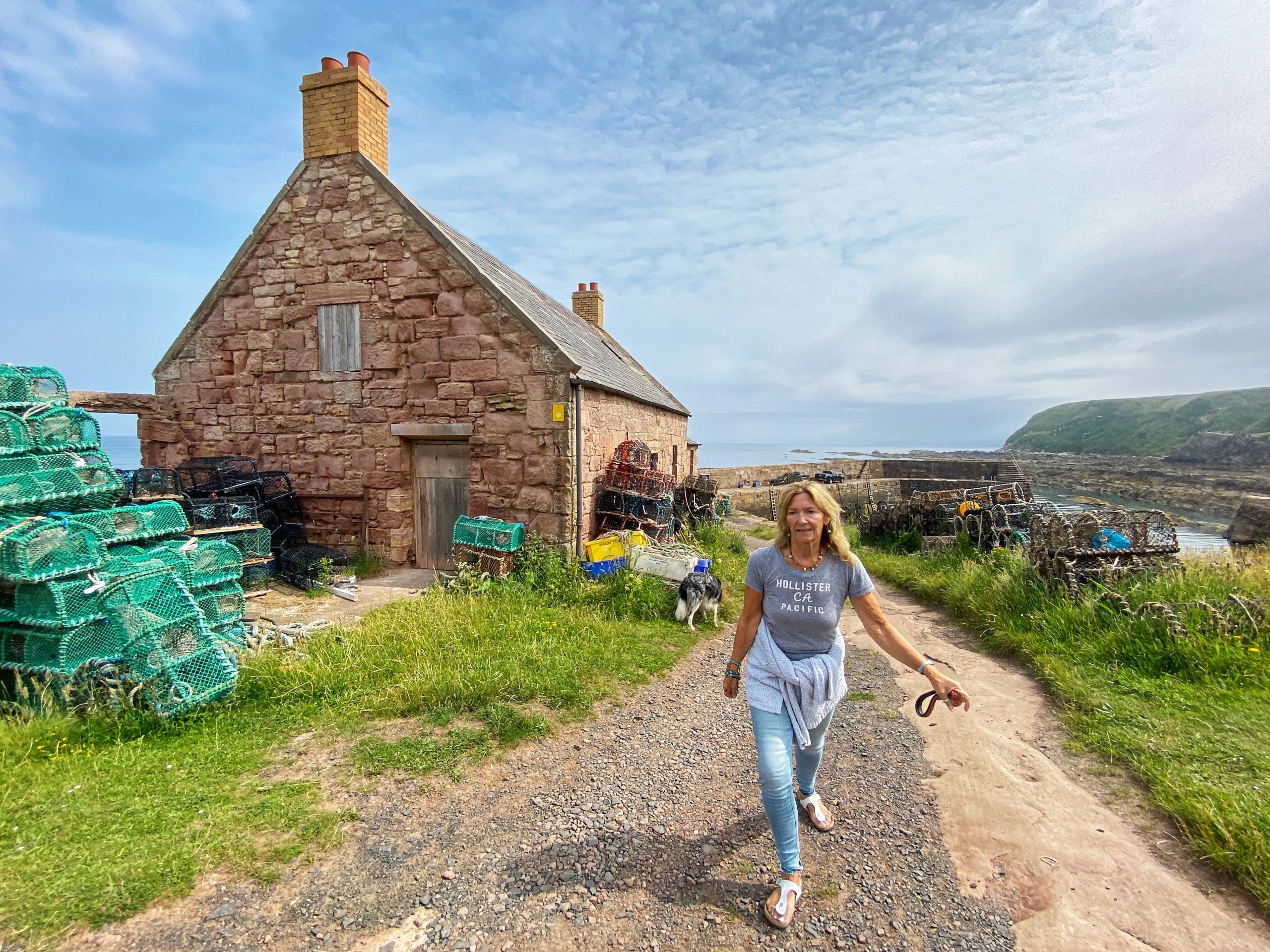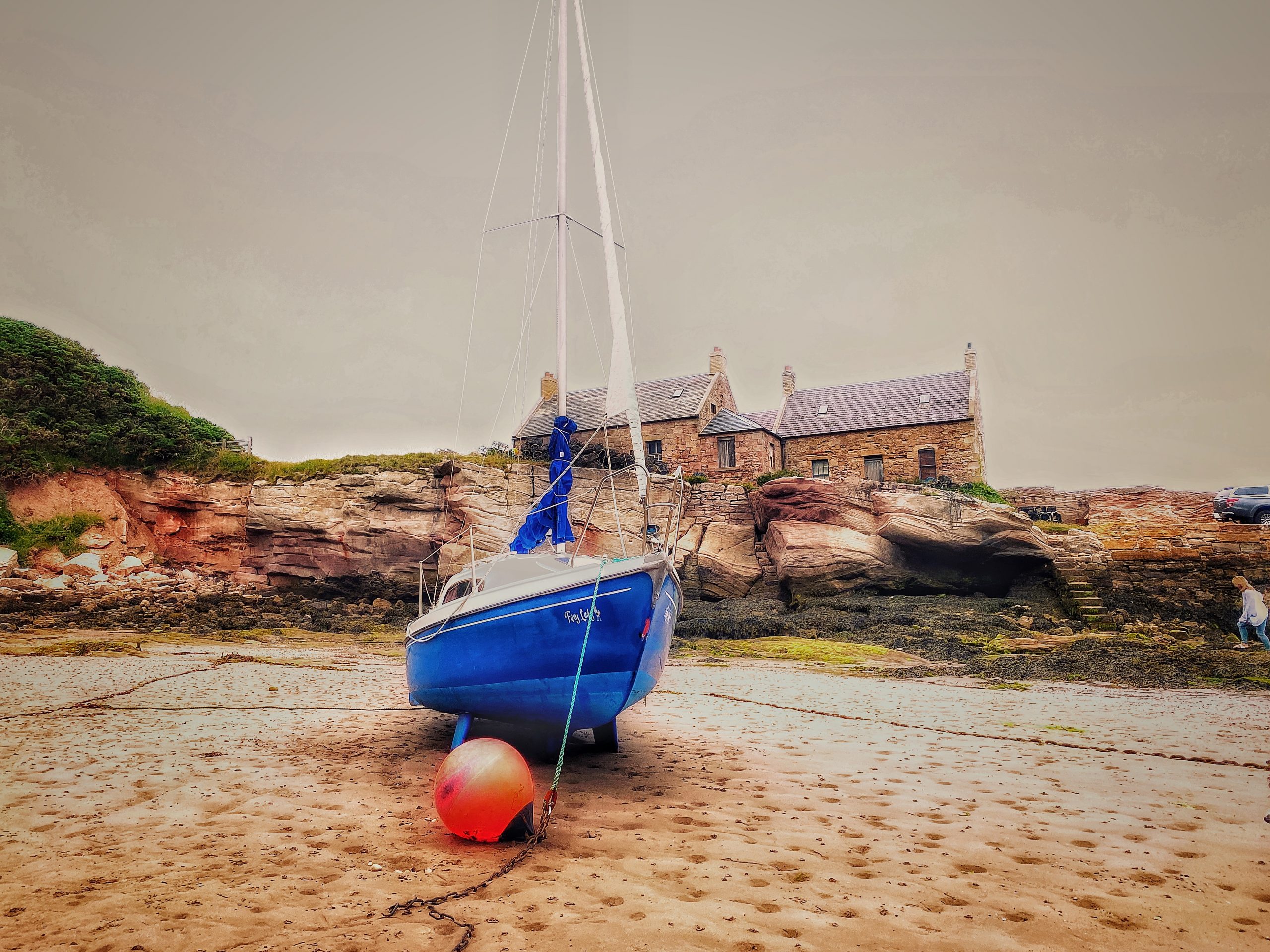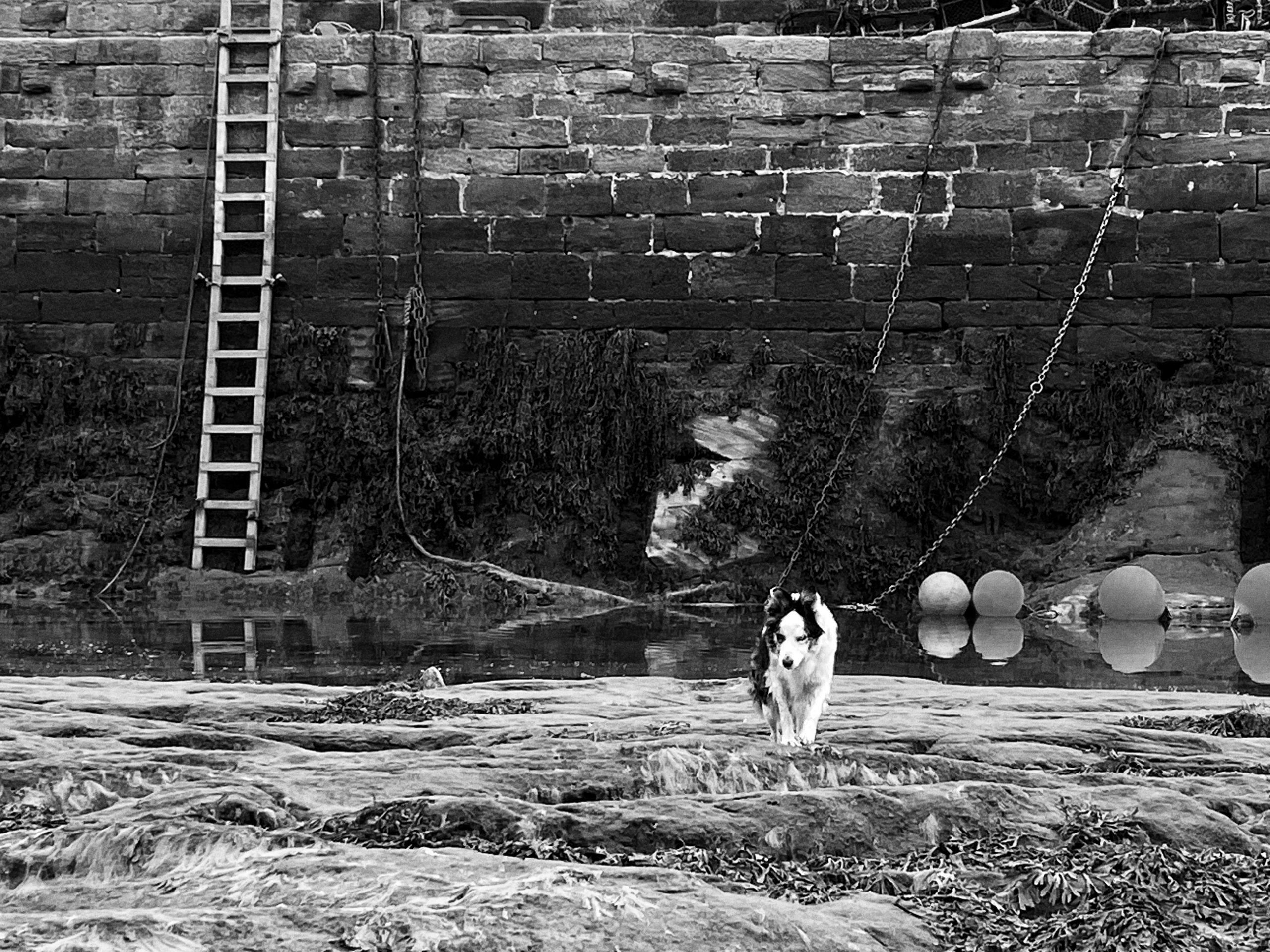 Then we headed into Scotland – and across Scotland towards Lake Lomond. Sara managed to book a Certified Site a short distance from the lake. It was quite a long drive and a chunk of it was on the motorway. So it was a relief to finally get there We had a quick look around the site (just 5 units and 1 toilet) and then walked to the nearest village – Balmaha. We found somewhere where we had access to the Loch and Sara went in for a dip. She had quite a swim around before we walked back to the local pub and had a meal there. Then walked back to the campsite.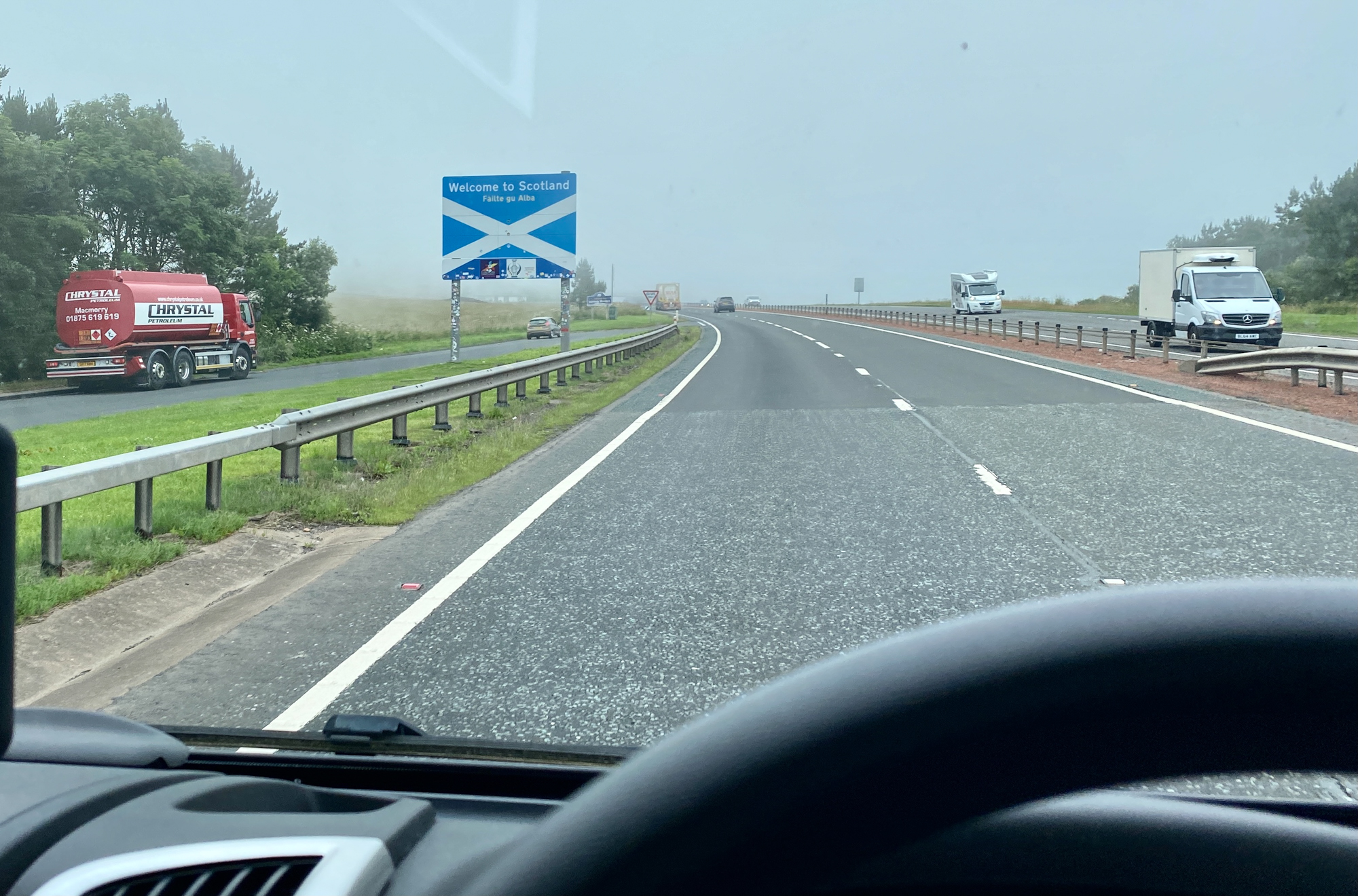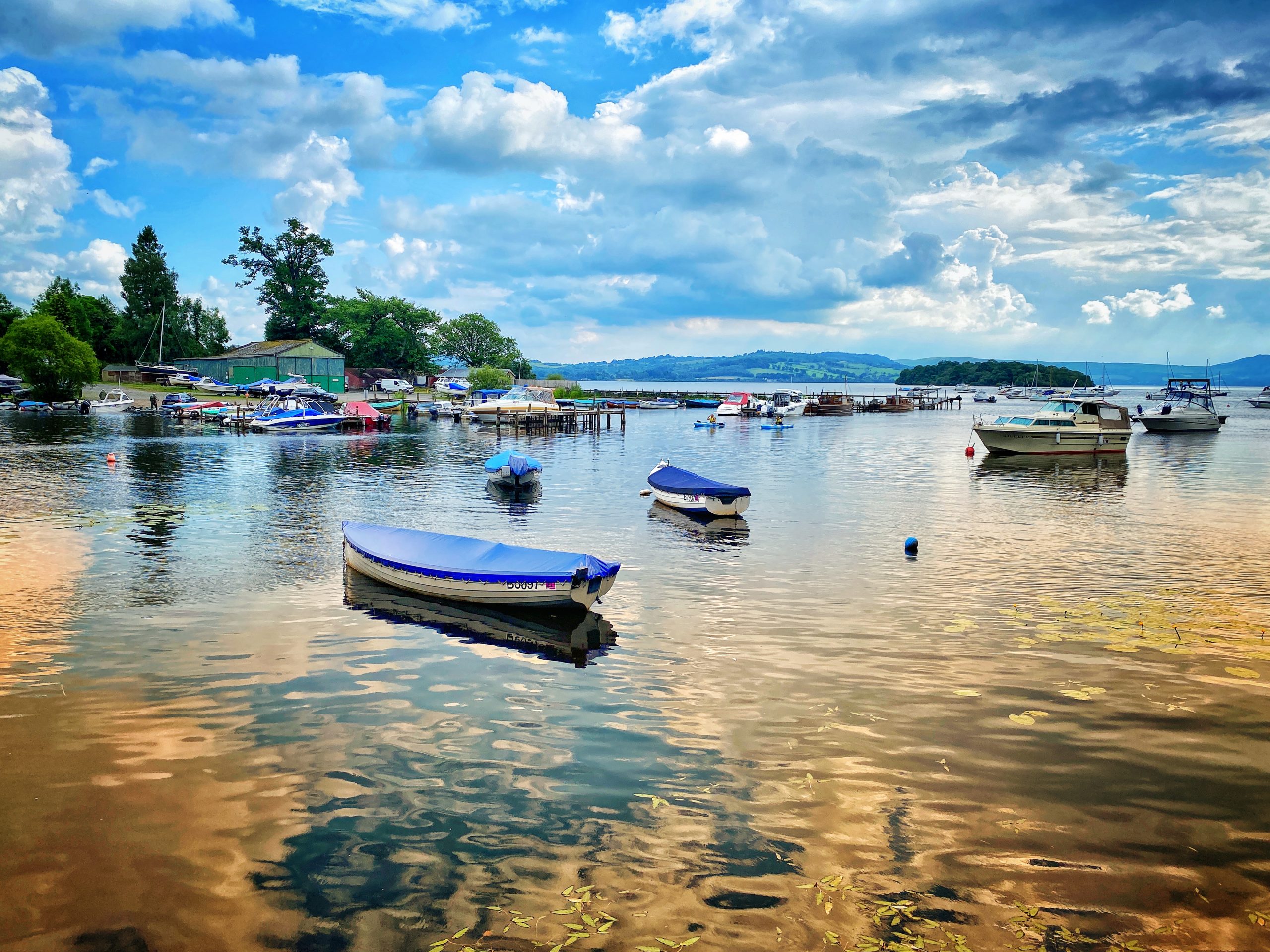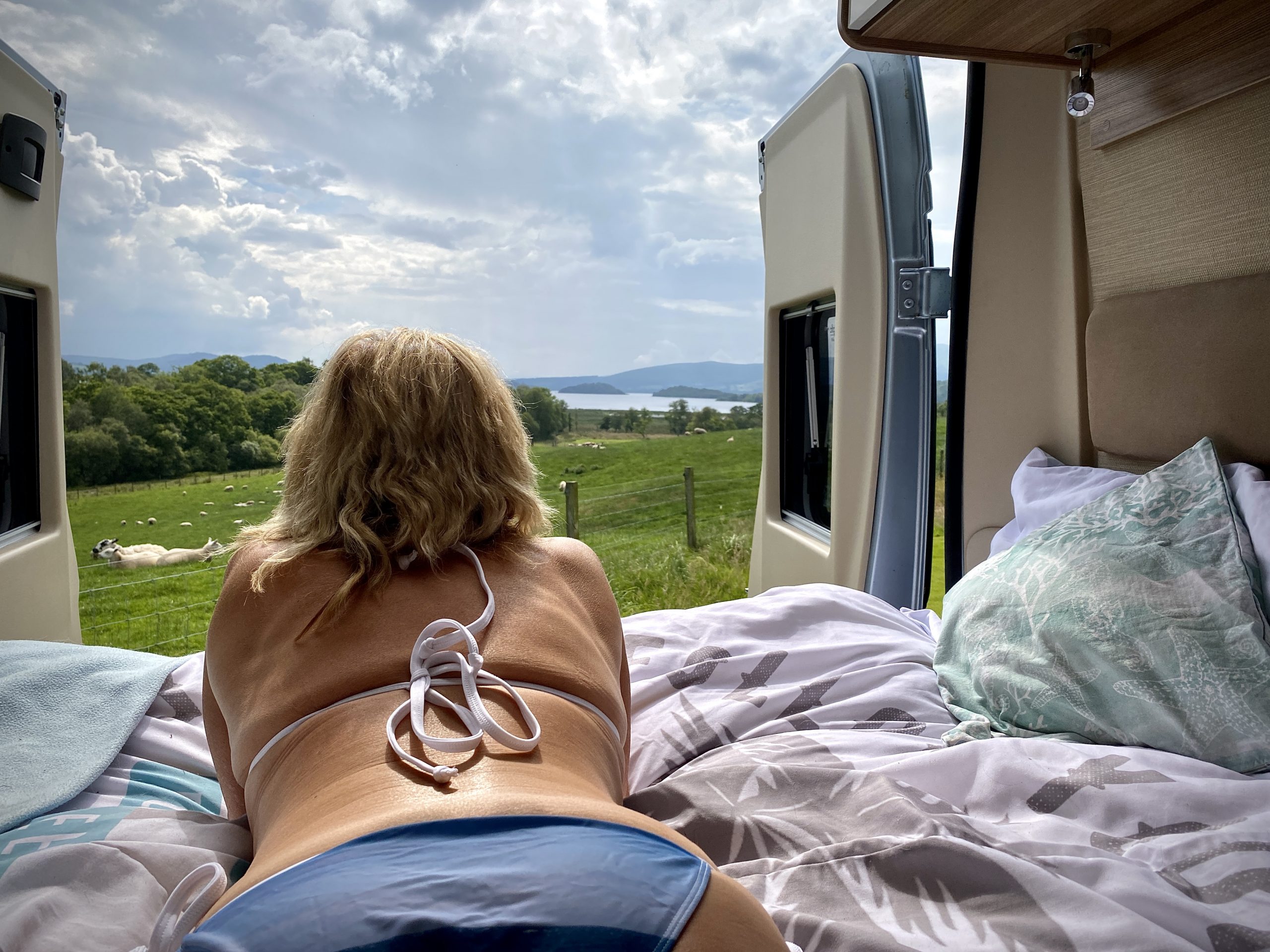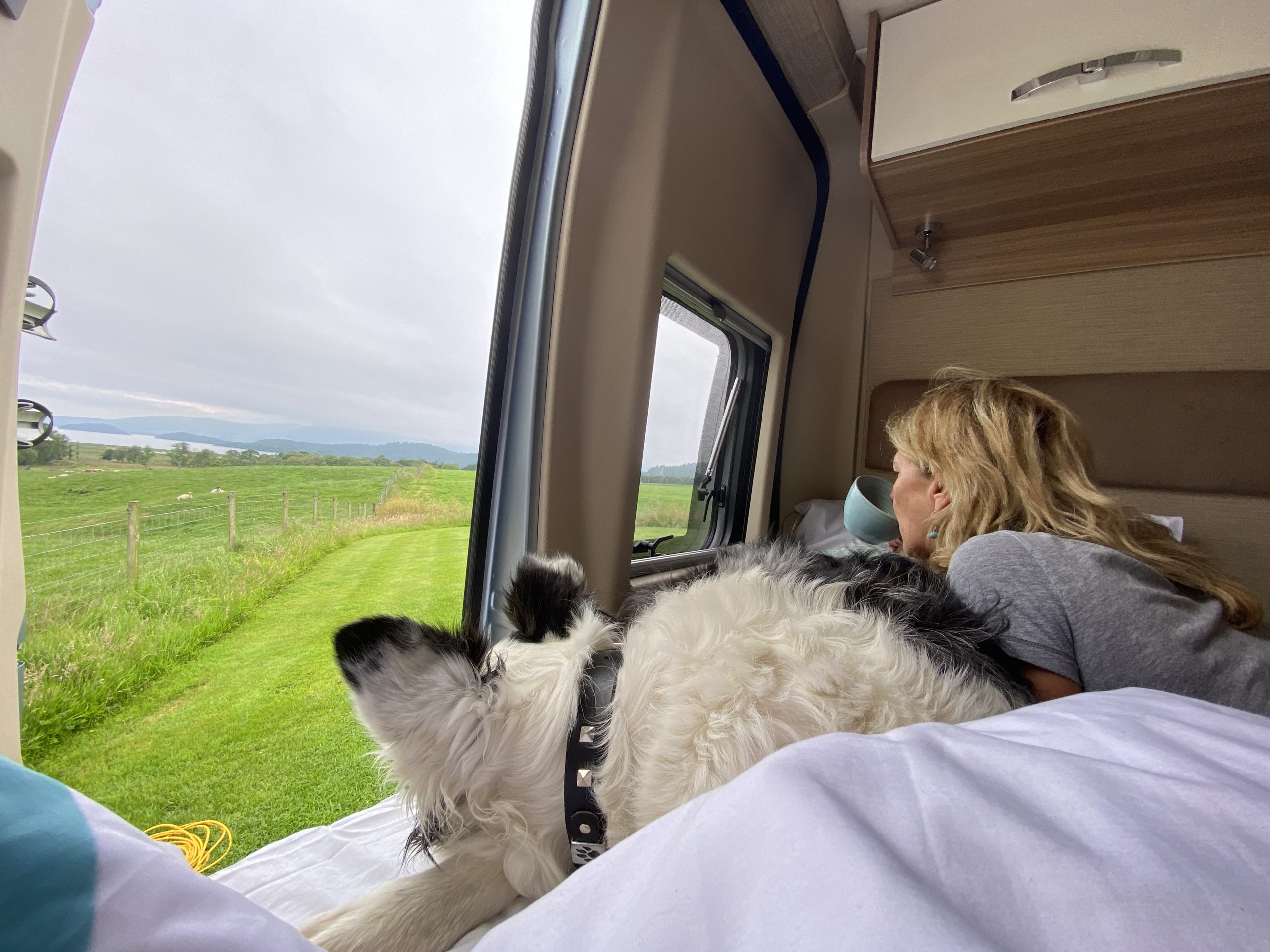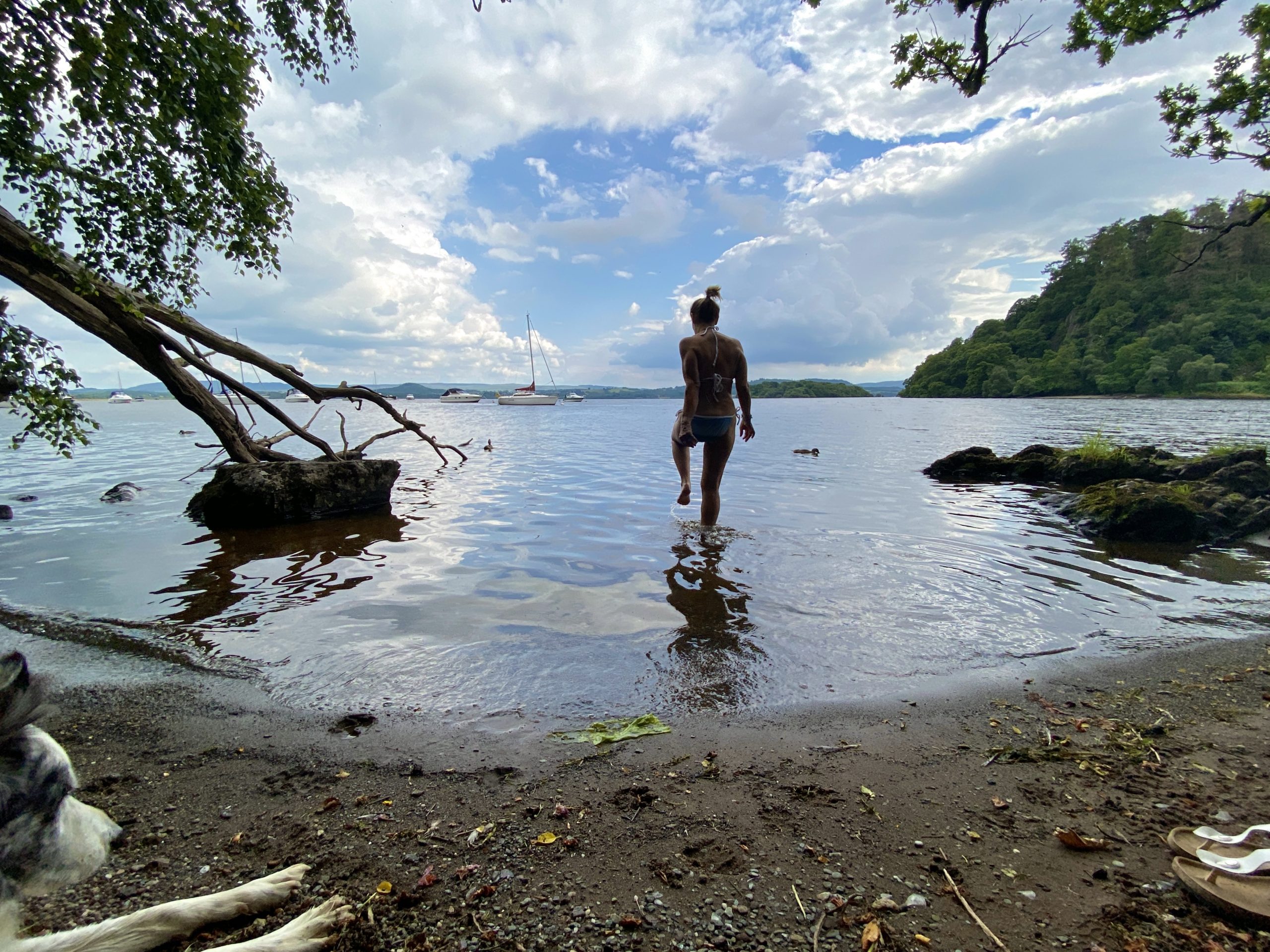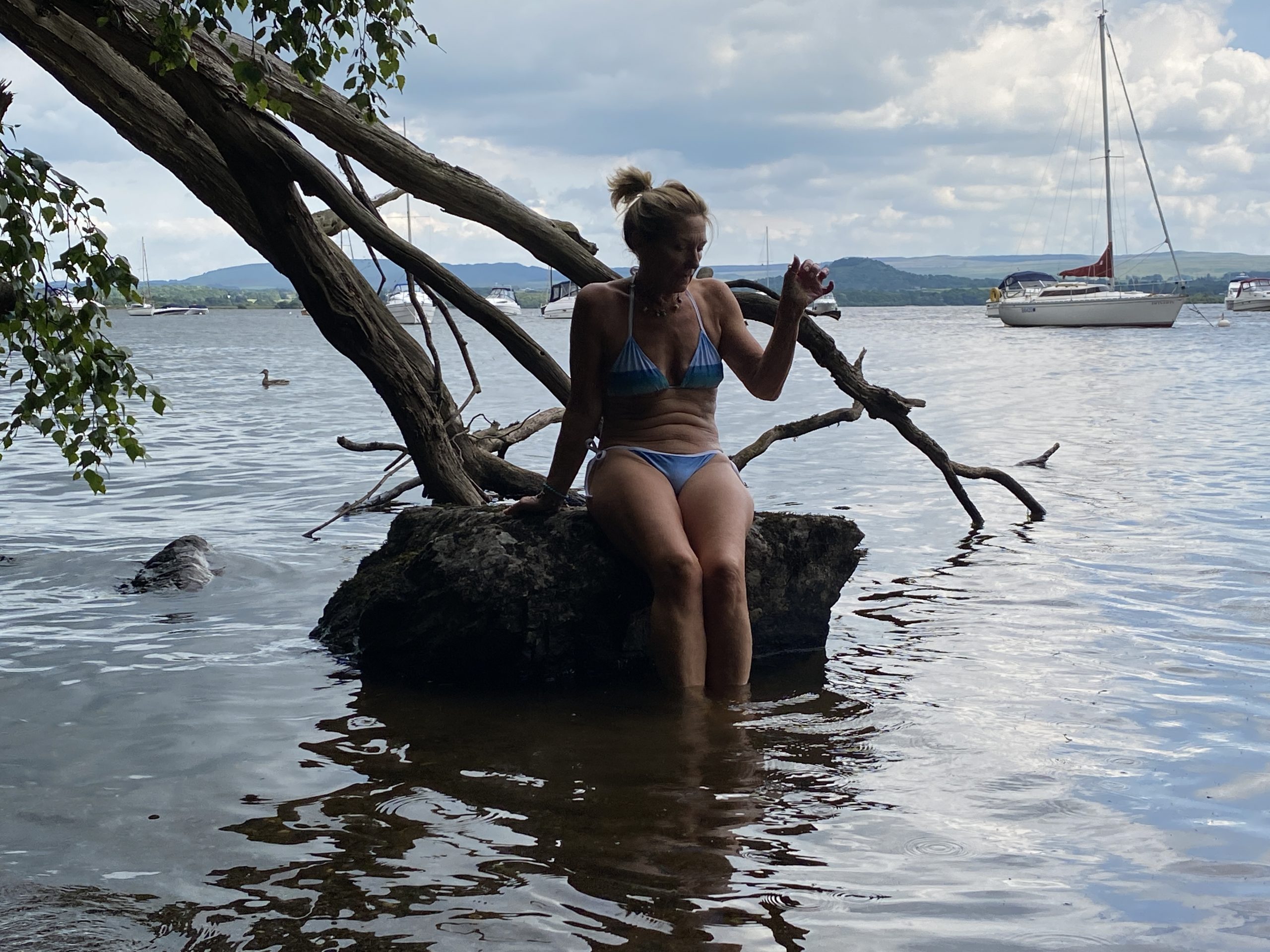 Day 5 – Arisaig
We knew we wanted to go to Skye so we booked a certified site called Traigh Farm at Arisaig on the west of Scotland, with a view to drive onto Skye the next day. Then Sara realised that we would have to go back the same way for about 40 miles so we booked a ferry to Skye for the following day. The site was just a strip of land right on the beach – and what an amazing view! We parked at an angle so the side door faced the beach, and we just watched people come and go. Sara helped a kayaker who was trying to learn to get back onto the kayak after a capsize. She couldn't do it – so gave up. Sara had a swim in the sea and, as there was no hook-up (so no tv) we had a quiet, pleasant evening sitting outside, watching the paddle-boarders until it slowly went dark.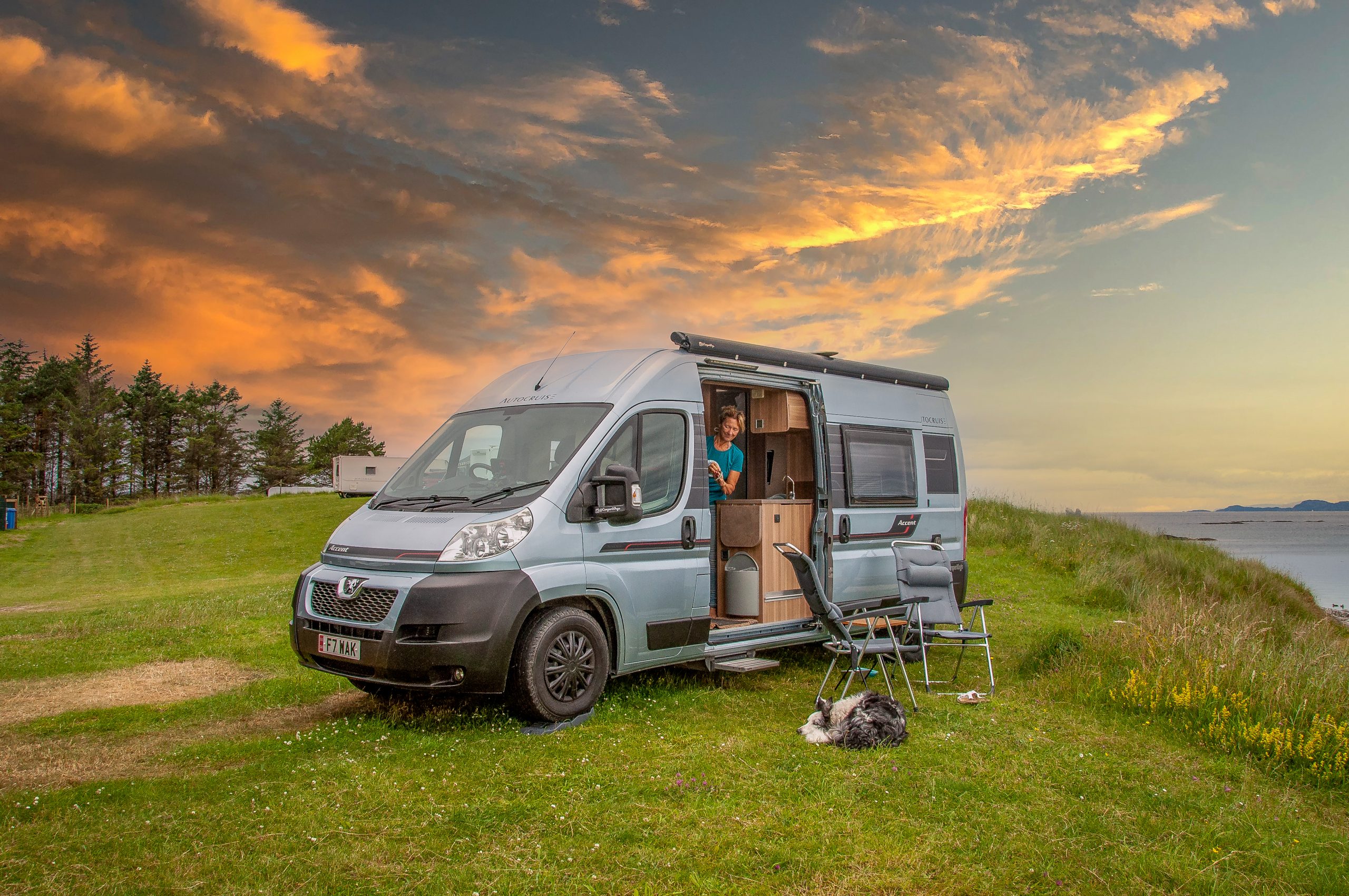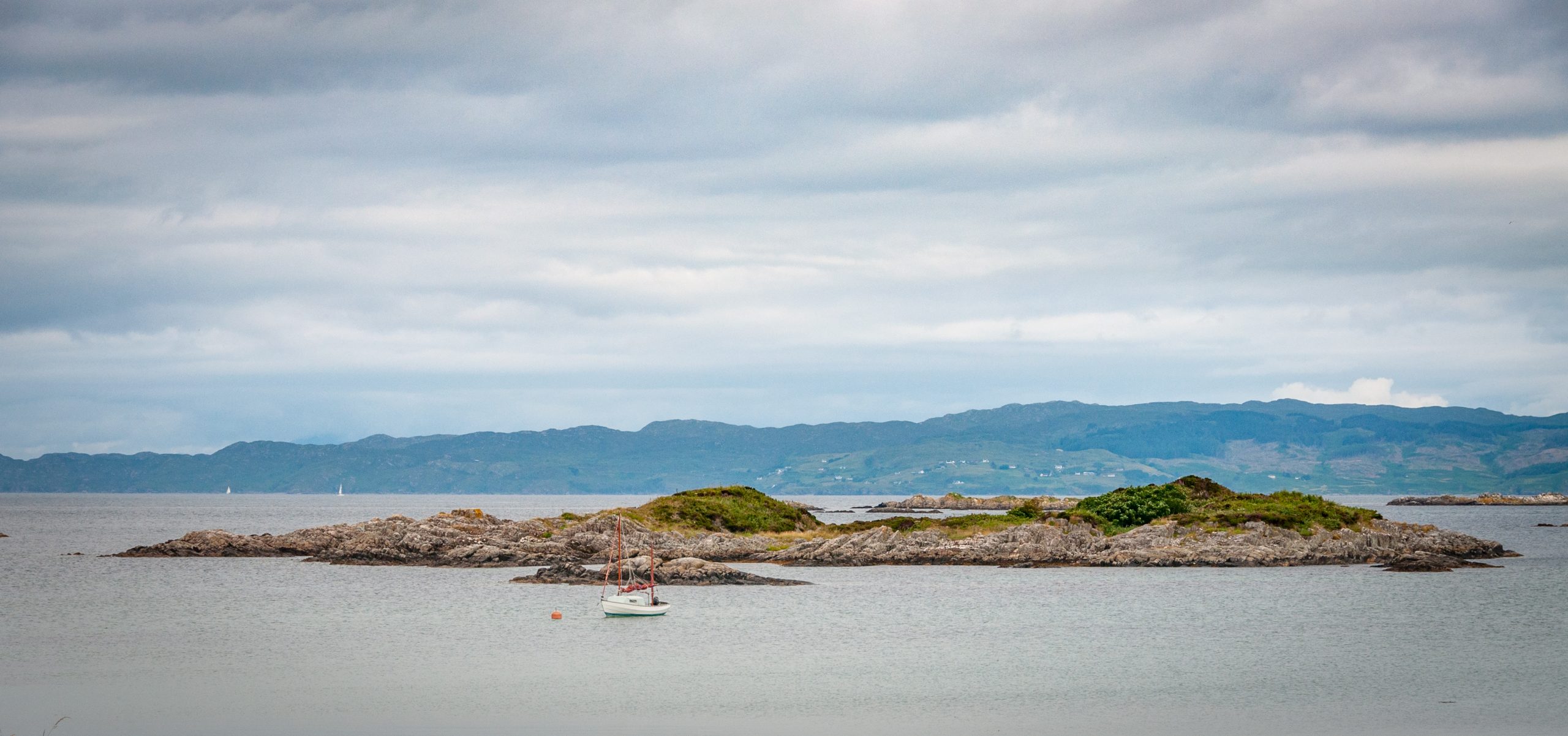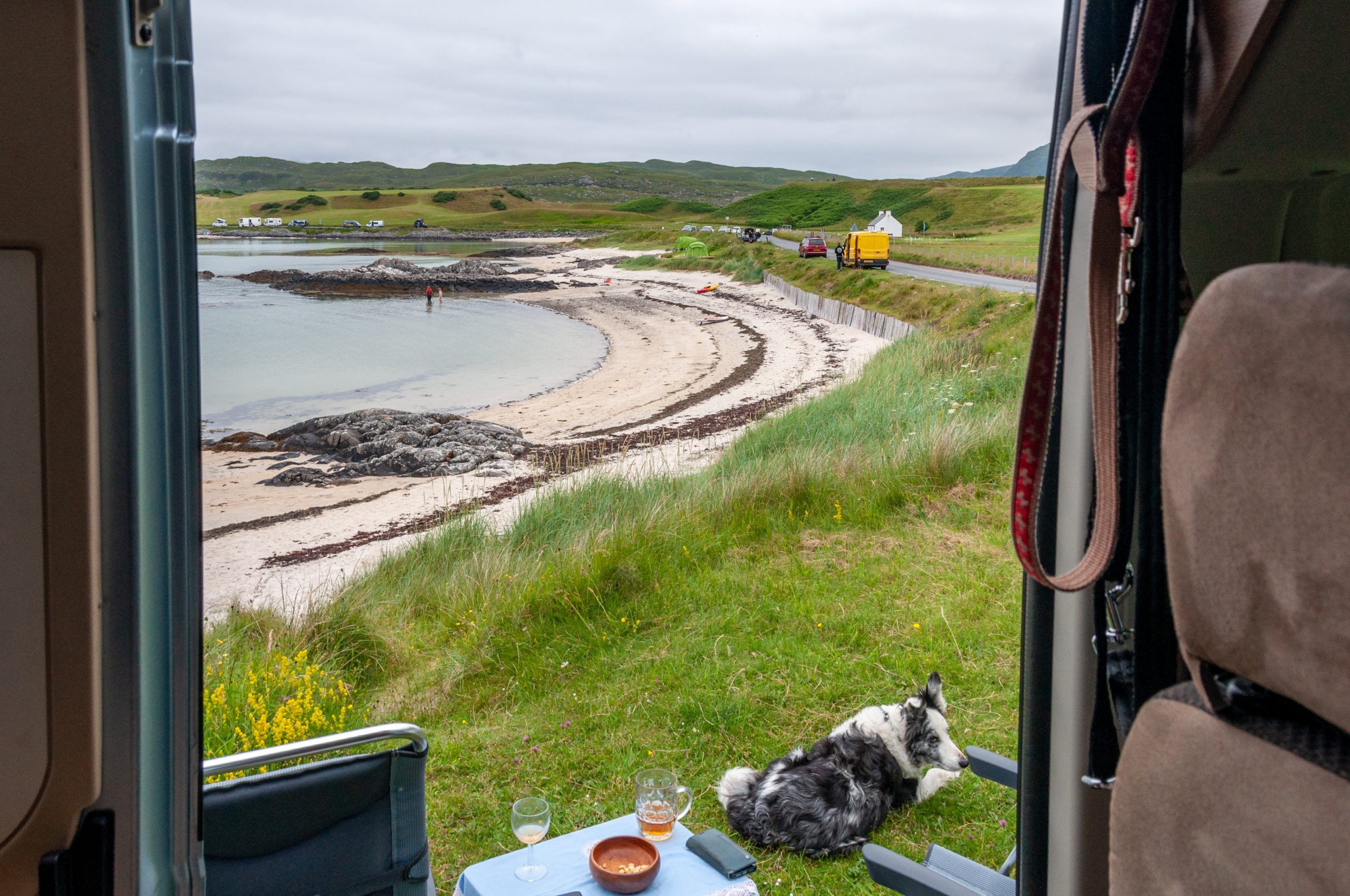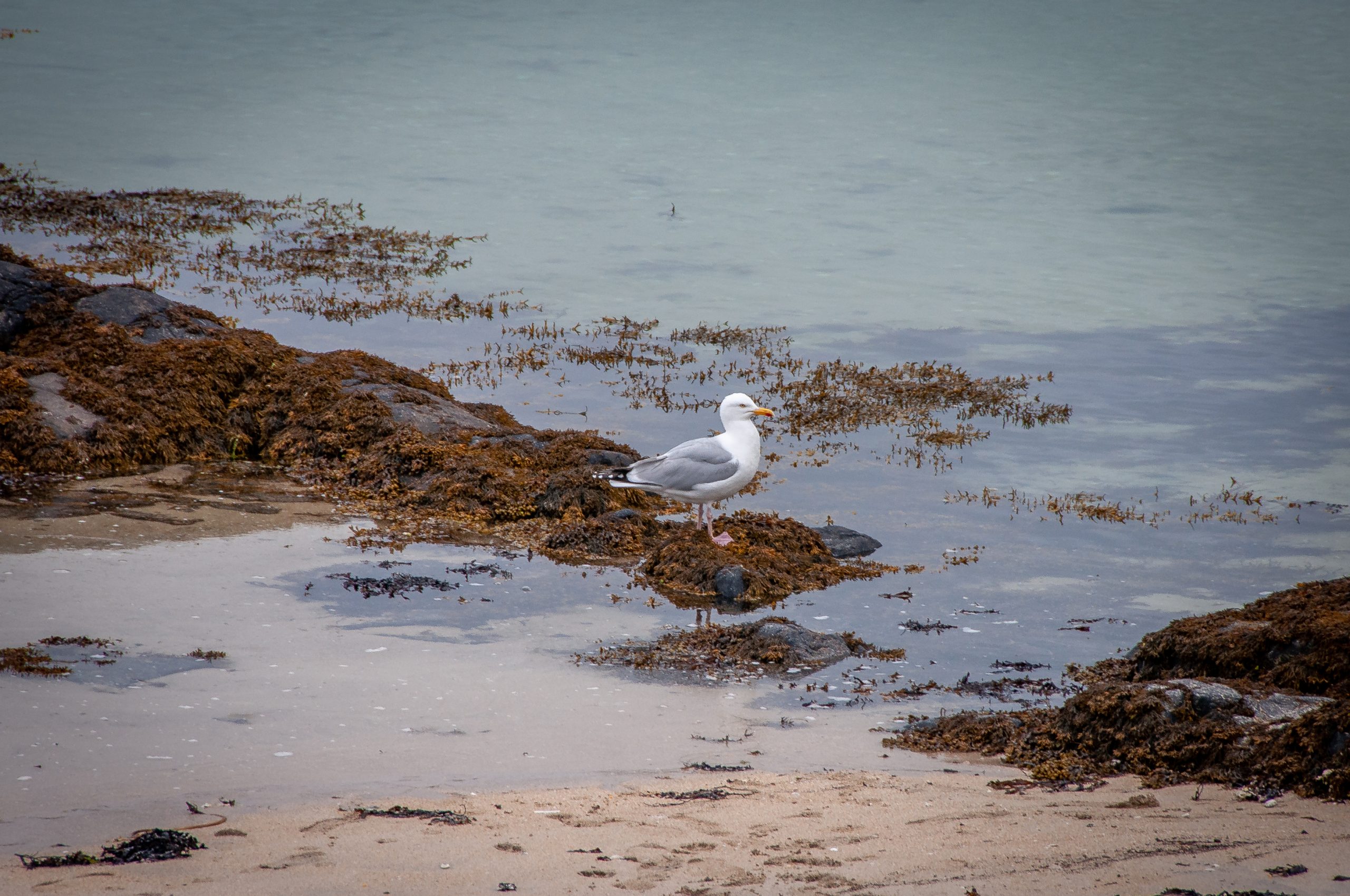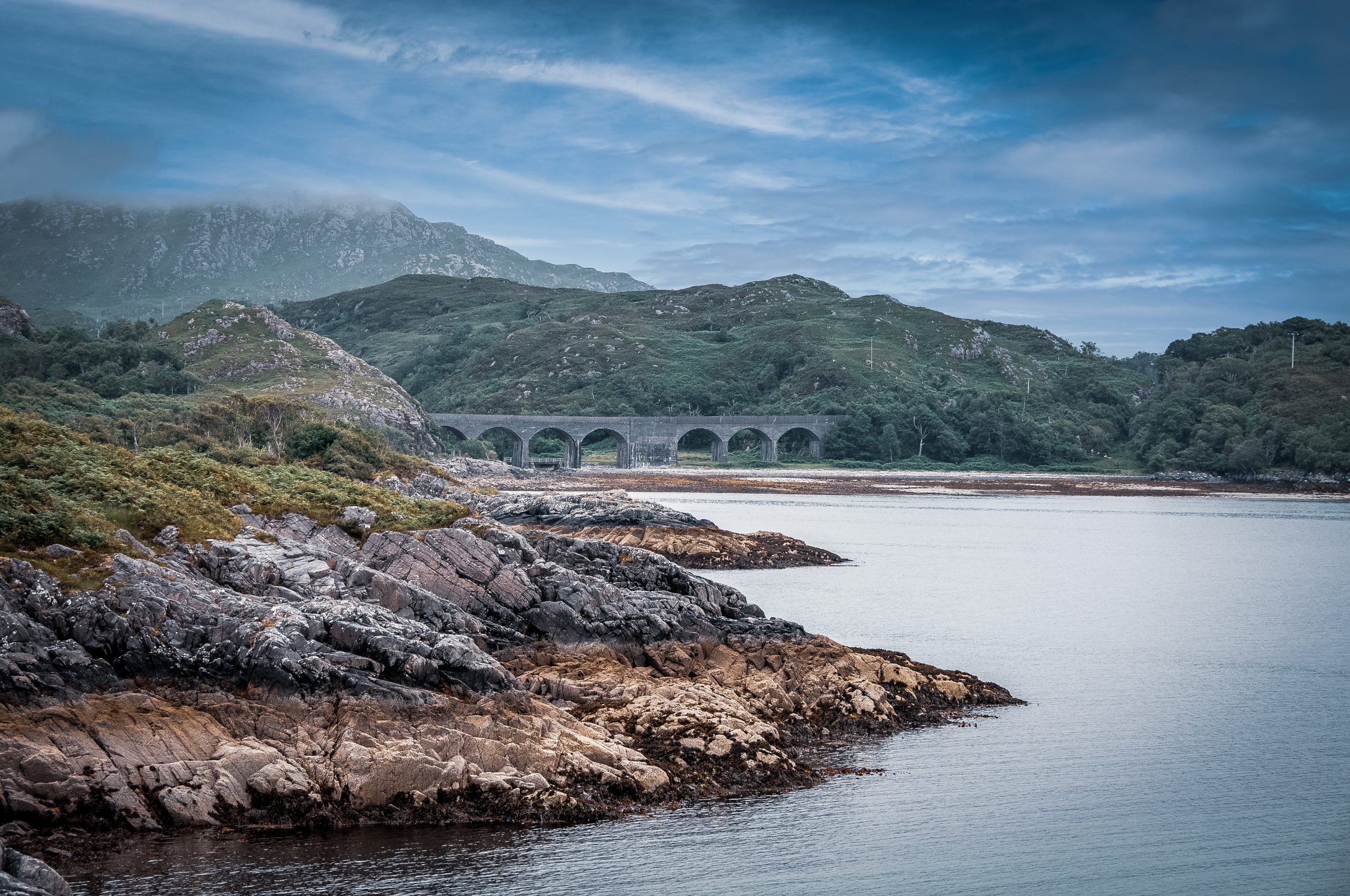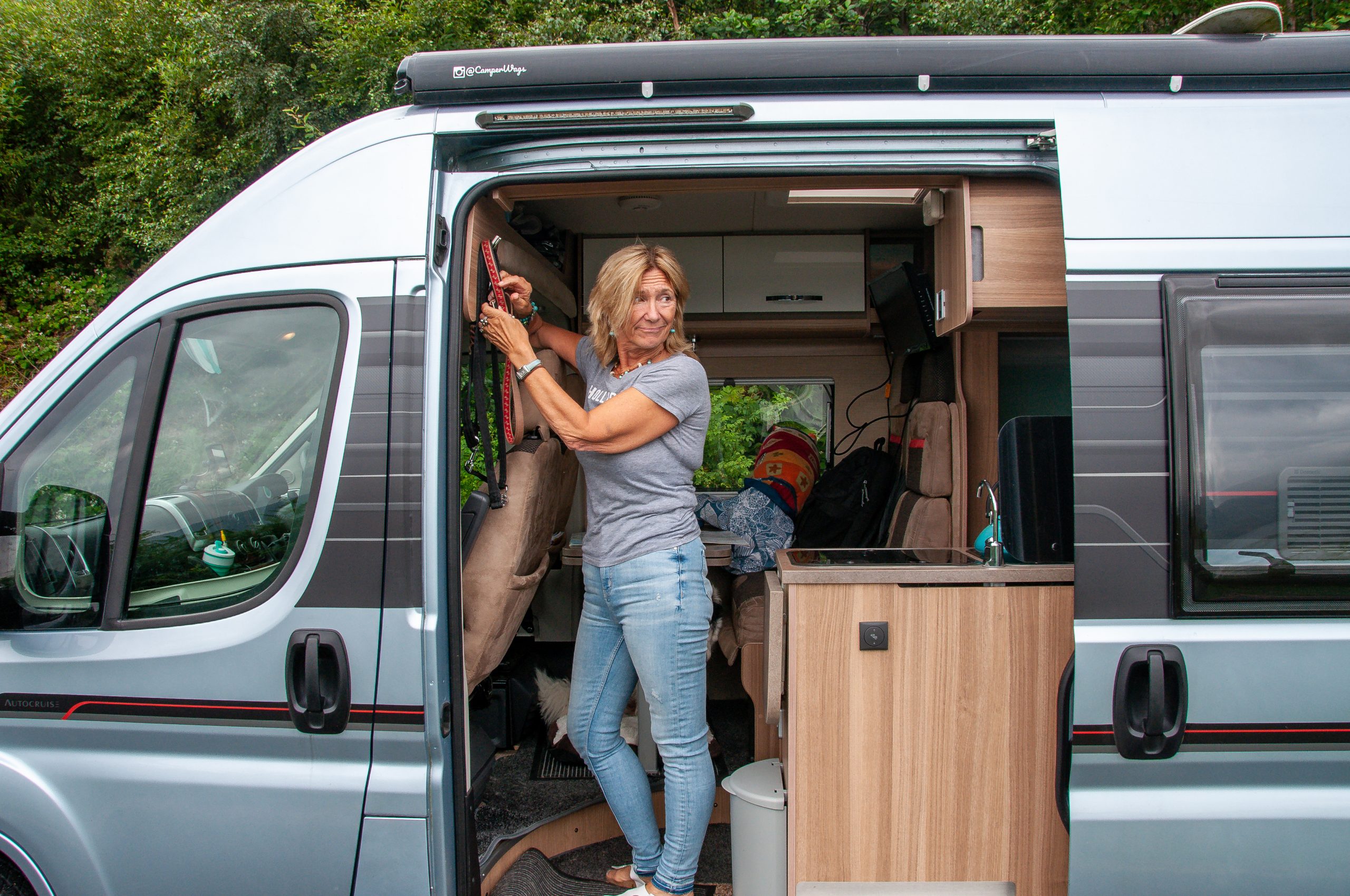 Day 6 – Mallaig & Skye
We had a date with a ferry at Mallaig – so we headed off to meet it. When we arrived we had a short wait, so we bought a coffee from what Sara described as a 'shack' to the owner, who advised her that it was his mobile retail unit… The ferry cost about £25 and took about 45 mins. We had to stay in the van during the crossing. From Armadale to Glenbrittle on Skye is about 43 miles. The views were stunning. At Glenbrittle, we parked up (£5) and then walked to where the pools were located. They weren't quite what I imagined – and there was lots of people standing around. We were lucky to find a pool that had no-one else in it. Sara jumped in and I scuttled round with the dog and camera (scratching the lens badly in the process) until I found a good place to photograph her. She swam up to the waterfall and we took a few pics before she climbed out and got dressed. Then it started raining quite heavily, so it was a relief when we got back to the van. We left Glenbrittle and headed for the road bridge back to the mainland. At the Kyle of Lochalsh, we parked up and got some fish and chips – which we ate in the van before continuing on our journey on to Elphin just north of Ullapool. We arrived quite late, hooked up and watched a dvd of Argo.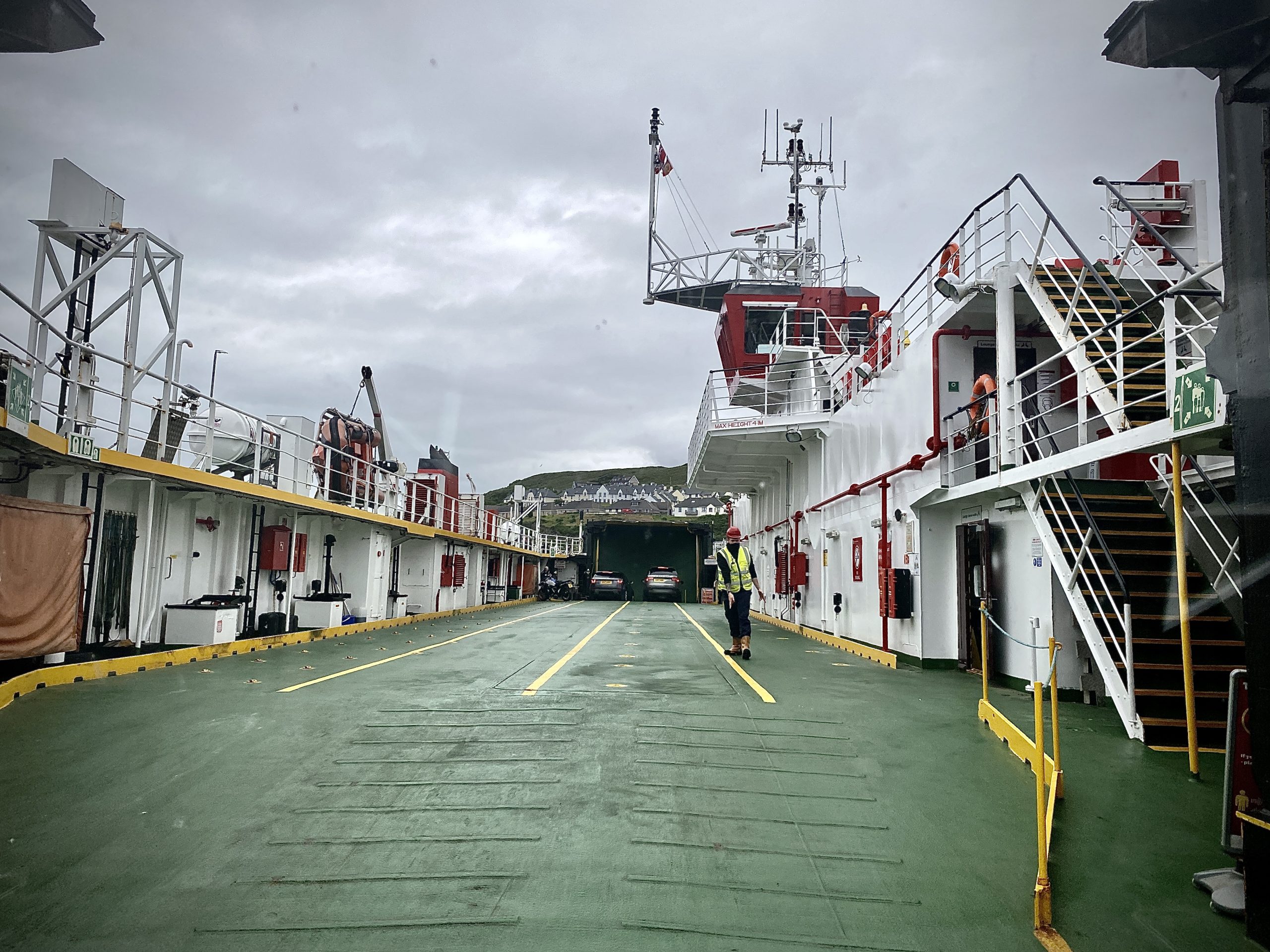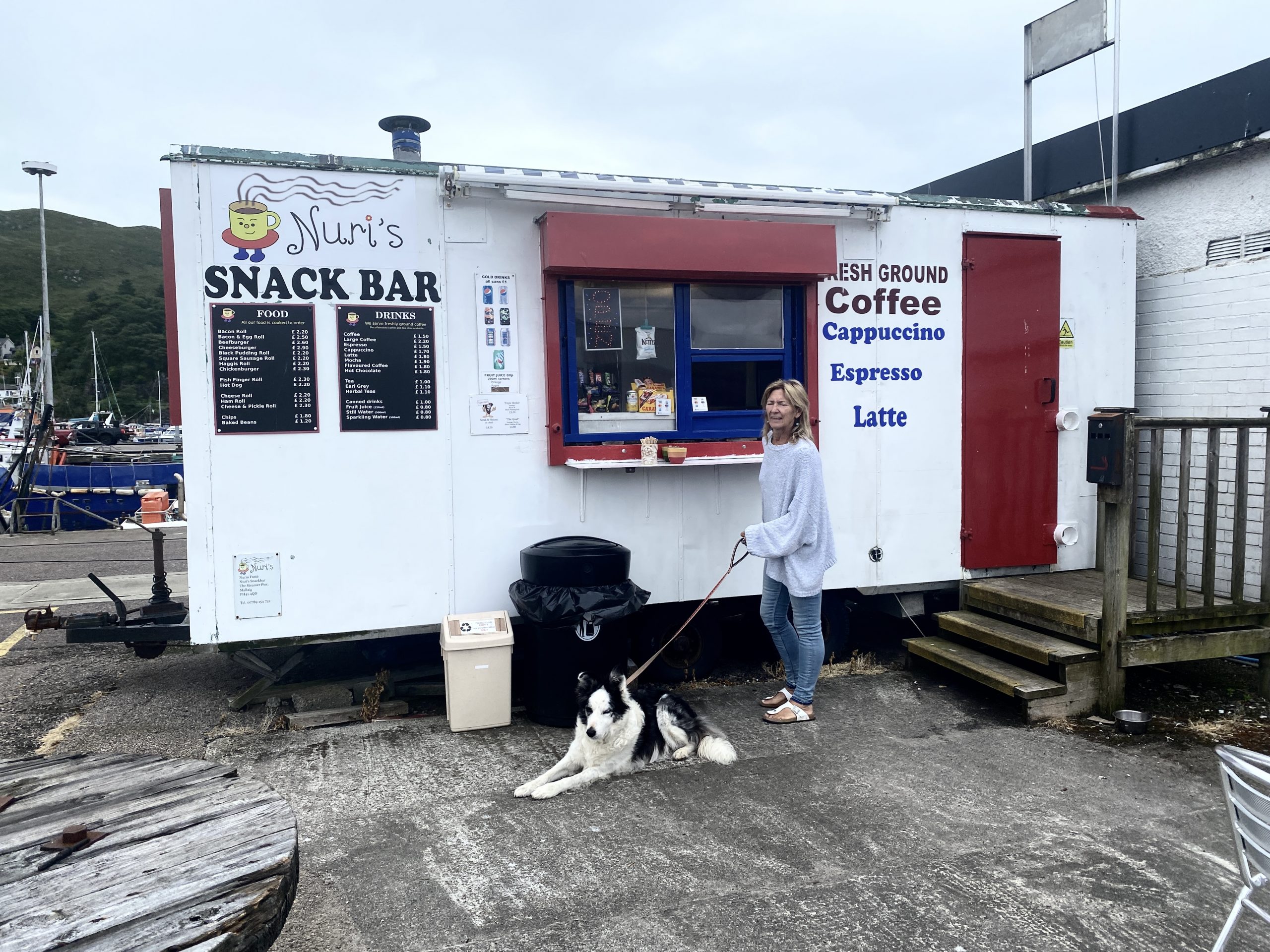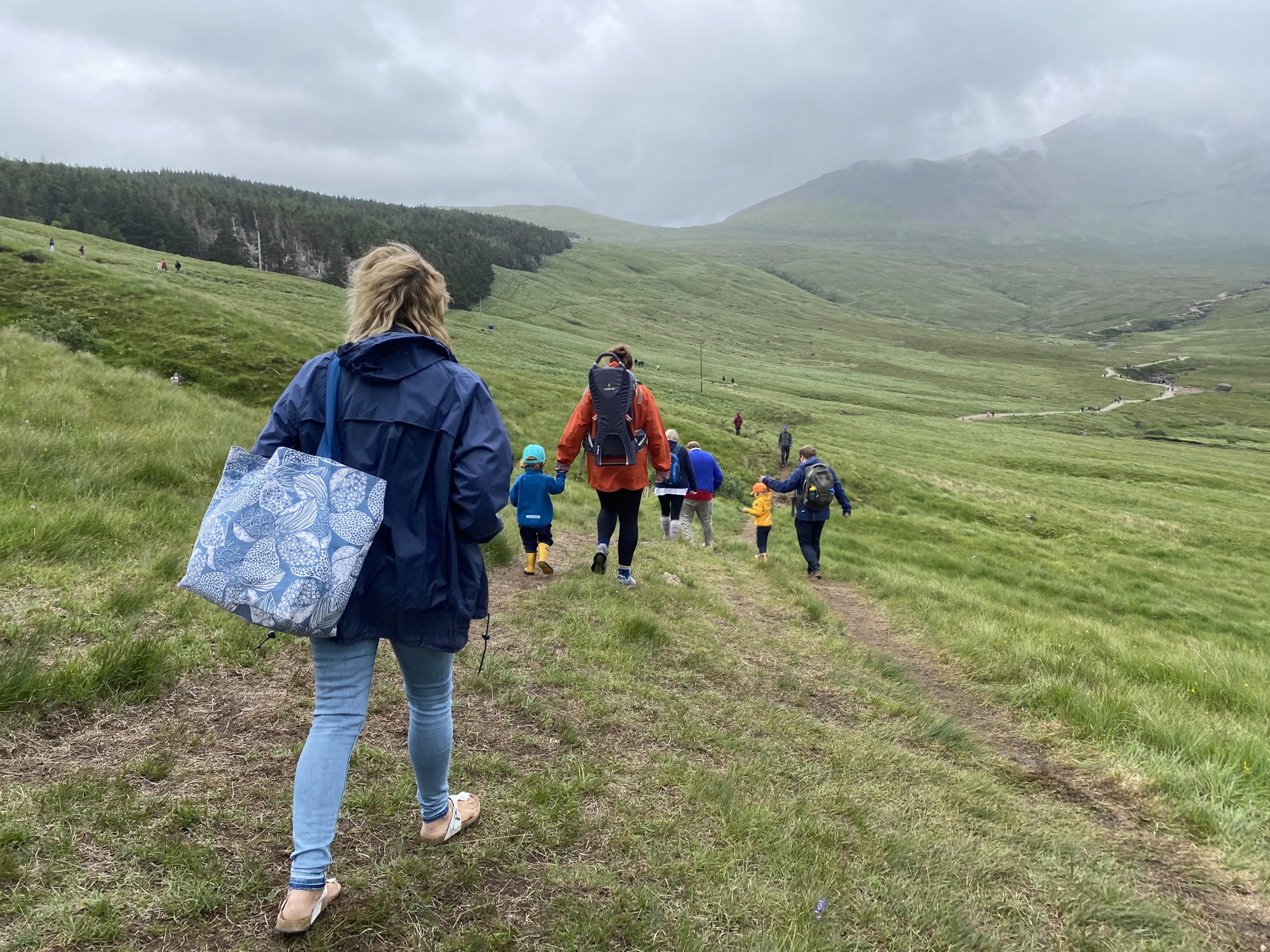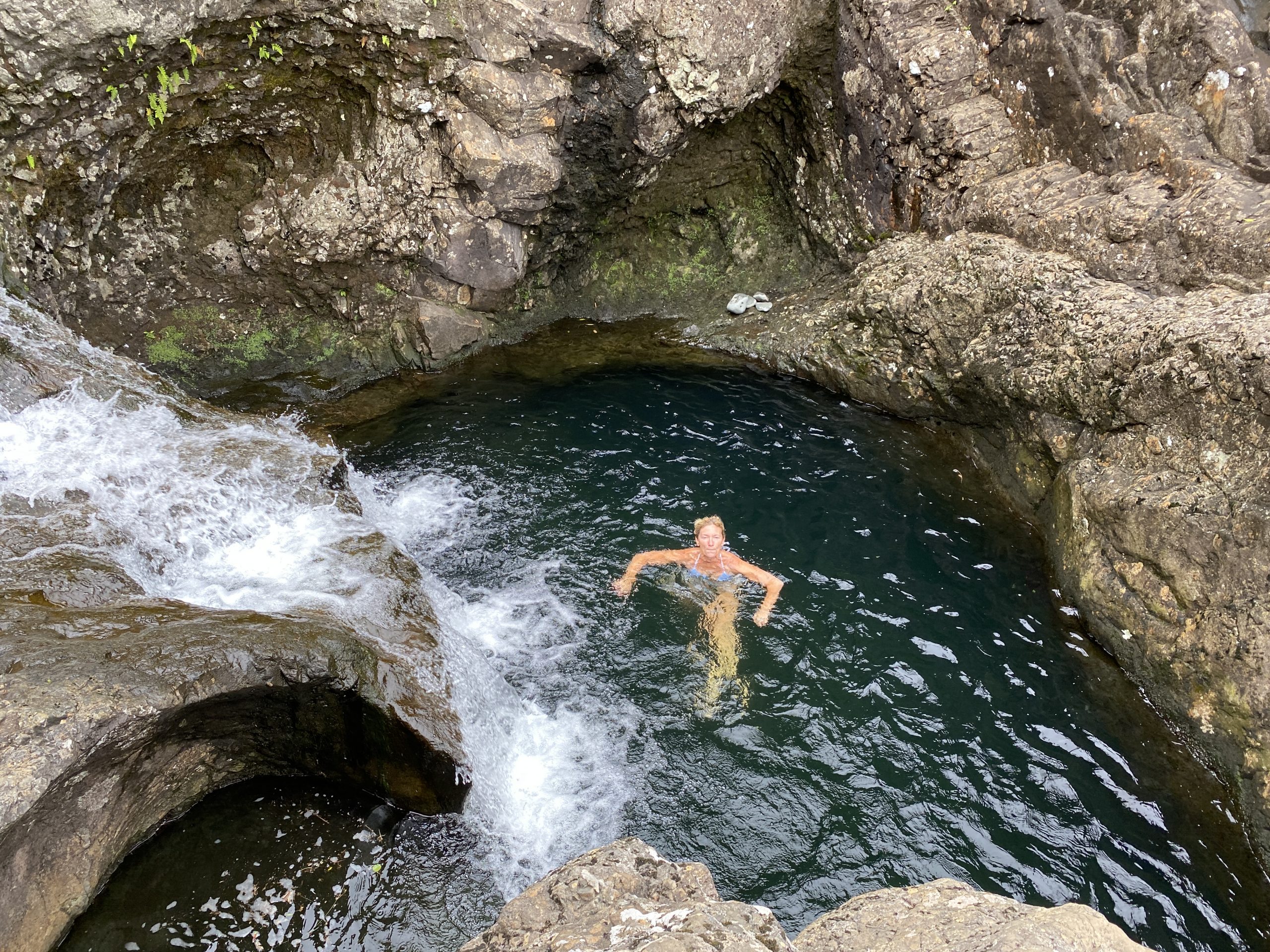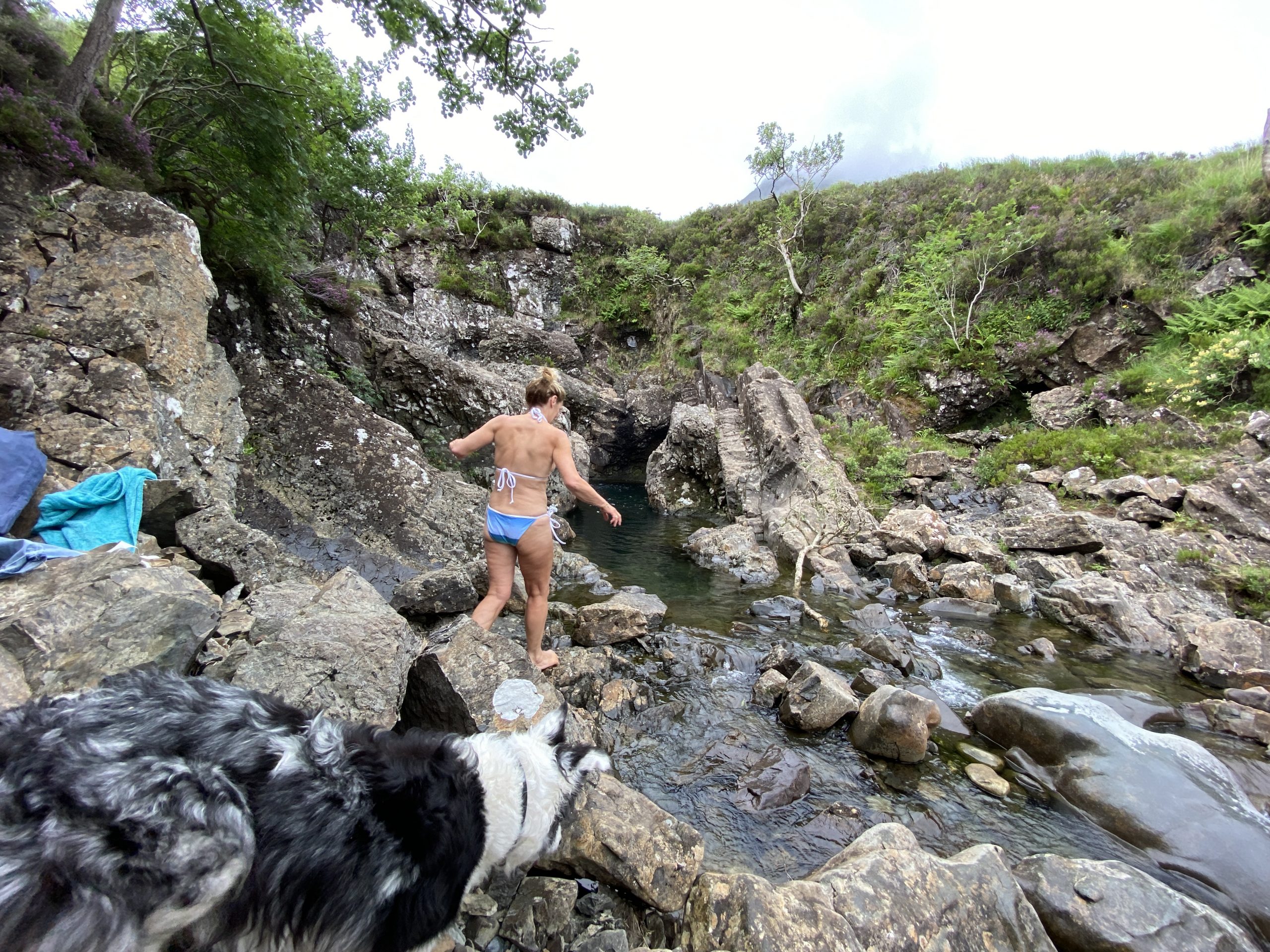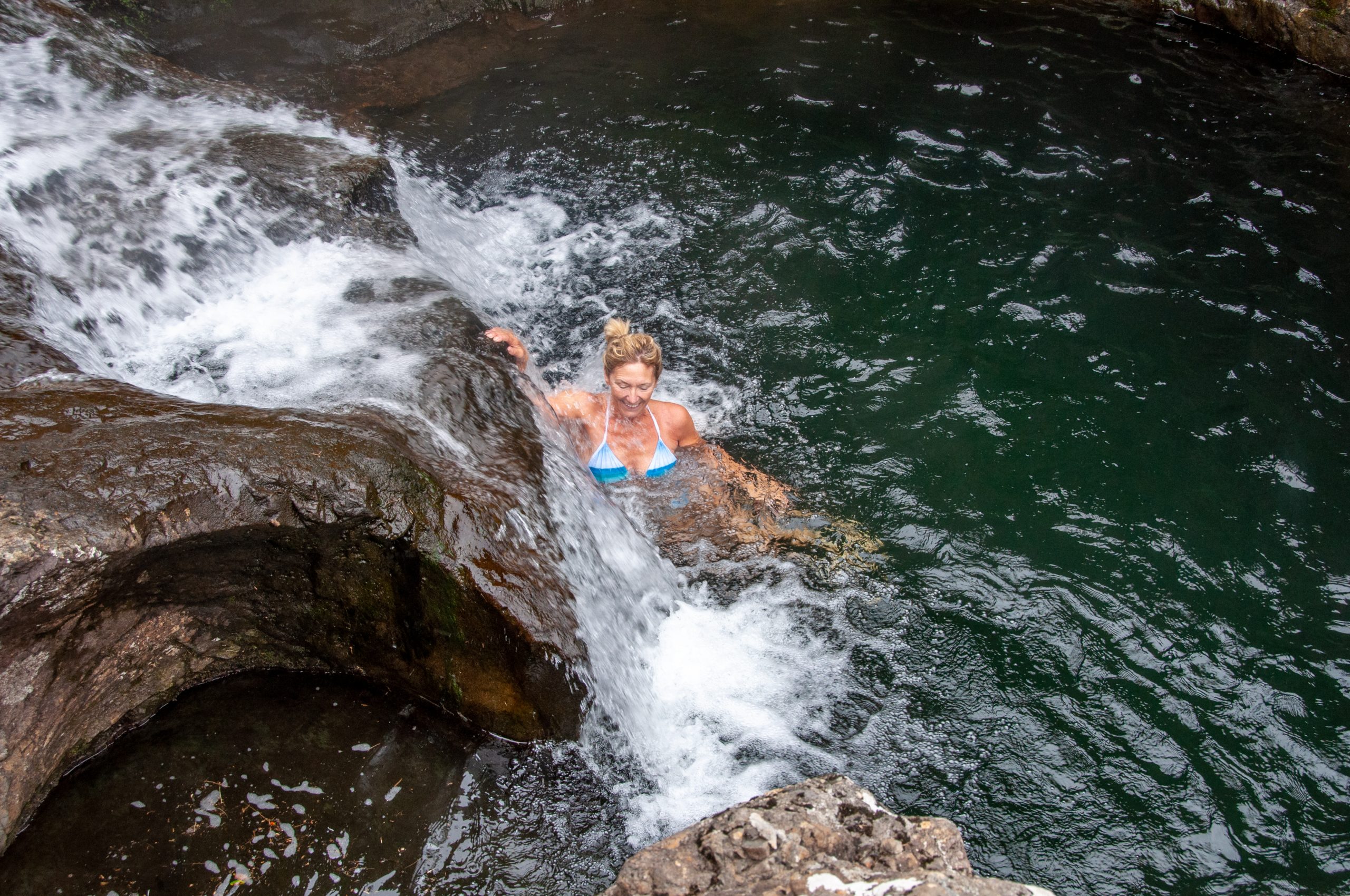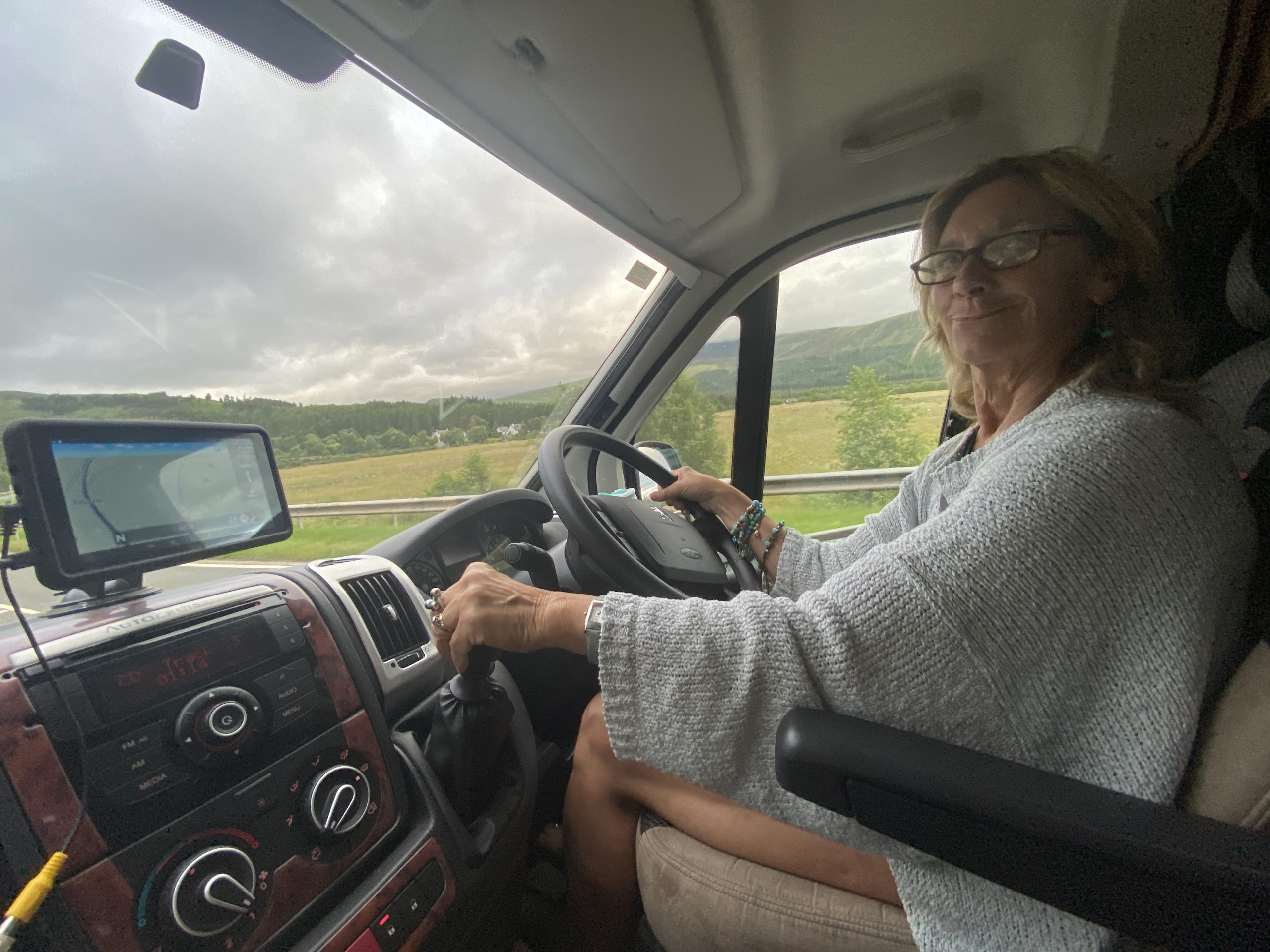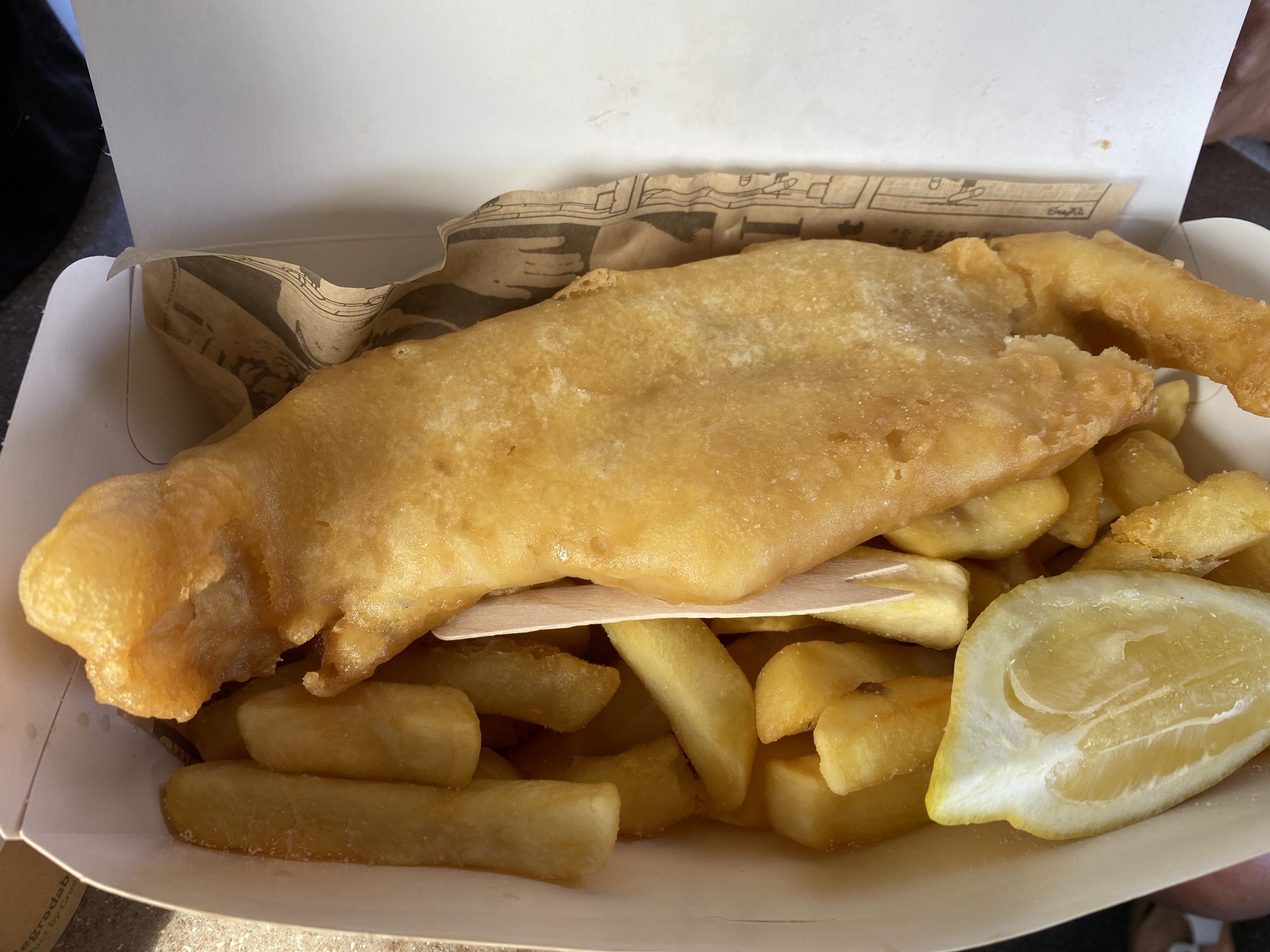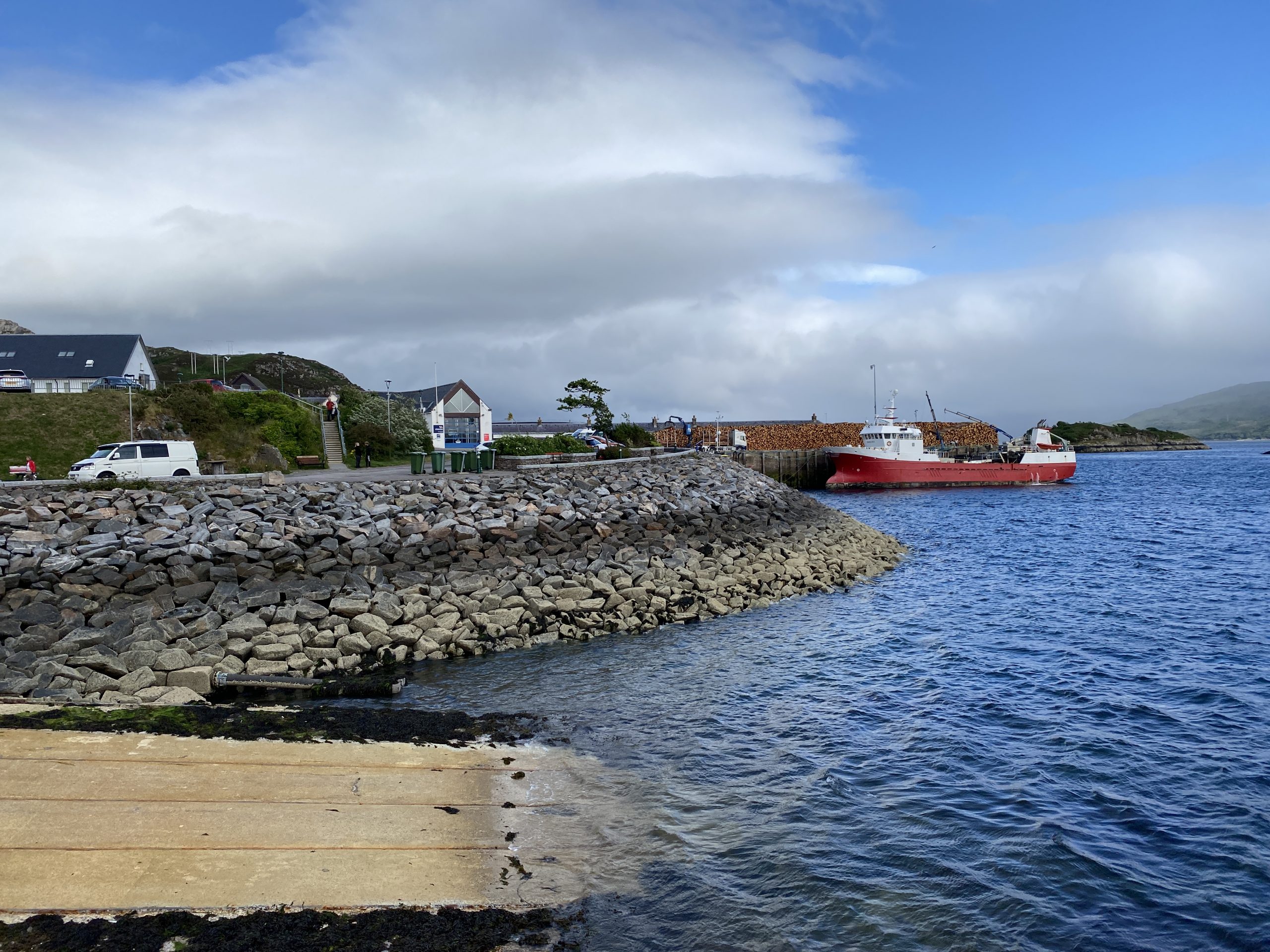 Day 7 – Sandwood Bay
Drove from Elphin up to the top of Scotland. We arrived at Sandwood Bay at 11.30am and parked up. From there we then had to walk 4 and a half miles (!) to Sandwood Bay beach over a flinty path. The beach was stunning. Huge waves and teal blue sea as well as a rock stack in the distance. The long walk had meant that not many people were on the beach. we walked to the far end and Sara braved the cold water. The walk back was quite hard – as it was mostly uphill. Very relieved to get back to the van. Then we drove to the CL we had booked at Laid on Loch Eriboll. This was a very basic site (but it did have a hook up and a toilet) at the rear of a tea shop, with a Loch in the background.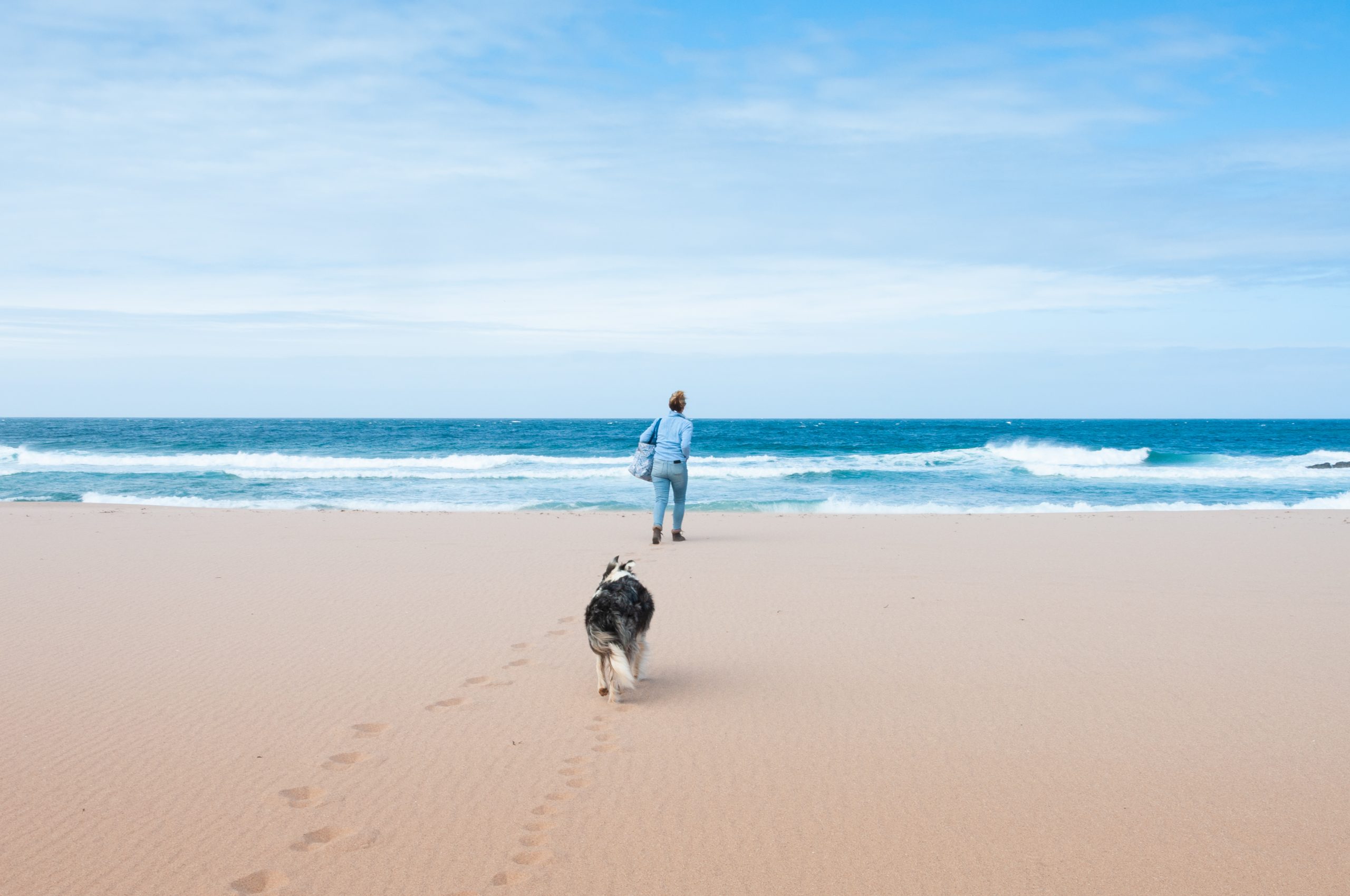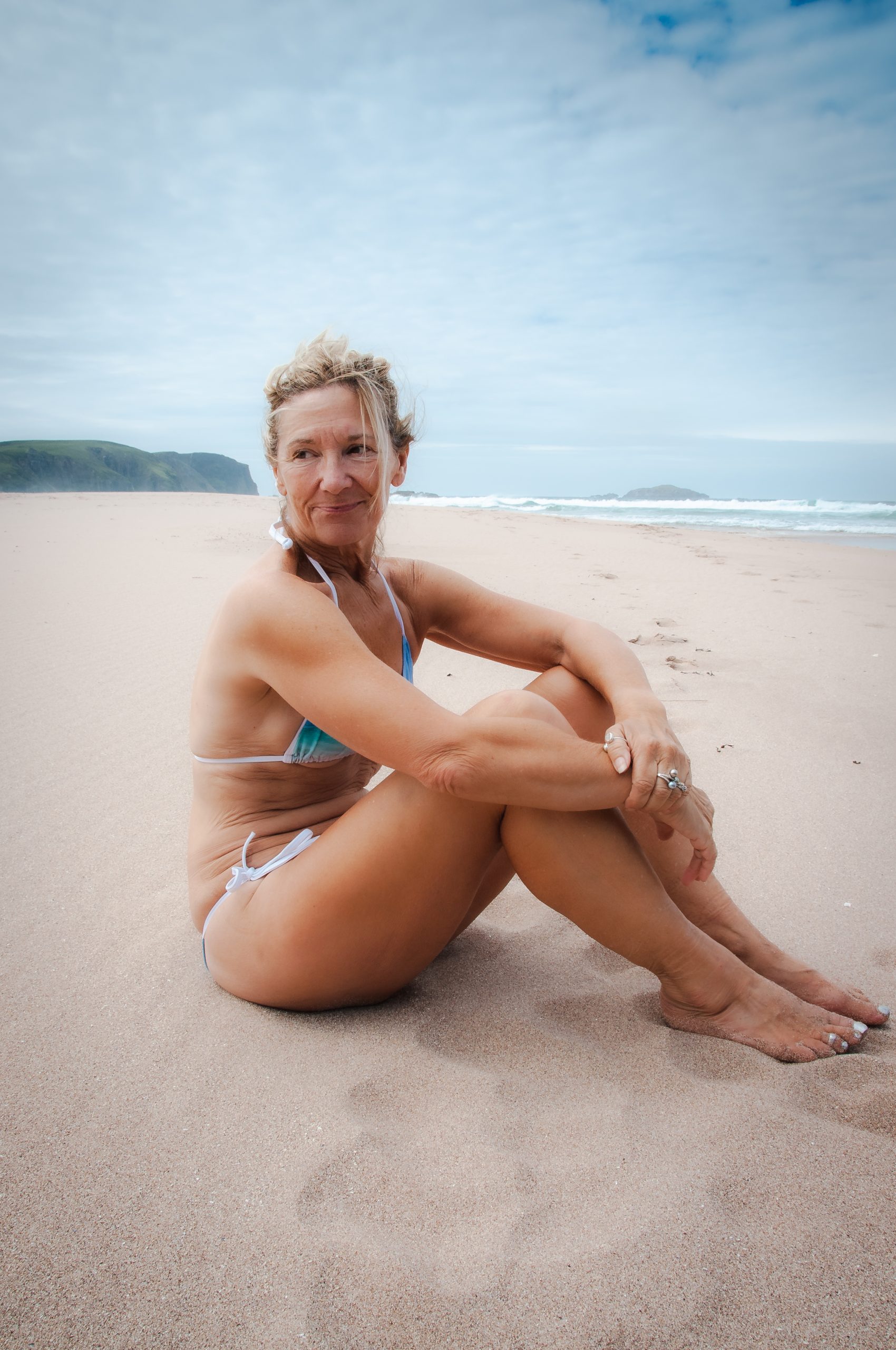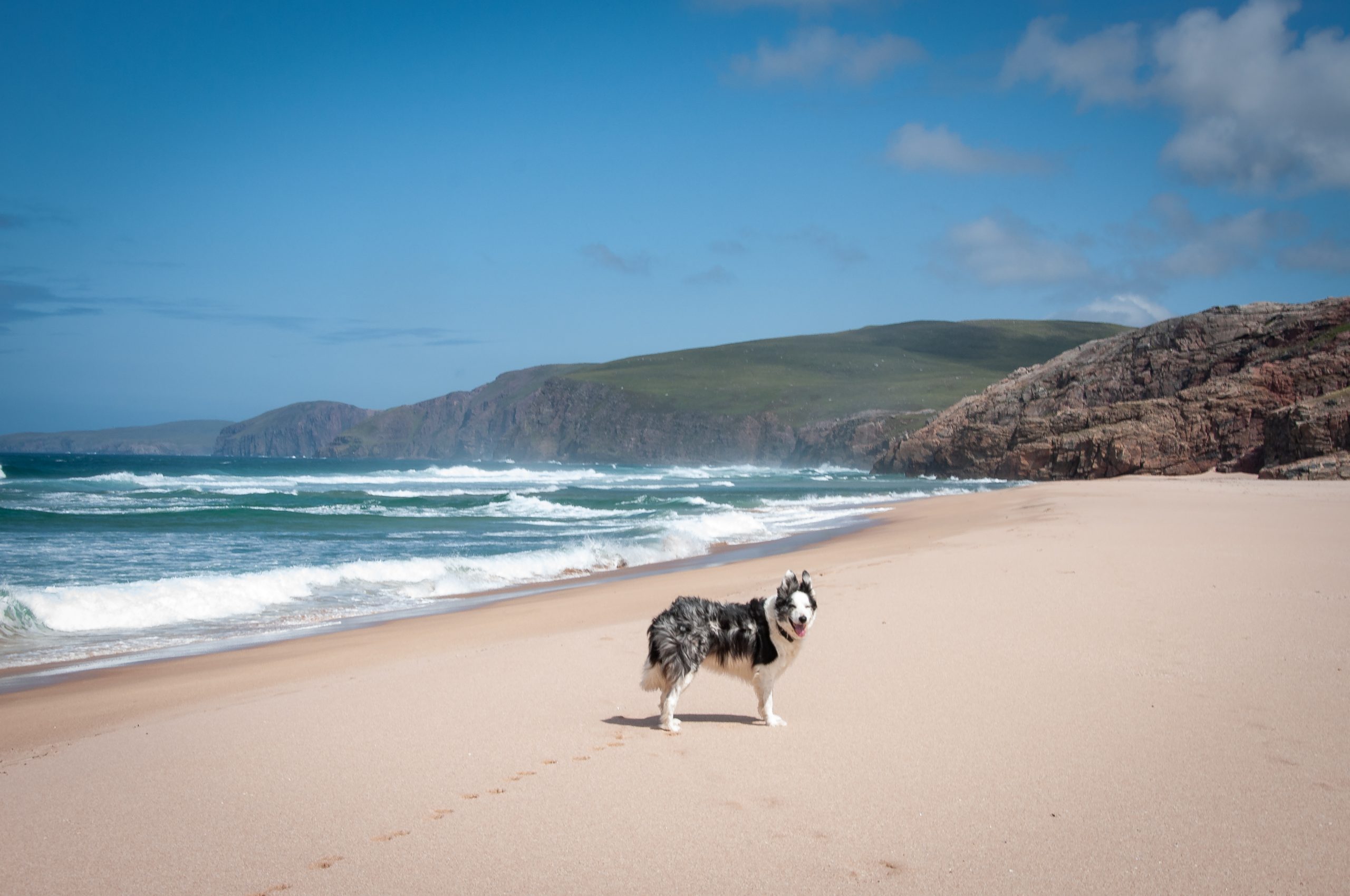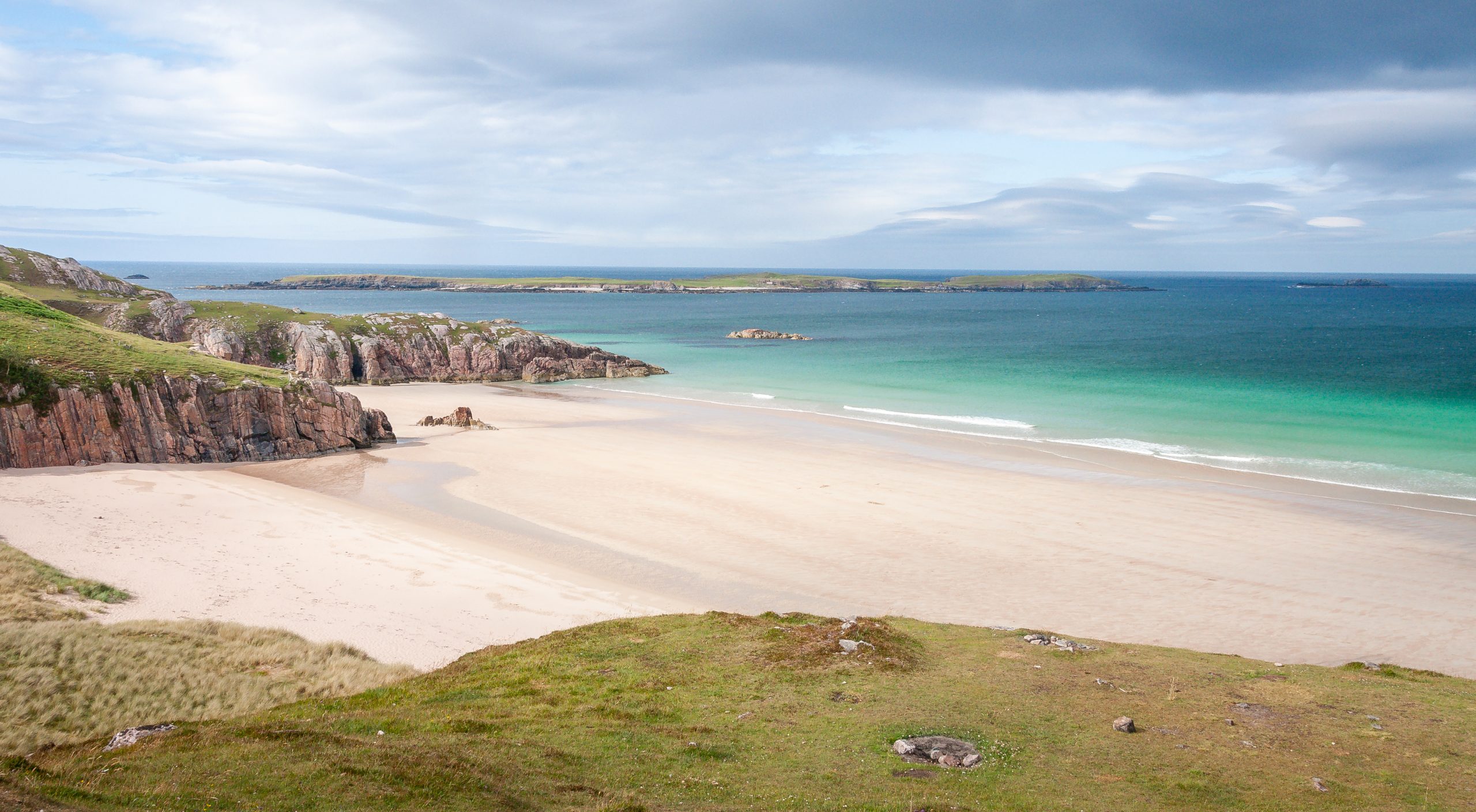 Day 8 – Inverness
Starting to head South now, we chose Inverness as a reasonable target for a day's driving. Lovely roads (mainly single track with passing places) but amazing views along the way. Spotted a pub in the middle nowhere so we stopped and had lunch. Here we met a guy (the only other customer in the pub) who told us he was a deerstalker (well, actually he was a property developer but does deerstalking on his time off) and all about that activity. Then we carried on. Stopped and took photos of Moine House – a lonely half-ruined cottage in the middle of the moor. Our stopover for the night was a Certified site in the grounds of a rather nice country house hotel. The new owners had not yet opened up the hotel so we ate in the restaurant – very lovely food and all very civilised. Nice to do something a bit smarter for once!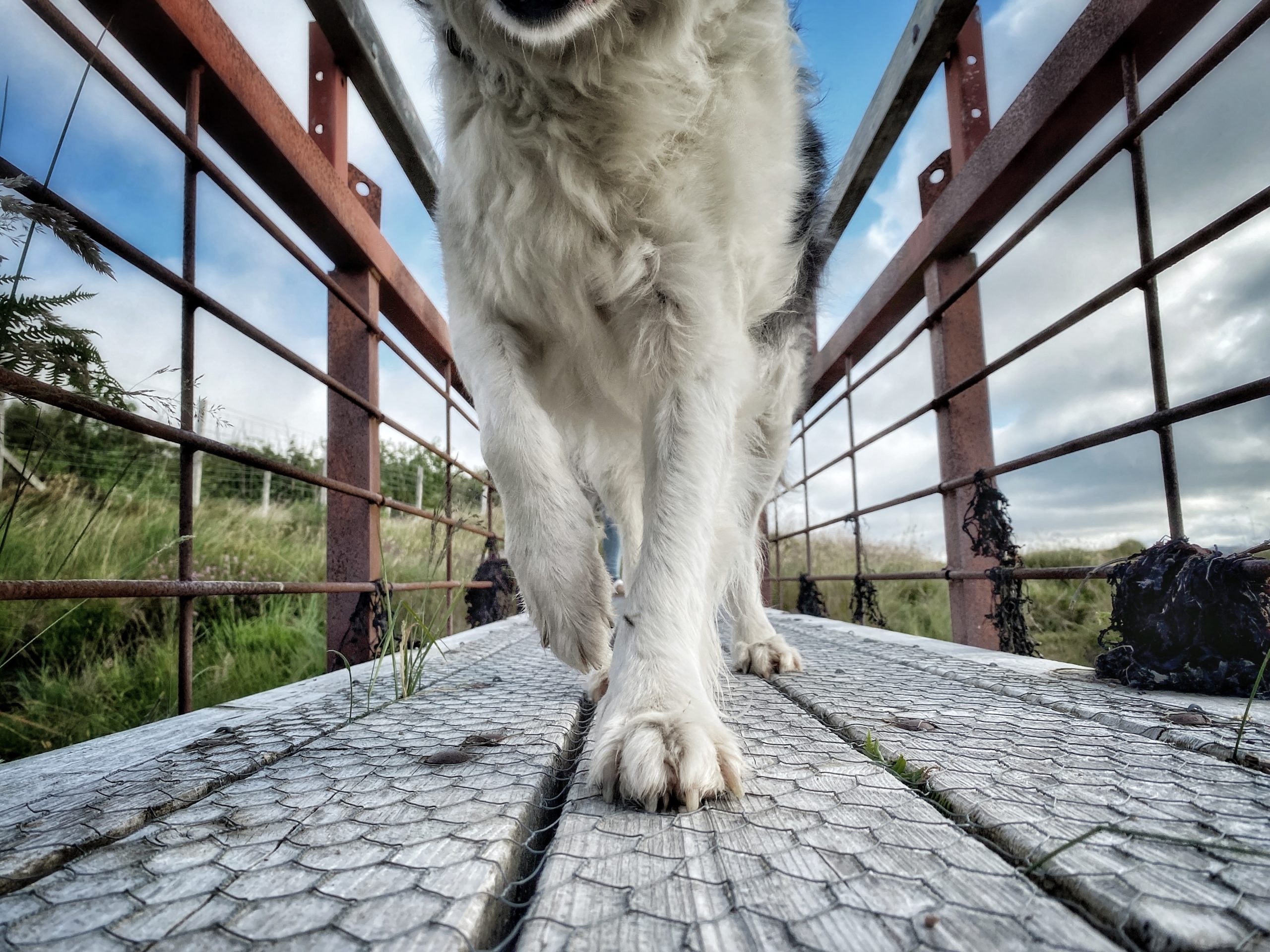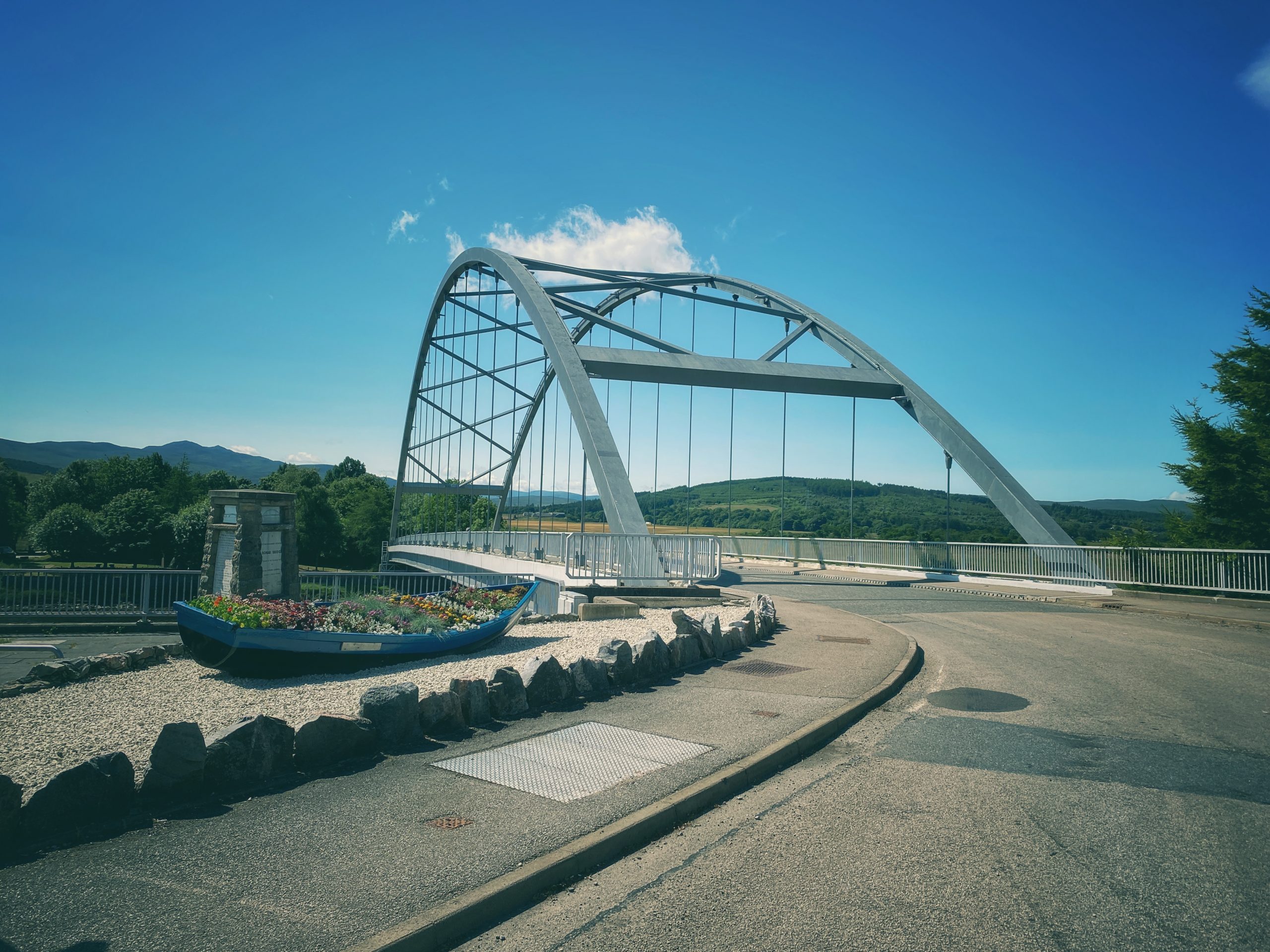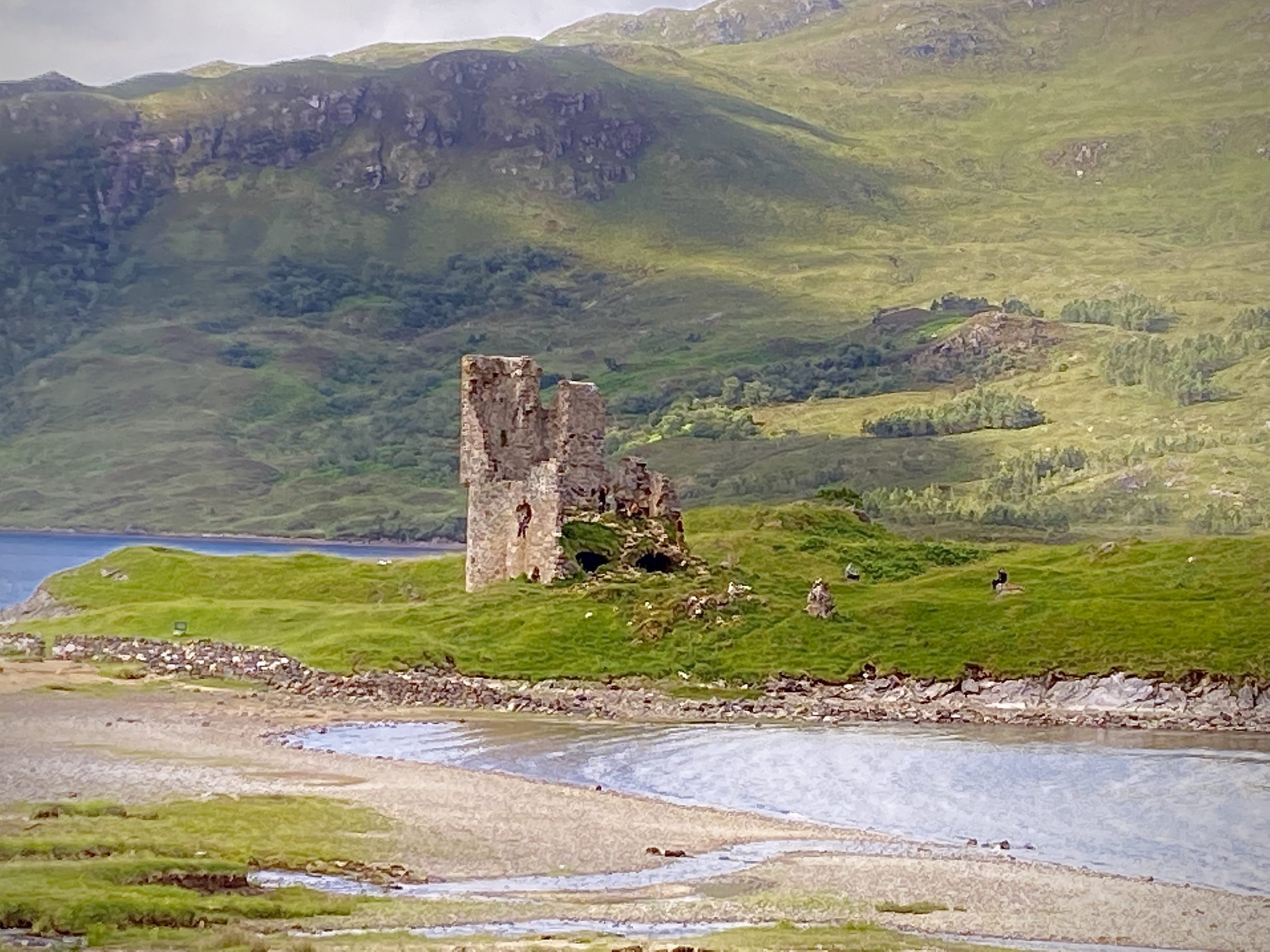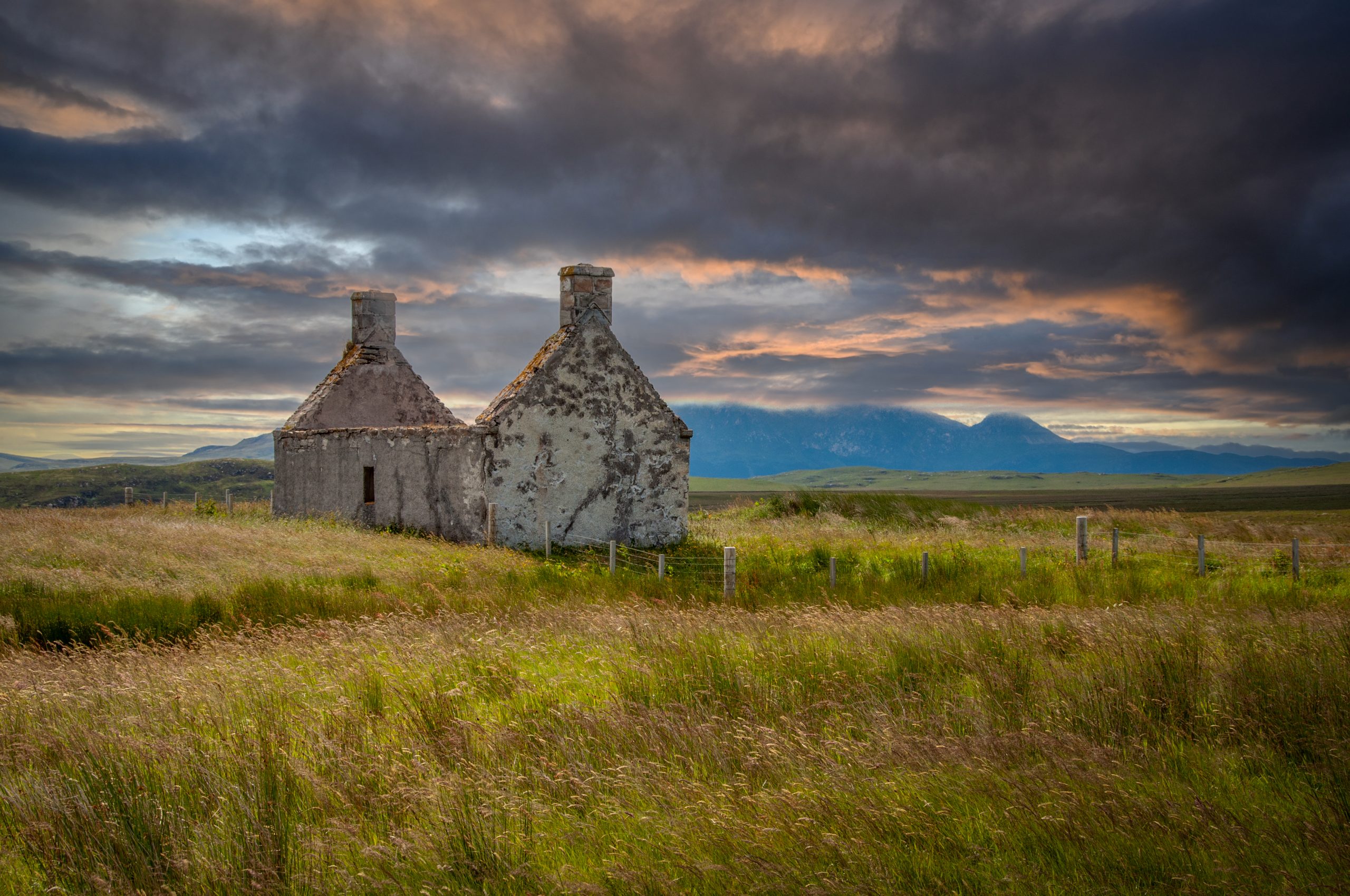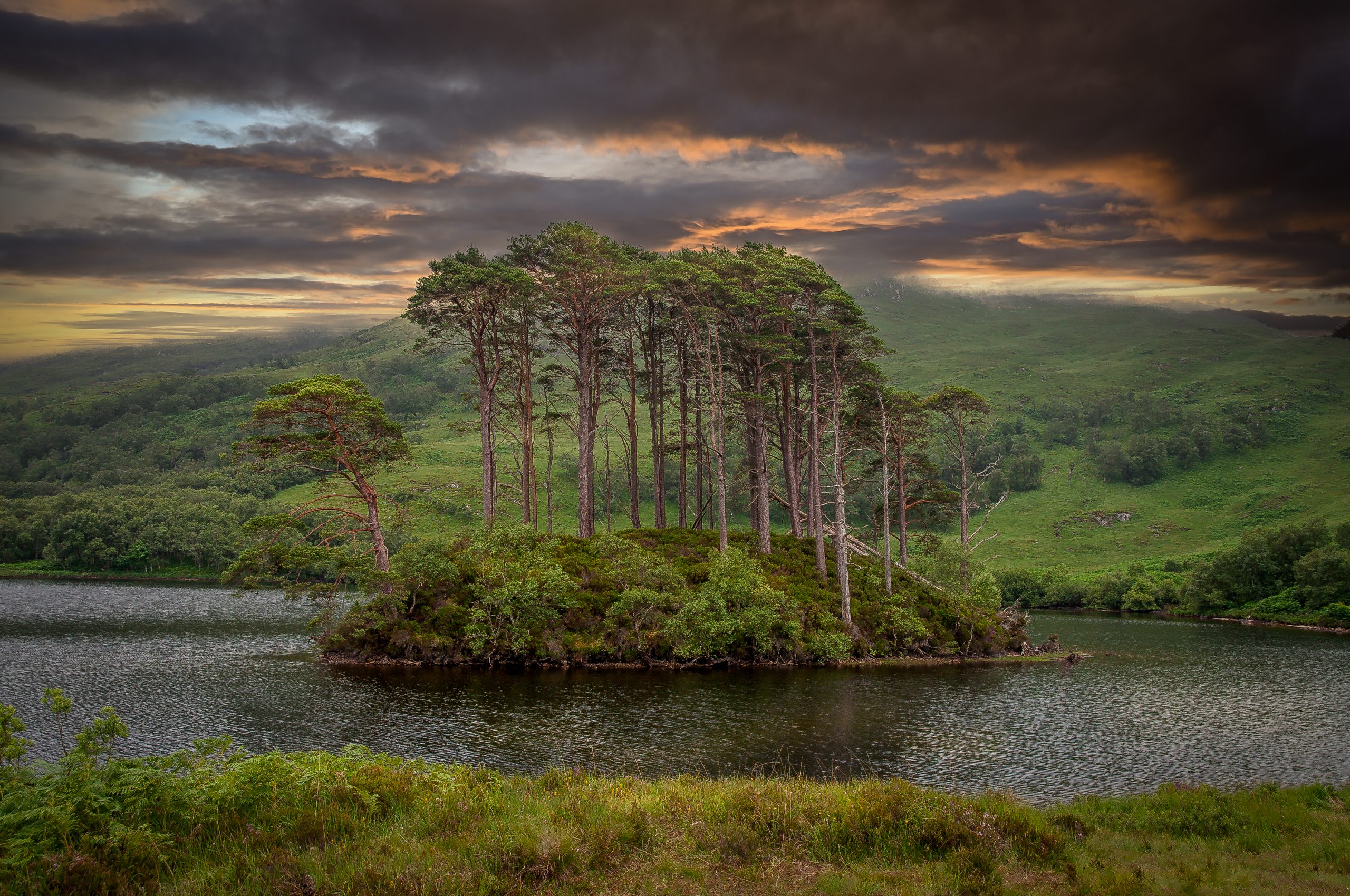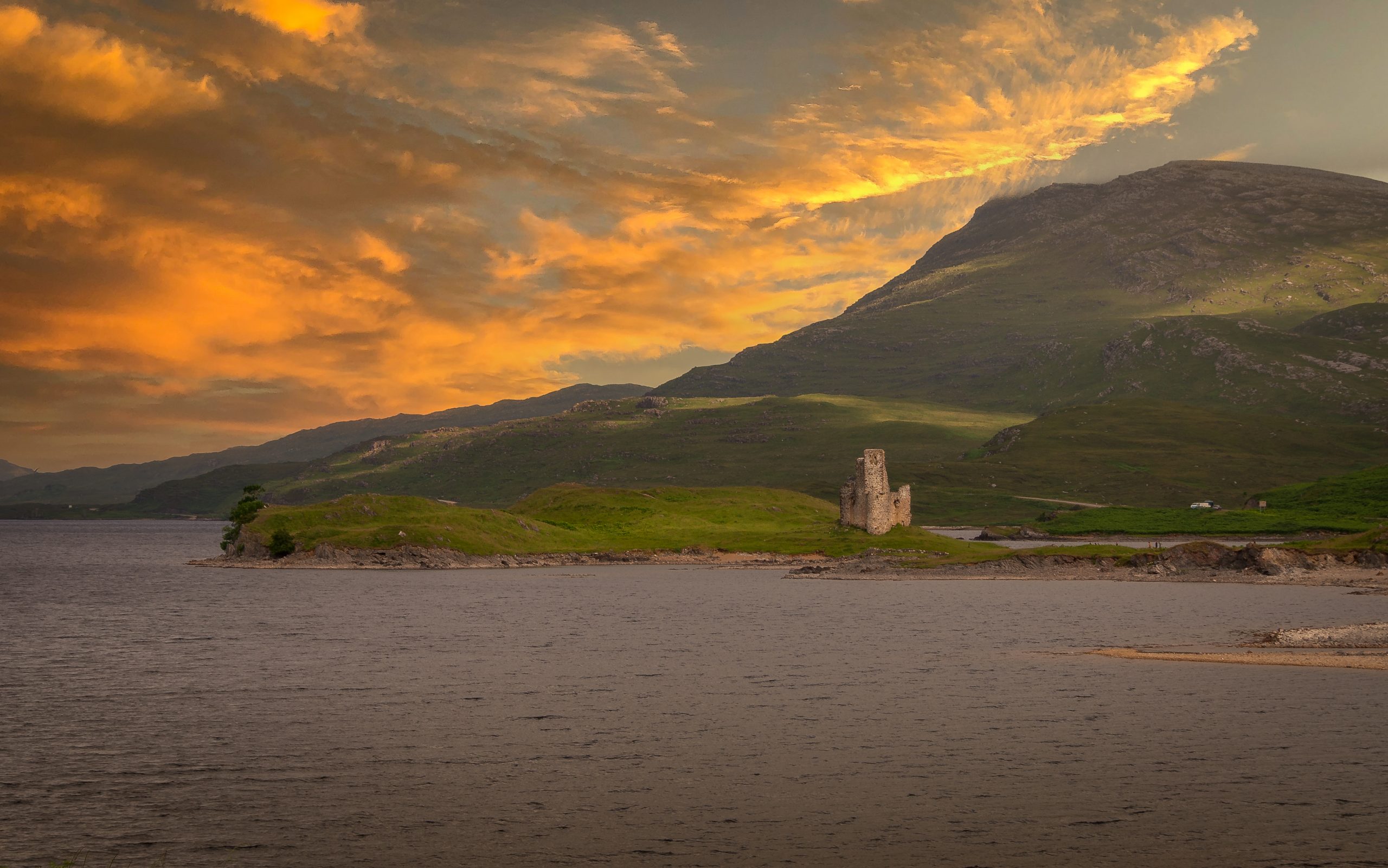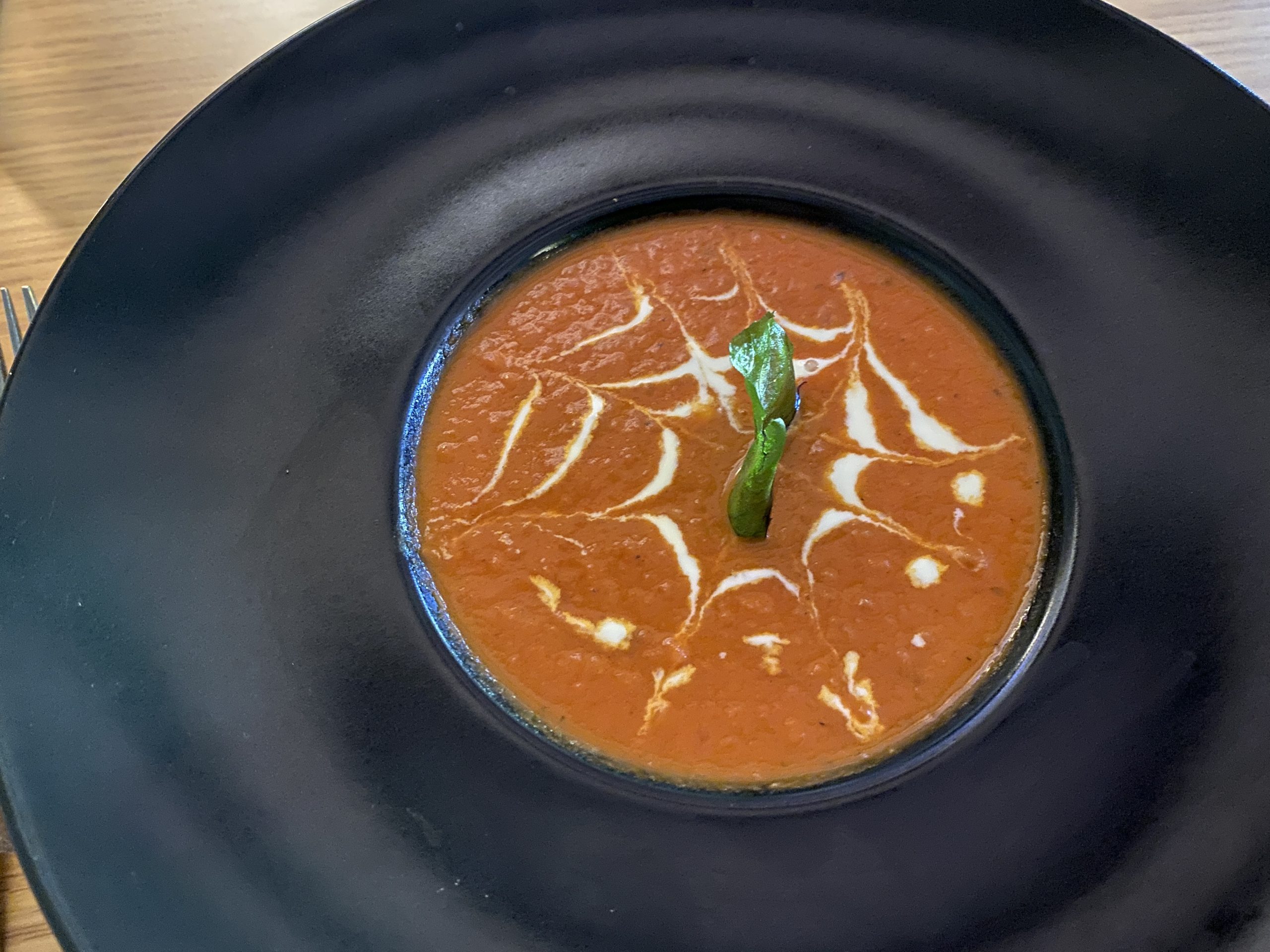 Day 9 – Allonby
Final stop before heading home, we chose Allonby (near Maryport) in Cumbria. The scenery along the route was different, but still very beautiful as it changed from moorlands to manicured fields with hedges. A long drive (6 hours) arriving mid afternoon. The CL had expanded into a field opposite the long beach. Friendly site with a nice homely shower & toilet. We hooked up, then walked along the beach, stopping at the Ship Inn for a few drinks. Then we returned to the van. Sara made a Spanish Omelette. As the sun set I took Bowie back to the beach and took a few shots, trying to get the reflections over the sea.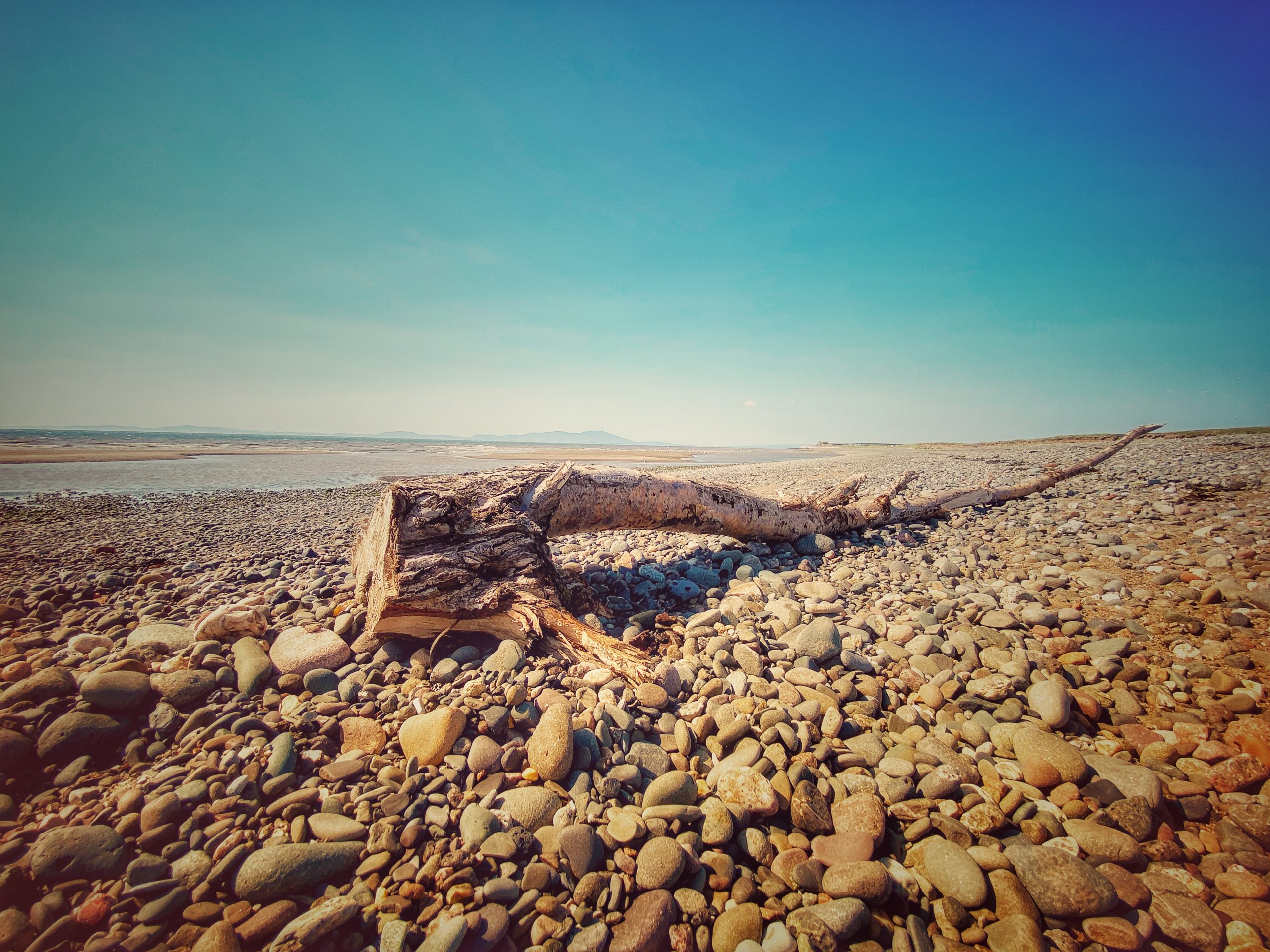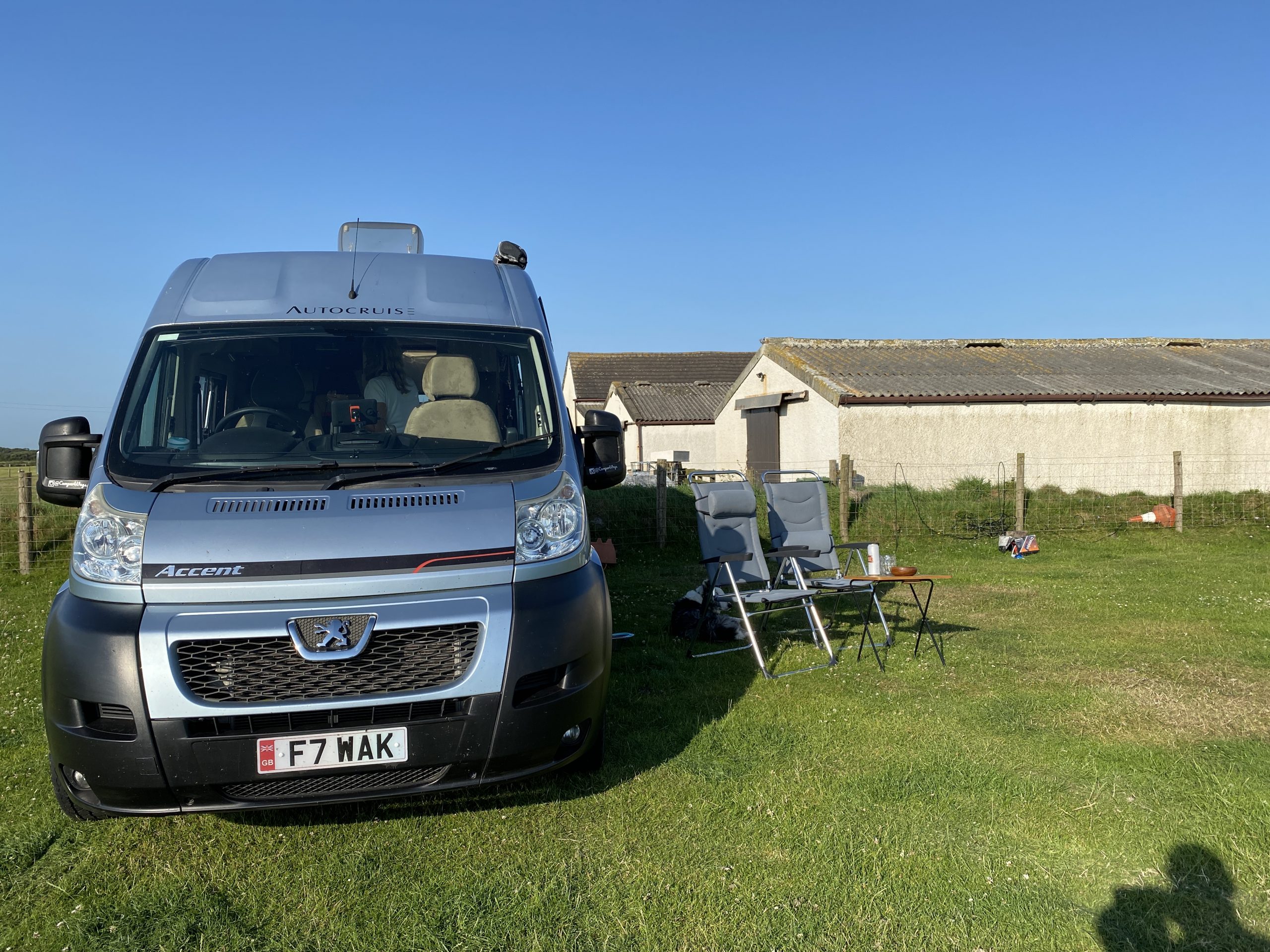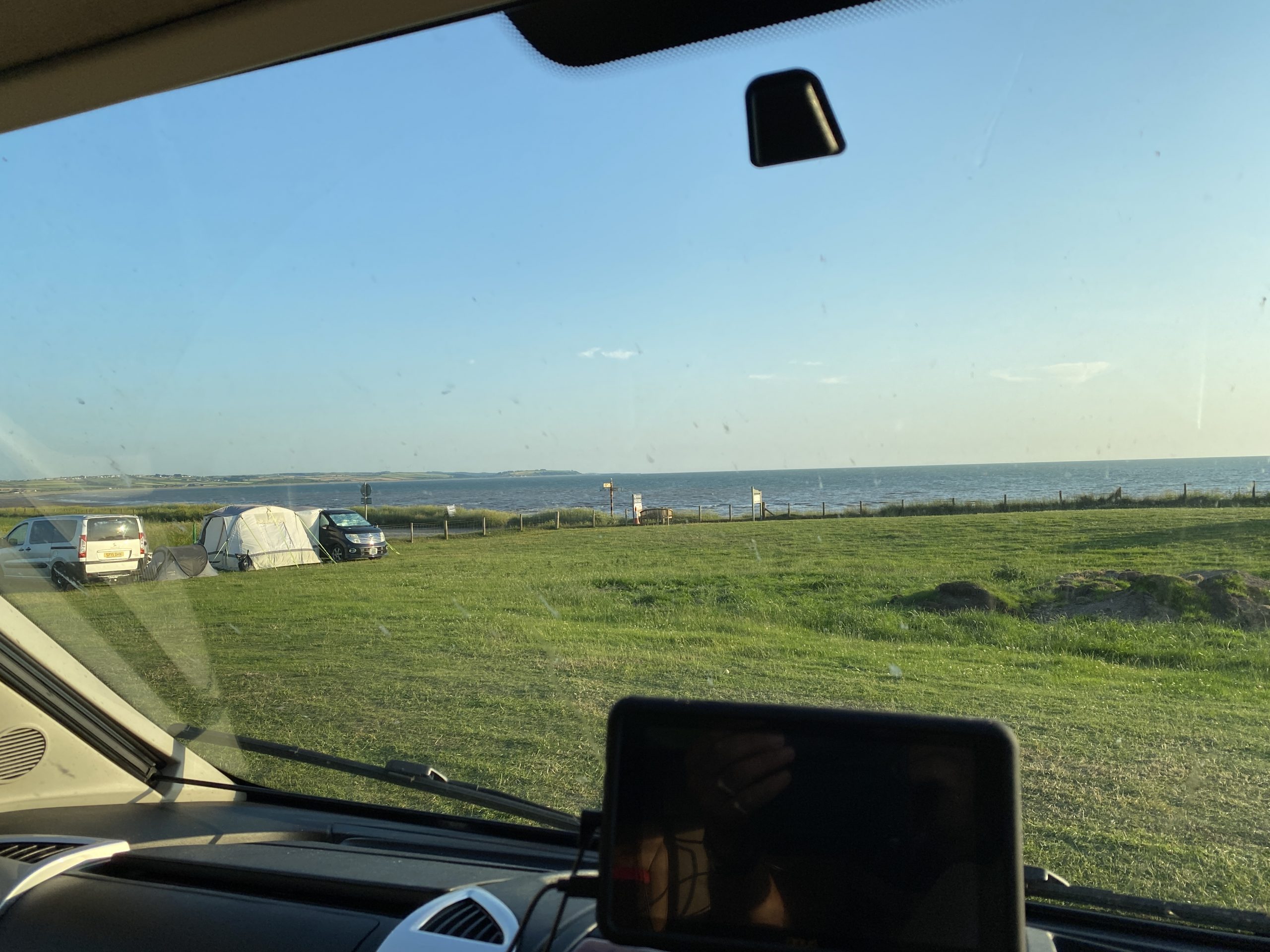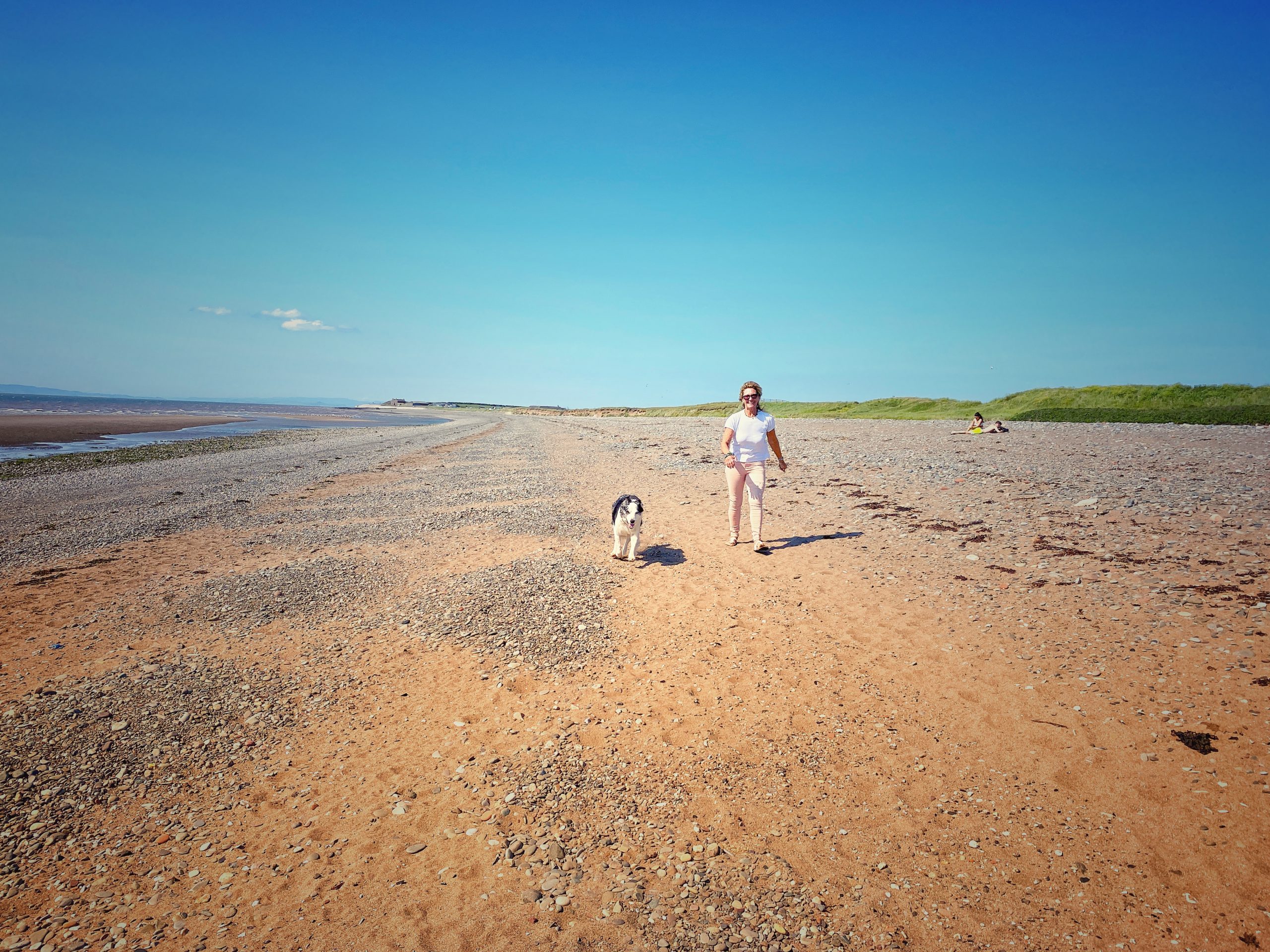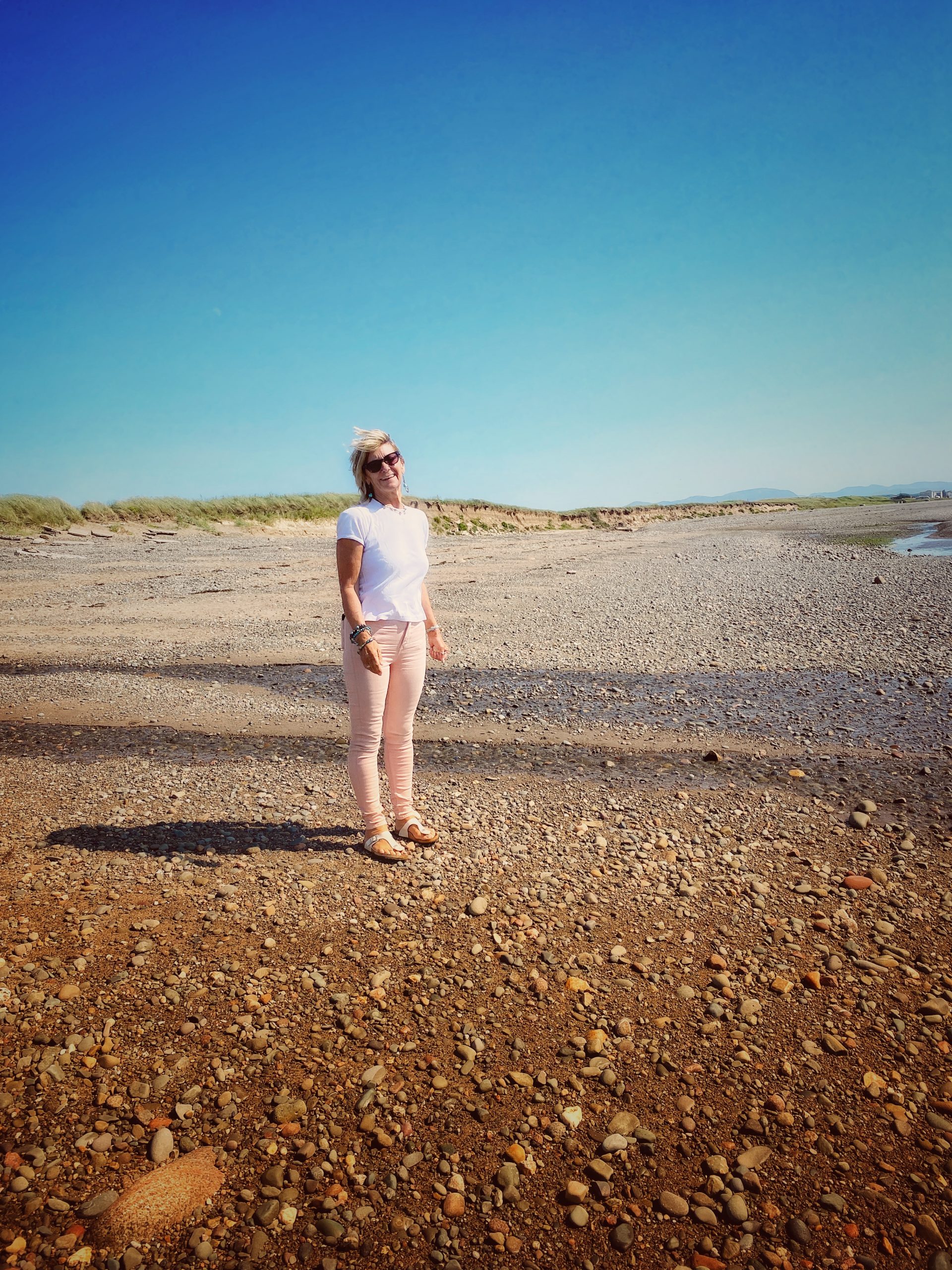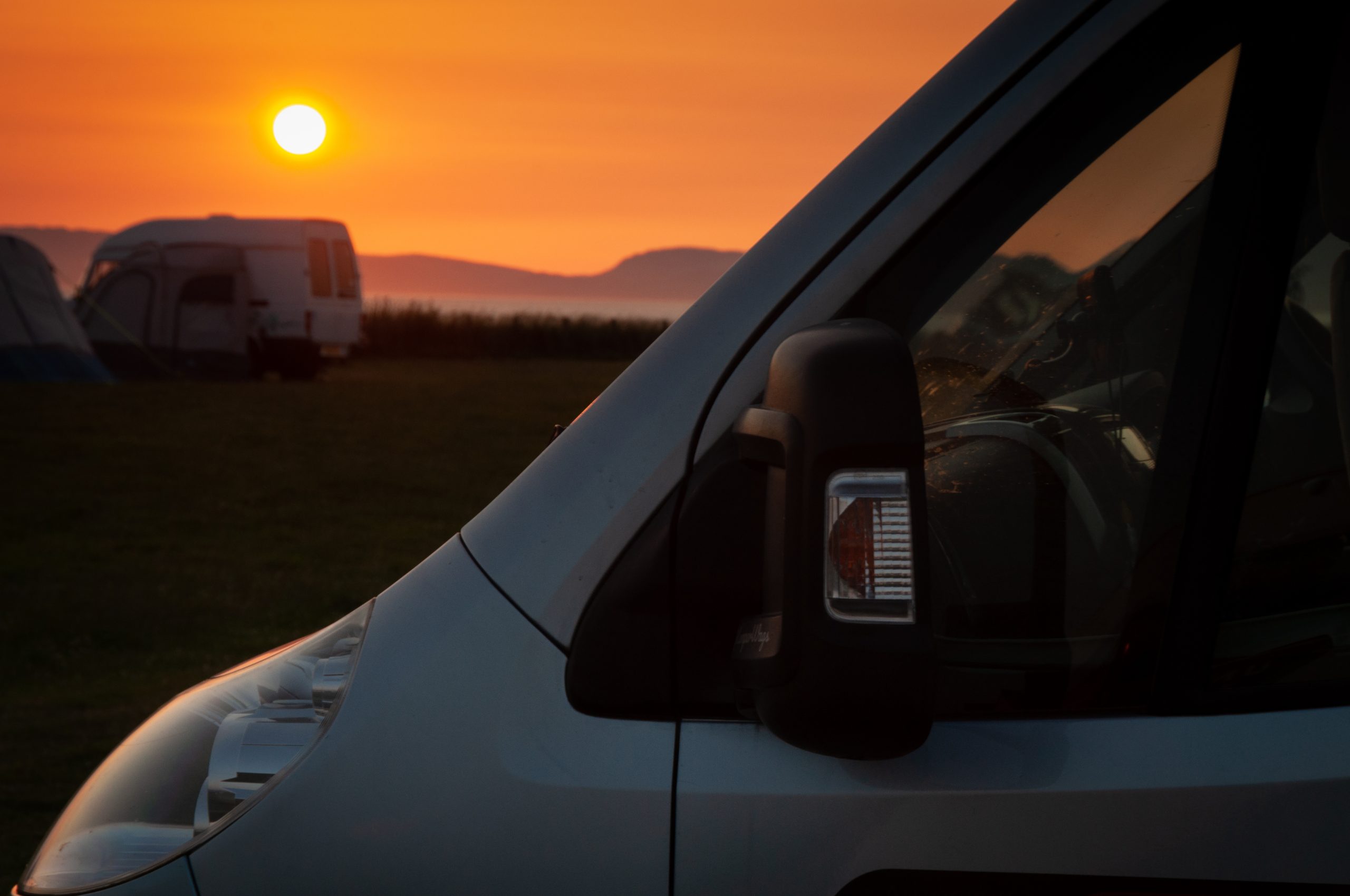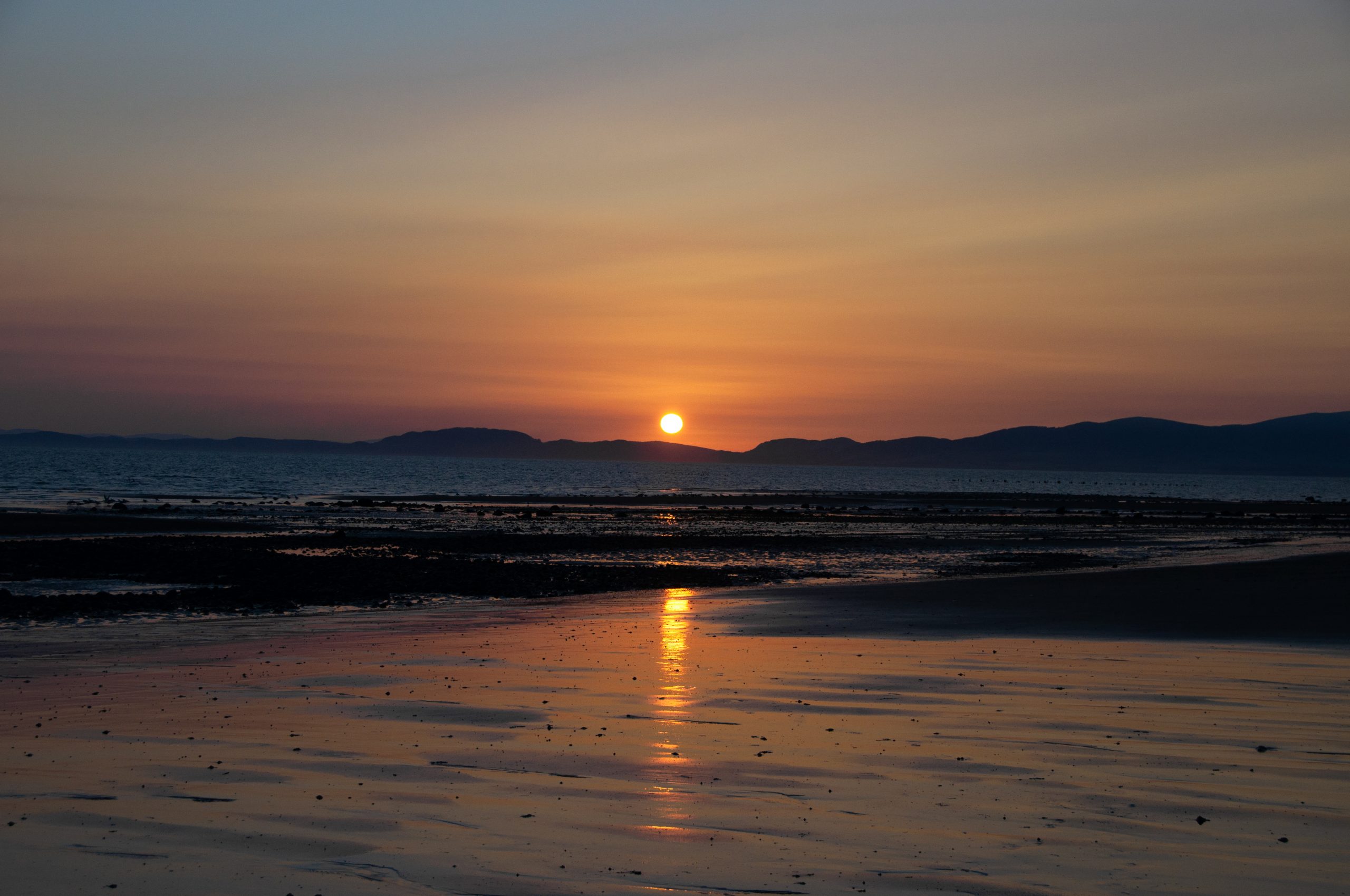 Day 10 – Home
Woke up to a hot, peaceful day in Allonby. Took our time getting packed up and, after I walked the dog up the beach and the lane, we set off for home. An uneventful journey reflecting on a busy few days. We got to see some places we had never been to before, saw some amazing views, walked and drove for miles, ticked off some of Sara's '60 before 60′ challenges and had a really nice time together. It was good to get away from the media and all the bad news.